This Kinder Fudge recipe is brought to you courtesy of Master Frugal who sent me to the shop with a shopping list after telling me that he'd seen this recipe all over Tik Tok and Instagram so he was going to make it!
It really is one of those recipes that tastes so good that it's impossible to believe that it was so simple to make!
Master Frugal made this and cut it into slightly bigger pieces than I would have done as I'd have bagged it up into little bags to give as gifts to people for Christmas but his intention was to take it on a camp out with his friends so he went for larger chunks.
I did manage to bag the smaller pieces up into a cute little bag to give you an idea of what I would have done with it but before I got chance to do much else with it, it was packed up into a big tub ready for him to take out with him.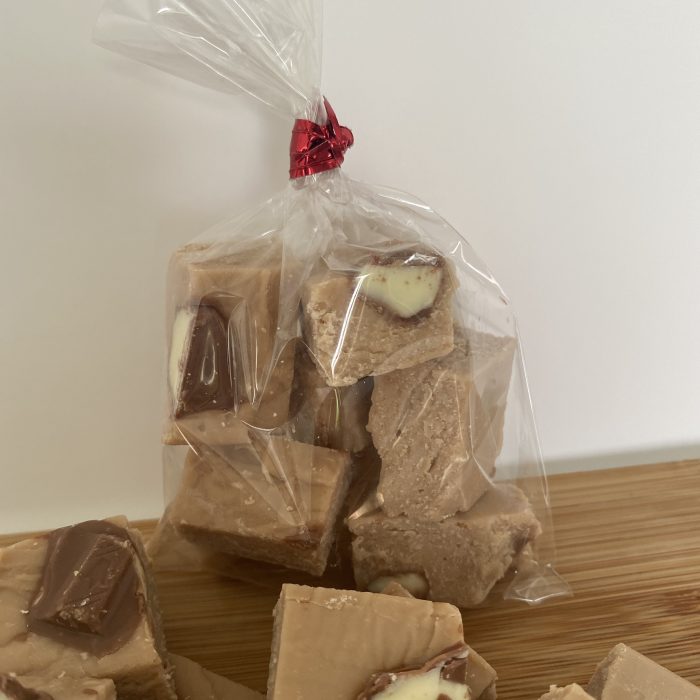 It's a perfect homemade gift for neighbours, teachers and grandparents for Christmas or any other special occasion but equally, it's so quick and easy to make that you can just make it as a treat for yourselves anytime.
Yield: Lots 😂
Kinder Fudge - with just 3 ingredients....
Prep Time: 10 minutes

Cook Time: 1 hour

Total Time: 1 hour 10 minutes

This amazing three-ingredient Kinder Fudge really is super easy to make and tastes like heaven!
Ingredients
A 397g can of condensed milk
400g white chocolate (we used Morrisons own brand white chocolate which was about 30p a bar)
200g Kinder chocolate + extra to decorate if you want to (the little packs of 16 mini wrapped Kinder bars are what we used)
Instructions
In a large saucepan over a low heat, melt together the white chocolate, kinder chocolate, and the condensed milk until it's all melted together.
Pour into a 20cm x 30cm baking tin and spread it evenly so the top is smooth. I like to use silicone baking trays for this as they make it so easy to get the fudge out when it's done.
Crumble over some extra chopped-up Kinder chocolate and lightly push that into the fudge.
Pop it into the fridge for at least an hour to set but preferably overnight.
Slice it up into small bite-sized chunks and you're good to go. A pizza cutter is perfect for this!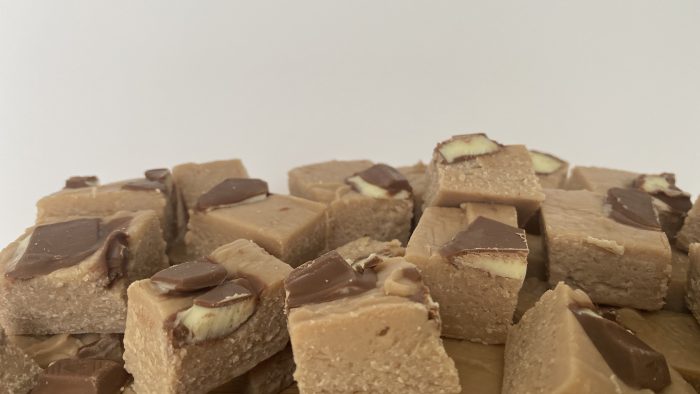 Also, if you liked this Kinder fudge recipe then you might like these fudge recipes too:
Don't miss out on future posts like this – receive updates directly to your inbox by email by adding your email address here and hitting subscribe. You can also follow me on Twitter or BlogLovin and I'd love to see you over on my Facebook page and on Instagram. If you're interested, you can find out more about me here and while I've got your attention, if you're wondering why some of my posts lately are a little bit less frugal then have a read of this post. 😉
Do your future self a favour – Pin my three-ingredient Kinder fudge for later: