Every week I share five frugal things that I've done during that week just to show you that the small things you do all add up to a great frugal lifestyle where you can learn to live a fabulously frugal life.
Before I start though, as always feel that I should say that being frugal to me is about getting the best value for our money – it's not about doing without for us or about not having nice things. We all have different financial situations and we're all frugal for different reasons. 😉
1) My favourite way to start these weekly posts is with a bunch of bargain flower and this week, I have two bunches of bargain flowers. Did you see my Instagram story last night?
I bought two bunches of peonies for 75p each and even with a couple of past help flowers that I had to get rid of, they're still a brilliant bargain.
2) My little garden is coming on so well although we still have a lot of plans to get more fruit and vegetables in there so we can eat more of what we grow – this week though, we've had loaded baked potatoes with our own homegrown chives, fresh basil on our homemade pizzas, mint in the homemade pea and mint soup that I made for packed lunches for me and even rosemary in the Instant Pot rice that we made last night.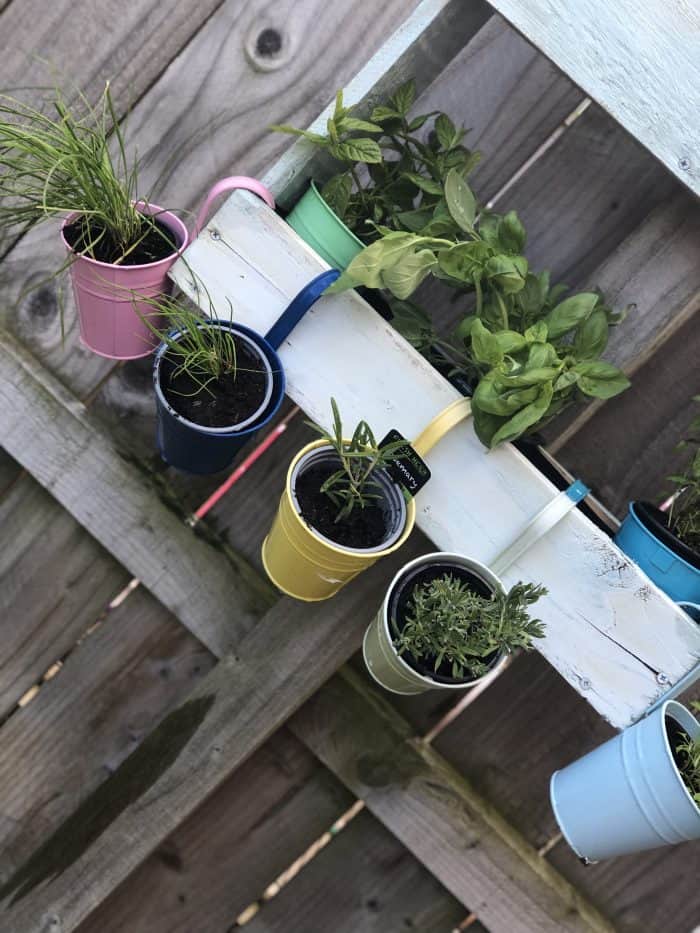 It's lovely being able to just pop into the garden to get some fresh herbs and I can't wait until everything else we have planted is ready to be eaten. I was more sensible with the herbs I chose this year and went for ones I knew we'd use more in our cooking – last year I went for things that I liked the idea of growing and using in cooking but they weren't necessarily the ones I'd use most if that makes sense.
3) A couple of week's ago, I bought a couple of Chicken Tikka ready meals from the reduced section in Tesco specifically to stash in the freezer ready for a day when I thought we'd be prone to give in to the temptation of a takeaway.
The meals were reduced from £3.50 to 68p each and included Chicken Tikka, rice, Bombay potatoes and an onion bhaji.
Last Saturday, I woke up super exhausted after a long week at work and knew that I was going to take it easy for the day (between ferrying the kids around that it) so I got them out of the freezer and Mr Frugal and I had one each for our tea along with a cheeky 9p naan bread that we bought at the same time and again popped in the freezer.
It was actually the nicest ready meal I think I can remember having and was really filling! It cost less than £1.50 for both of us which is way less than a takeaway and it definitely ticked the 'easy to make' box as Mr Frugal made it for us which doesn't happen often.
I'm not usually a fan of ready meals and prefer to cook my own versions by batch cooking and having things ready to go in the freezer but the reduced section really did me a favour this time.
4) Mr Frugal has a bit of a thing for the limited edition 50p coins and over the last few years, whenever he's got one in his change, he's put it to one side and saved it. I didn't realise how many he had until Miss Frugal presented him with one that she got in her change when she was out with her friends.
He mentioned that it was one that he didn't already have and for some reason went off to find all of the coins he's saved since he started and I think the amount he found squirrelled away in various places surprised him almost as much as it did me…
Turns out he has about 50 of them and even though most of them are super common and worth not very much at all, we did find some that are worth a fair bit more than 50p. There are about five in there that are worth around £15-£20 and about 10 others that sell for around £5.
Not bad, hey? We're not planning on selling them or anything but it's good to know that they're worth a little bit and I've promised him that I'll be on the lookout going forward too.
5) I have my Morrisons and More reward points vouchers set so they don't print out until I go in and request them which is usually in time for my Christmas shop.
When I did my shopping this week, there were some leaflets on the ends of the till so as Mr Frugal was packing, I thought I'd have a quick look to see if there were any money off vouchers in there that I could use. There weren't any vouchers that I could use but there was a voucher to get triple points so I used that and got extra points which took me over the threshold for my next £5 voucher.
Leaflets like this and supermarket magazines often have coupons in so it's always worth having a look!
Come over and join our fab Facebook group – Spend Less, Live Better!
As always, we'd love you to join in with us by sharing anything you've done that's been thrifty or frugal from your week – whether it's an Instagram picture (#5frugalthings), a blog post or even a video. Just add your link to the Frugal Friday linky at the bottom of this post.
You're more than welcome to copy and paste the badge above but it would be even better if you could let your readers know that you're linking up with the five frugal things linky by adding a little line to the bottom of your post like this one:
I'm linking up with this Cass, Emma and Becky in this week's 'Frugal Friday' linky.
Don't miss out on future posts like this – receive updates directly to your inbox by email by adding your email address here and hitting subscribe. You can also follow me on Twitter, BlogLovin or Networked Blogs and I'd love to see you over on my Facebook page and on Instagram.
You are invited to the Inlinkz link party!