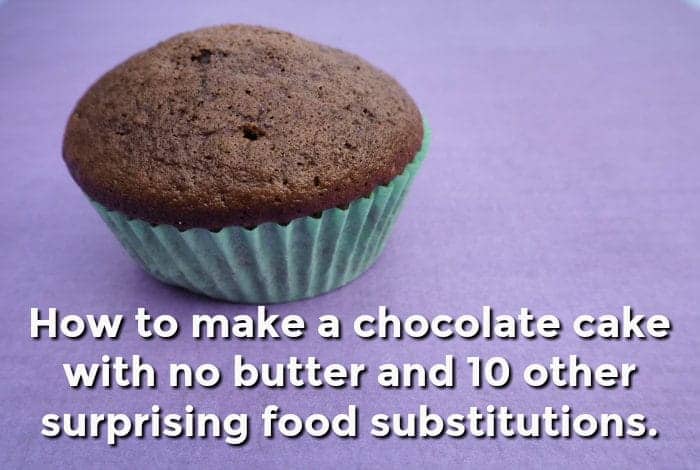 I can't tell you the number of times that I'm just about to cook something when I realise that I'm missing a vital ingredient! It's so frustrating because I either need to make an unscheduled trip to the shops (never a good idea) or change my meal plans for that day.
But then I came across a post on Pinterest suggesting using apple sauce instead of butter in a cake when you've ran out of butter. I tried it and the resulting cake was absolutely delicious so I had a look into what other substitutions were possible.
There's loads more than you would think, or at least there's loads more than I was expecting and although I haven't tried them all yet, I thought you might be interested in reading them before I share my recipe for no butter chocolate cake with you….
No Butter or margarine – just use half the amount of apple sauce that the recipe calls for.
No Breadcrumbs – you can just use porridge oats instead.
No Buttermilk – you can use the same quantity of normal milk but add 1 tablespoon of lemon juice per 250ml.
No Cornflour – you can use double the amount of plain flour.
No Molasses – This is something that I never buy as you can just use the same amount of honey for a very similar taste and so few recipes call for it that it seems like a waste of money.
No Sauce thickener – I've bought this in the past but actually you could just use dried instant mashed potato to do the same thing.
No Sour cream – you can just use natural yoghurt instead of sour cream.
No Eggs – You can substitute an egg with half a banana in sweet recipes.
No Self Raising Flour – If you run out of this then just make your own by adding 2 teaspoons of baking powder per 200g of plain flour.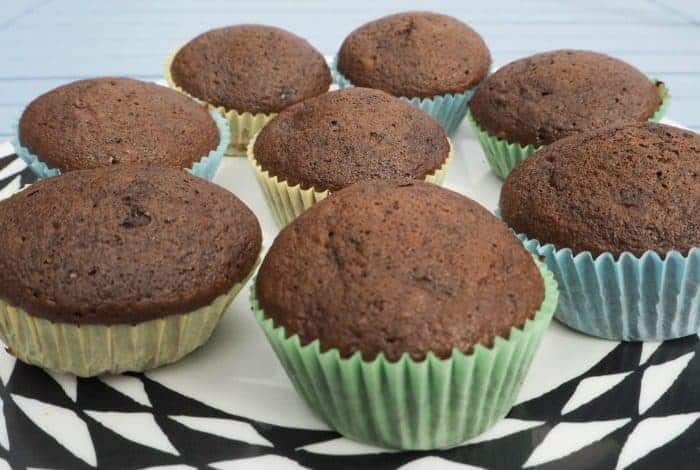 Now on to the good stuff!  Here's my chocolate cake with no butter recipe….
150g sugar
75g Apple sauce
3 large eggs
30g cocoa powder
120g self raising flour
Pre heat the oven to about 200 c
Beat the sugar, apple sauce and eggs together in a bowl until they're completely combined.  Obviously it will look a bit lumpy as the apple sauce is lumpy – I forgot about this and was trying to beat out the lumps for a good 30 seconds before I remembered. 😉
Add the flour and the cocoa powder and gently fold it in until it's all combined.
Pour into cupcake cases and bake for 12-15 minutes.  You can test they're ready by poking them with a knife, if it comes out clean then they're done.
They really are delicious and you can't taste the difference in my opinion when they're cooked – you can't even taste the small lumps of the apple sauce.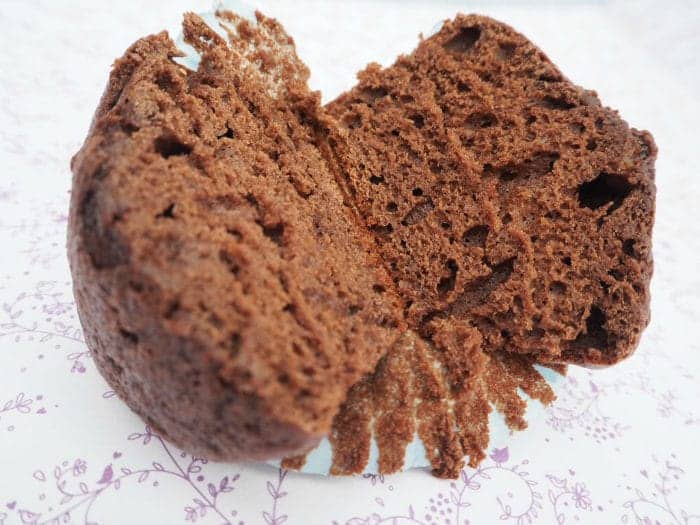 This is a great recipe if you want to bake a cake with no butter because you've got none in and can't be bothered to go to the shop but equally great if you can't eat dairy as the substitution makes it a delicious dairy free chocolate cake too.
If you liked this recipe for our chocolate cake with no butter you can save it to your own recipe box if you use Yummly – just click on the YUM icon at the bottom of this post.
Don't miss out on future posts like this – receive updates directly to your inbox by email by adding your email address to the box on the top right of this page and hitting subscribe. You can also find me on BlogLovin, Yummly and Networked Blogs and I'd love to see you over on my Facebook page and on Instagram.