The lemon butter biscuits taste absolutely melt in your mouth amazing! They're easy to make and don't use any fancy ingredients. 😂
I've made these biscuits a few times now because they're a great way to use up lemon zest so whenever I have a recipe that needs lemon juice and not the zest then I zest the lemons first and make these little beauties.
Yesterday, I was drinking tap water with lemons in so I ended up zesting the lemons before cutting them into wedges to pop in my water and ended up with a batch of these lemon butter biscuits. I do the same when I have limes to use up too although I much prefer the lemony ones.
I've even in the past made chocolate versions by replacing 75g of the flour for cocoa powder and adding some chocolate chips and they were absolutely amazing.
Oh, and if you're wondering what a butter cookie is – it's almost like shortbread but made with more sugar and baked at a higher temperature so they're less crumbly and have a slightly more cakey texture.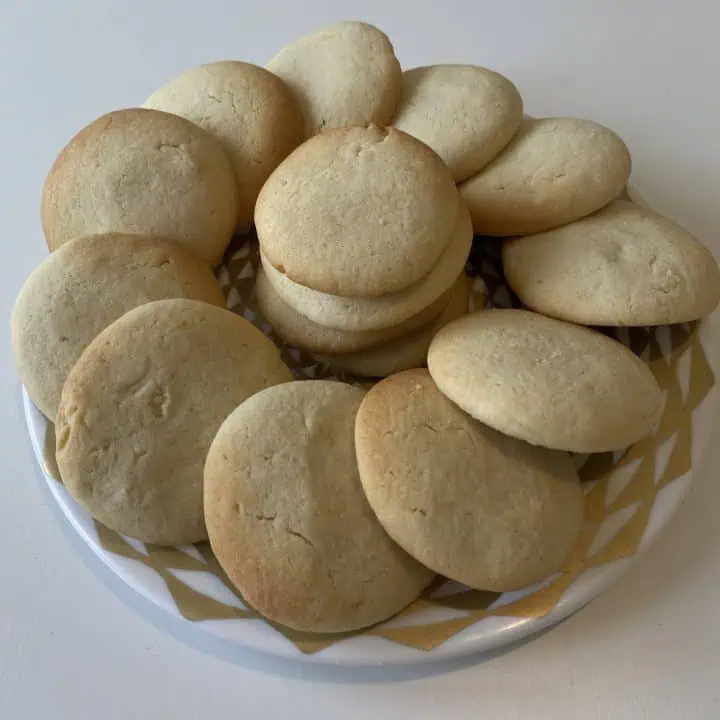 Lemon Butter Biscuits
Total Time:
1 hour
20 minutes
You're going to love these amazing lemon butter biscuits! They literally melt in your mouth and no one I've ever made them for can believe just how easy they are to make!
Ingredients
130 g caster sugar
130 g unsalted butter - room temperature works much better
The zest of 2 lemons
1 large egg
250 g plain flour
1tsp vanilla extract
Instructions
Beat the butter and sugar together until they're smooth and creamy
Add in the lemon zest, vanilla extract, and the egg and beat it again
Fold in the flour gradually until the mixture makes a stiff dough
Pop the dough onto a piece of baking paper and form it into a fat sausage shape. Roll it up in the baking paper and put it in the fridge for an hour to harden a bit.
After an hour or so, preheat the oven to 180 c
When your oven is ready, get the dough out of the fridge and unwrap it.
Line a baking tray with a sheet of baking paper and cut your dough sausage into slices around 1cm thick and roll each one into a ball. Flatten them slightly onto the baking tray to make biscuit shapes. They don't spread too much so space them apart but I always manage to get 12 onto a baking tray so they don't need to be too far apart.
Bake for 10 minutes until they're just starting to turn a little bit golden.
I'm pretty sure that once you've made this once, it's going to be a regular in your baking repertoire!
Don't miss out on future posts like this – receive updates directly to your inbox by email by adding your email address here and hitting subscribe. You can also follow me on Twitter or BlogLovin and I'd love to see you over on my Facebook page and on Instagram. If you're interested, you can find out more about me here and while I've got your attention, if you're wondering why some of my posts lately are a little bit less frugal then have a read of this post. 😉
Do your future self a favour – Pin this Amazing Lemon Butter Biscuits Recipe for later: