Today I'm sharing my new favourite recipe – Garlic roasted cherry tomatoes!
I briefly mentioned in last Friday's Five Frugal Things post that I was going to share this recipe for garlic roasted cherry tomatoes with you today and I actually had two emails over the weekend asking for a sneak peek which was lovely and I was happy to share as the recipe was needed for a batch cooking session and a BBQ so today would have obviously been a bit late for both ladies. 😉
I think I said in my post that the tasty garlic roasted cherry tomatoes would be great on a pizza, amazing stirred through pasta and lovely as a topping for meat but I hadn't considered how perfect they would be at a BBQ as a burger topping or even just as a side dish. I haven't tried freezing them myself but I can see how that would definitely work.
How to make garlic roasted cherry tomatoes
First things first, I went out to my new little greenhouse and picked some of my delicious cherry tomatoes!  Homegrown cherry tomatoes taste so different from the ones you can buy so if you have the option, I would definitely go homegrown.  If not, a pack of cherry tomatoes on the vine are a close second when it comes to taste (although price wise they're not the cheapest) and failing that, the recipe is so good that even the cheapest you can buy will be transformed so they're good too!
I popped my tomatoes into an ovenproof dish and drizzled them with a little olive oil before adding some 4 cloves of crushed garlic to them.  I added a generous amount of black pepper and sprinkled on some salt, gave it a good mix and popped it in the oven at 180 c for 20 minutes.
I'm not even going to go all fancy pants with my photos for this one – it is what it is!
I leave the skins on ours but if you're not a fan then just turn all of your tomatoes face down before cooking and when they come out, wait until they're cool enough to touch and then just nip the skins off.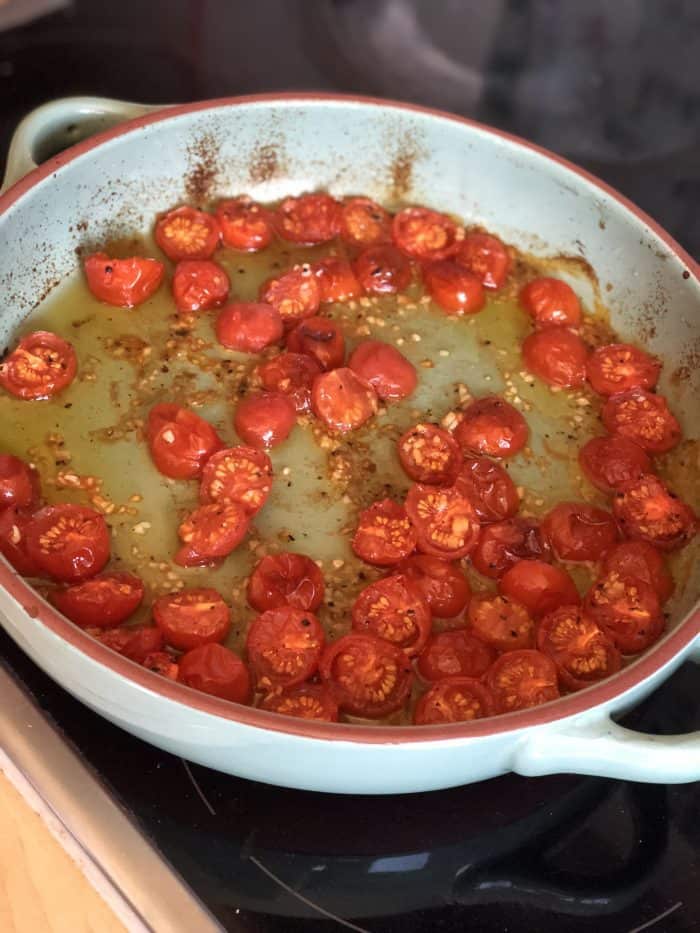 They're even better than my gorgeous chilli and lime roasted tomato recipe and that's saying something!
If you liked this recipe for garlic roasted cherry tomatoes you can save it to your own recipe box if you use Yummly – just click on the YUM icon at the bottom of this post. You can find more of my favourite recipes here.
Don't miss out on future posts like this – receive updates directly to your inbox by email by adding your email address here and hitting subscribe. You can also follow me on Twitter, BlogLovin or Networked Blogs and I'd love to see you over on my Facebook page and on Instagram. You can find out more about me here.