Every week I share five frugal things that I've done during that week just to show you that the small things you do all add up to a great frugal lifestyle where you can learn to live a fabulously frugal life.
Before I start though, I do want to say that being frugal to me is about getting the best value for our money – it's not about doing without for us or about not having nice things.  We all have different financial situations and we're all frugal for different reasons – we're frugal so we can afford to do nice things together.
WARNING: It's a waffley one today – sorry in advance.
1) I'm ridiculously excited about this one!
I have a greenhouse – and I'm growing things!
It's just a small one but it's so pretty, especially after Mr Frugal painted it for me when I was away last weekend.  It's exactly what I wanted it to be and I even have a few plants in there already although I haven't really researched how to get the most out of it just yet.
I have tomatoes, chilli, peas, strawberries and some sort of lettuce planted in there so far and will be adding to it this weekend hopefully when I'm going to the garden centre.
2) I checked my credit score this week which is something I haven't done in a while (I know, I really should check it more) and was pleased to see the maximum score 999 next to my name.  It's exactly what I wanted to see as we're seriously considering remortgaging soon to see if we can get a better deal to get our mortgage paid off even sooner than planned which is our mission right now.
3) I feel like something's clicked lately and our house is looking more and more like I want it to.  That's inspiring me to keep more on top of the cleaning that I ever have before which means I've been using more of my homemade cleaning spray than ever.
I made a batch of it this week using lemon and peppermint essential oils mixed together and it's amazing!  I also made a homemade shower spray but I'll see how that works before sharing that with you. 😉
I also got Miss Frugal to make me a batch of homemade toilet fizzers and it's now one of her jobs to pop one down the toilets every day to keep them fresh.  We made them quite small and popped a jar of them next to each of our toilets so they're handy.
If you're interested, the other jobs that she does daily is hoover downstairs, walk the dog and do the recycling.  Master Frugal hoovers upstairs, tidies the living room (which is usually littered with dog toys) and has a quick wipe over of the sink in the downstairs toilet.
4) Last weekend I took Miss Frugal and her friend to London to see Beyonce and Jay-Z which was a great concert if you're a fan.  To be honest though, I'm not a fan personally and only bought the tickets after my Dad died as I thought it would be something to cheer Miss Frugal up and to give her something to look forward to.
There were certain words said frequently throughout the whole two and a half hours that I genuinely didn't think were acceptable in today's society.  The kids say that's just me showing my age and assure me that the N-word is not being used in a racist way but I'm still not comfortable hearing a whole stadium singing along to songs featuring that and the f-word frequently.
I know, I'm not down with the kids at all which was evident by the fact that at one point I was the only person in the stadium sitting down checking my Instagram stories to see what you were all up to.
We could see from the Trainline app that the trains home all day were ridiculously busy – the majority showing standing room only which meant try our luck or wait until the 4pm train when we had a table booked.  The thought of a day waiting around followed by an almost three-hour train journey was too much so we headed to Kings Cross to see if we could squish on a train.
When we got there, the platform for our train wasn't displayed but it said the train had arrived and was being prepared so we decided to go through to the platforms and try and find our train.  We asked the cleaners on two trains before finding ours but the lady who we spoke to said the train was completely reserved in standard class as they were missing a carriage due to a mechanical failure.
I asked if we were allowed to sit in First Class as the train was going to be full and I explained nicely that we had seats booked on a later train but we were all so tired we just wanted to get home.   I think she took pity on me as she said we could sit in First Class for an upgrade fee of £25 for me and she'd do the kids for free as they looked so tired. 😉
It was definitely money well spent as we were sat in comfy seats at a table in First Class when the platform for our train was announced and people came running past the carriage to try and get seats.  We all got sandwiches, crisps, popcorn and cake along with four free drinks throughout the duration and as an added bonus free wifi for the girls to relax and watch Netflix and for me to catch up on some work.
Is it frugal to pay for a First Class upgrade like this? Probably not but it did mean we could get home six hours ahead of schedule without spending a long journey sat on the floor in the areas between the carriages as everyone else who didn't have seats booked had to do.  We also had lunch on the train which we would have had to buy if we'd stayed in London for longer as the picnic we'd taken the day before was long gone.
And my point with this is not that you should all go out and book First Class seats on a train but more that you should never feel cheeky asking for something like I did – you never know when you'll get a yes and manage to bag yourself a good deal.  The worst that could happen is that someone you're unlikely to ever see again will say no to you.
5) Speaking of travelling to London for a night away, I have a meal planning success to share with you.  Mr Frugal is not good in the kitchen and never has been – something I happily accept usually as he does all of our pot washing and ironing.  On the whole, I think I get the better deal but when I'm away he usually struggles with cooking anything other than what we call freezer tea which is something along the lines of chicken dippers and curly fries.
Last weekend, I knew the boys would be watching football so I left instructions for how to make homemade pizza (using some leftover pulled pork) knowing that in all probability, they would end up with freezer tea but they actually did it.  They made a pizza together and even went a bit rogue by switching in BBQ sauce as the base.  The pizza cost pennies to make and used things we had in the house already other than the jar of BBQ sauce that they bought but even that cost less than a pound.
I don't have evidence as they 'forgot' to take a photo but the half-empty jar of BBQ sauce in the fridge and the flour on the floor was enough to persuade me that they really did make pizzas – trust me, until I got home I had my doubts. 😉
As usual, we've been having some really good discussions this week over in our Live Well, Spend Less Facebook group.  We'd love to welcome you to our little community if you fancy popping in.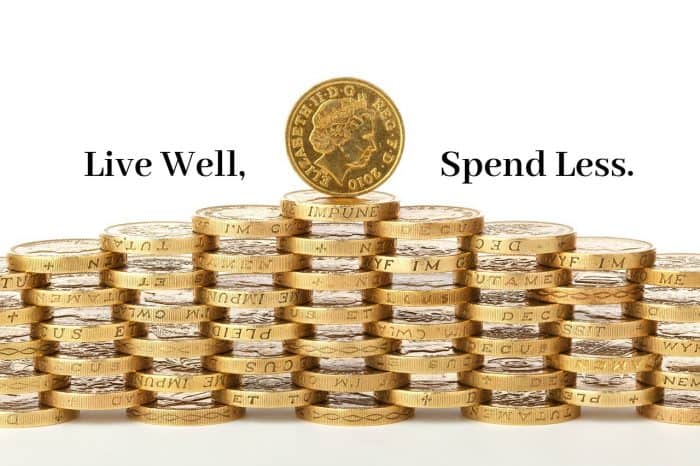 As always, we'd love you to join in with us by sharing your five frugal things from week – whether it's an Instagram picture (#5frugalthings), a blog post or even a video.  Just add your link to the linky at the bottom of this post.
You don't have to share five things you've done, anything thrifty or frugal that you've been doing is perfect.
You're more than welcome to copy and paste the badge above but it would be even better if you could let your readers know that you're linking up with the five frugal things linky by adding a little line to the bottom of your post like this one:
I'm linking up with this Cass, Emma and Becky in this week's 'Five Frugal things I've done this week' linky.
Don't miss out on future posts like this – receive updates directly to your inbox by email by adding your email address here and hitting subscribe. You can also follow me on Twitter, BlogLovin or Networked Blogs and I'd love to see you over on my Facebook page and on Instagram.