Every week I share five frugal things that I've done during that week just to show you that the small things you do all add up to a great frugal lifestyle where you can learn to live a fabulously frugal life.
Hey! 👐
1) Did you catch my blue cheese dip recipe on Monday?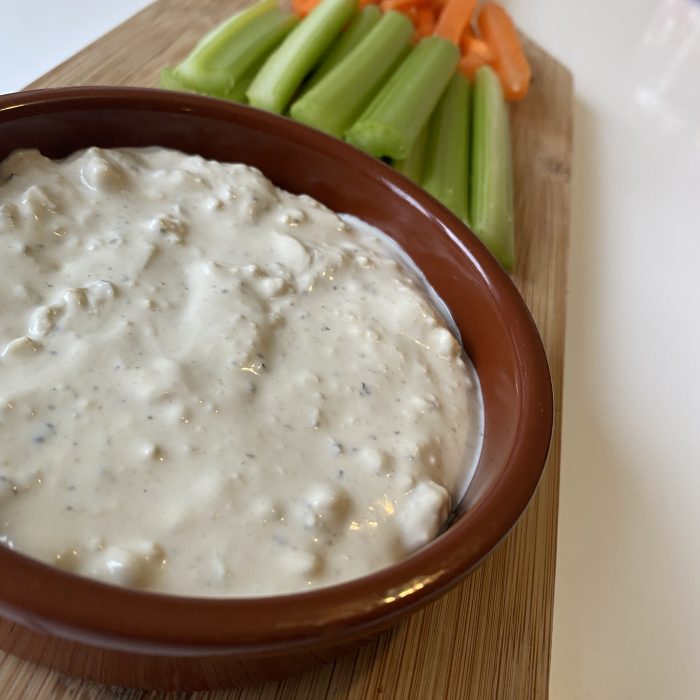 We used some blue cheese that was leftover from Christmas cheeseboard and it was genuinely amazing! A real game-changer. 😇
2) I promise I won't update you every week on my meal plan adventures but I'm pretty pleased with how this week's gone.
Meal planning is like an ongoing resolution for me and every New Year, I say I'm going to not only stick to it but to get better at it by trying to incorporate more new meals into the plan while finding ways to shave a little extra off our spend.
We're thankfully not in a position where we need to be super-frugal with our shopping so there are often treats in the shopping trolley but I do like to make sure I'm spending as little money as possible and this week has been a success and I spent £30 less than I had in my budget to spend as I got some great yellow stickered deals and managed to use up.
I did write a post this week over on my revamped Meal Planning Made Easy blog all about how I planned this week's meals if you want to have a look and see why I chose the meals I did for this week.
Now, what shall I do with that £30? 😂
3) I bought a Christmas present for next year in the sale this week- I think it's OK to tell you what it was because, even if Miss Frugal does read this, she'll have forgotten what it is by the end of next week, never mind in eleven months. It's a Ted Baker make-up mirror reduced to £5.75 in the Boots 50% off sale. I've started a Trello board already for Christmas gifts so I can buy through the year when I see something and not forget all about it.
I'm determined to make 2021 an AMAZING year and Christmas is going to be the icing on the cake so I want to be super organised well before December. This year, I just couldn't get on board with Christmas spirit – to the point where I only started wrapping on Christmas eve night.
4) Remember my super cheap mint plants from last week's post?
Well, this week I've been using the mint leaves and some leftover Christmas clementines to make my favourite mint and orange infused water!
I also made another batch of pea and mint soup for lunches and was planning to make a batch of homemade mint lemonade but I forgot the lemons when I did my shopping so there was no lemonade for us! 😂
5) I shared my refer a friend link for Top Cashback with someone from work a while back now and I just got a notification this week that they'd spend enough to qualify for me to get a £20 reward. To be fair it's a win, win situation as I get paid a referral fee when they earn cash back on a purchase so they've earned some money and I've earned some on the back of them earning it.
It's never going to make me a millionaire but I always find it's worth sharing referral links with your friends when you find a site you really like. I used to think it was cheeky but if someone could get you a better deal then you'd want them to tell you, right?
So, she was due to change her car insurance policy and after my sage financial advice (😇 ) she went through Top Cashback and saved herself a good amount on the policy premium itself and bagged herself £50 cashback at the same time which was paid this week, hence my little payout.
Also, if you're not already a cashback user then you're welcome to use me refer a friend link for Top Cashback where you'll earn cashback when you spend online – cashback sites are a no brainer so if you're not already using them then definitely investigate right now. Like actually right now.
There's a couple I've used in the past but Top Cashback and Quidco are my two favourites and I always check both before making a purchase online.
Come over and join our fab Facebook group – Spend Less, Live Better! We've almost hit 35,000 members in the group now so it's a great place to be
As always, we'd love you to join in with us by sharing anything you've done that's been thrifty or frugal from your week – whether it's an Instagram picture (#5frugalthings), a blog post or even a video. Just add your link to the Frugal Friday linky at the bottom of this post.
You're more than welcome to copy and paste the badge above but it would be even better if you could let your readers know that you're linking up with the five frugal things linky by adding a little line to the bottom of your post like this one:
I'm linking up with this Cass, Emma and Becky in this week's 'Frugal Friday' linky.
Don't miss out on future posts like this – receive updates directly to your inbox by email by adding your email address here and hitting subscribe. You can also follow me on Twitter or BlogLovin and I'd love to see you over on my Facebook page and on Instagram. If you're interested, you can find out more about me here. 😉
You are invited to the Inlinkz link party!