What's the best thing to do with leftover Blue Cheese? Yep, make a blue cheese dip!

I'm not a fan of blue cheese at all but I do love a good cheeseboard so I can never resist buying a Christmas cheeseboard to enjoy over the festive period. The problem is that the cheese selections that you buy always include some blue cheese which is always the last cheese in the box.

I used to give it to my Dad to enjoy but these days it just usually goes to waste which I hate. This year, I thought I'd have a go at making a blue cheese dip to see how that went and I can't believe how nice it actually was.

The ingredients that I added to go with the blue cheese dilutes the strength of the cheese and adds a whole new depth and I really enjoyed it.

If you've never had blue cheese dip before then you're definitely missing out! I tried some when we were in a restaurant in New York last Christmas as a side with a chicken budget that I'd ordered and it really went well with the chicken.

I wasn't holding out much hope that mine would be anywhere near as nice as the one I had in New York but considering how simple it was to make, it really did work!

This is what Wikipedia says about blue cheese dip:
Blue cheese dressing is a popular side sauce, salad dressing and dip in the United States. It is usually made of some combination of blue cheese, mayonnaise, and buttermilk, sour cream or yogurt, milk, vinegar, onion powder, and garlic powder.
There were so many recipes out there, all of them completely different so I went rogue and made a hybrid using what I had in and leaving out anything I didn't have in the house already. It worked well so I thought I'd share it with you in case you have any leftover blue cheese from your Christmas cheeseboards…
Blue Cheese Dip...
Total Time:
1 hour
5 minutes
Whenever we have a cheeseboard, we always find ourselves with leftover blue cheese and this amazing blue cheese dip recipe is the PERFECT way to use it up.
Ingredients
80g blue cheese (that was the amount I got in my cheeseboard)
3 tablespoons mayonnaise
3 tablespoons sour cream
1 teaspoon lemon juice
1 teaspoon Worcester sauce
Salt and pepper to season
Instructions
Crumble the blue cheese into as fine a texture as you can make. I used a fork and just scraped at the cheese until it was almost like breadcrumbs with just a few bigger chunks in it.
Add the rest of the ingredients and give it a good old mix.
Pop in the fridge for a good hour or so at least before serving so the flavours start to really come together.
Serve as a dip as it is or you could add a little milk to make it a bit runnier so it would work more as a salad dressing!
Honestly, it's a game-changer for blue cheese if you ask me.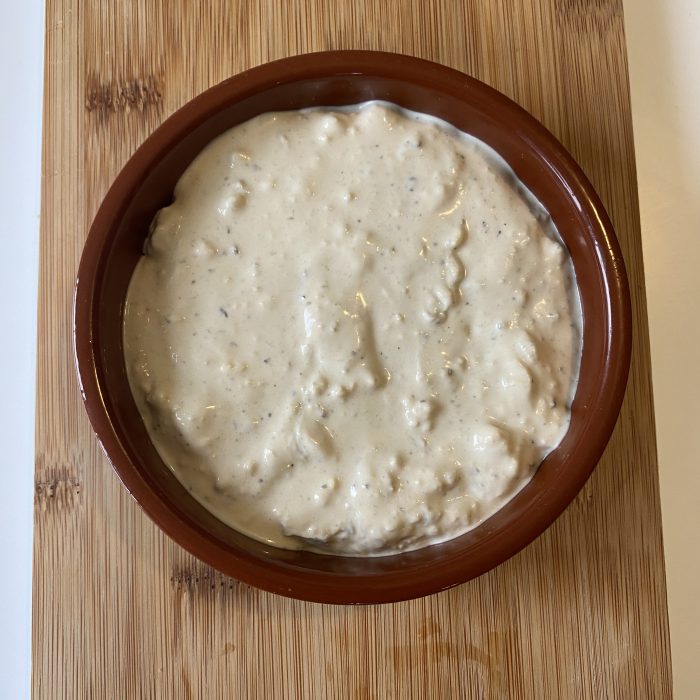 I made it and we had it as a topping for our sausage and bean casserole last Saturday night and it really did bring out a whole new side to a meal we have loads.
Don't miss out on future posts like this – receive updates directly to your inbox by email by adding your email address here and hitting subscribe. You can also follow me on Twitter or BlogLovin and I'd love to see you over on my Facebook page and on Instagram. If you're interested, you can find out more about me here and while I've got your attention, if you're wondering why some of my posts lately are a little bit less frugal then have a read of this post. 😉
Do your future self a favour – Pin this post for later in case you're ever in the mood for blue cheese dip: