Every week I share five frugal things that I've done during that week just to show you that the small things you do all add up to a great frugal lifestyle where you can learn to live a fabulously frugal life.
Hey! 👐
1) I've decided to go back to online shopping as I feel like I have more control of what goes in my basket when I do that – shopping when a teenager or two decided to join me is a risky business lately. 😂
I've been thinking about it for a while but someone told me about the Tesco Delivery Saver which costs £7.99 a month and gives you unlimited free delivery in any available slot which from what I can see saves you about £3 – £4.50 per delivery. I'm not a fan of paying for delivery anyway as I think it wipes out a lot of the potential savings so I cashed in £3.00 of my Tesco Clubcard vouchers which then get boosted x3 and used that to pay for the first month.
I'm going to see how I go with it and look at how much I save doing it this way – both in time and money and then at the end of the month I'll figure out if it's worth it or not. I have enough Clubcard points to pay for a couple more months and by then I'll have more points again so I think my points alone will keep it ticking over for a while without me paying for it if I like it.
2) Did you see my homemade cuticle oil earlier in the week?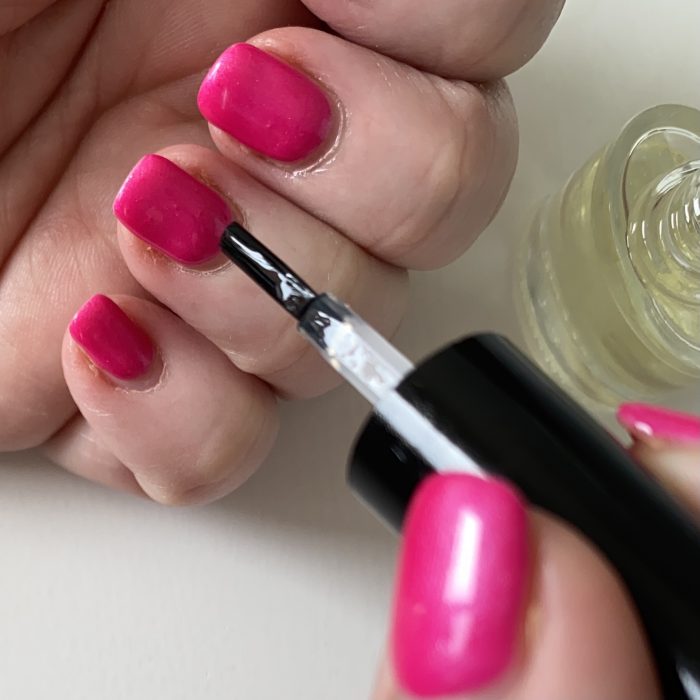 I have this sitting on my desk at home now so instead of using it at bedtime, I've been remembering to use it a couple of times a day with it being right there in front of me and I know it's doing my nails good as well as smelling amazing.
3) Miss Frugal started her driving lessons up this week after waiting for ages for a lesson as they're all so booked up with everyone wanting to get in after Lockdown.
Her instructor was really impressed and suggested that she try and find a cancellation for a theory test appointment so we can get her actual test booked. Her theory test was cancelled due to lockdown and the earliest they could get her into our test centre was next month which means she can't book her main test at least until then (if she passes).
We're just going to get next weeks college exams out of the way and then we'll start checking for cancellations daily.
4) I took Miss Frugal for an eye test last Saturday to take advantage of the fact it was free only for a couple of more weeks with her being in full-time education but due to leave college (is it free in uni too?) and it turns out that she does need glasses.
She hated every single pair we tried on and I'm not going to lie and pretend that I tried to save money initially here but she really wasn't comfortable in any of them so I was happy for her to choose from all budgets if she could find some she was comfortable with.
But in the end, she narrowed it down to two pairs – one that was a designer pair and one that would be free with the NHS voucher she got for being in full-time education. She genuinely couldn't choose between them so I told her to go for the pair that were free as I didn't want to pay for a pair that she wasn't going to love if that makes sense.
She nodded her head and happily put the designer pair back at which point both me and purse breathed a sigh of relief. 😂
5) I had my vaccine last weekend and it pretty much wiped me out from late Saturday to teatime Sunday so I feel like I lost most of the weekend. I had planned to have a bit of a declutter and list some things on Facebook Marketplace to sell but I'm going to do that this weekend instead.
I've been decluttering lots lately so there's a lot I know that can be sold or donated so that's my plan for this weekend and I'm going to pop any profits into my 'need a break away as soon as possible' fund. I'll let you know how I get on. 😇
Come over and join our fab Facebook group – Spend Less, Live Better! We've hit 35,000 members in the group now so it's a great place to be and I've got Miss Frugal in there helping me out now.
As always, we'd love you to join in with us by sharing anything you've done that's been thrifty or frugal from your week – whether it's an Instagram picture (#5frugalthings), a blog post or even a video. Just add your link to the Frugal Friday linky at the bottom of this post.
You're more than welcome to copy and paste the badge above but it would be even better if you could let your readers know that you're linking up with the five frugal things linky by adding a little line to the bottom of your post like this one:
I'm linking up with this Cass, Emma and Becky in this week's 'Frugal Friday' linky.
Don't miss out on future posts like this – receive updates directly to your inbox by email by adding your email address here and hitting subscribe. You can also follow me on Twitter or BlogLovin and I'd love to see you over on my Facebook page and on Instagram. If you're interested, you can find out more about me here. 😉
You are invited to the Inlinkz link party!