Do your nails a favour with this homemade cuticle oil!
I know I've said this before but everyone has their own reasons for being frugal and one of my biggies is that I want to save money wherever I can so I can afford treats and nice things in life without having to worry about paying for them.
So, I spend money on regular nail appointments which I know will have lots of you rolling your eyes because it no doubt feels like a bit of an indulgent thing. I know this because I used to feel exactly the same way and would look at people who had perfectly manicured nails and think they had more money than sense and clearly had too much time on their hands.
But then I decided to get my nails done once as a holiday treat and I've never looked back. 😂
I have quite short chubby fingers and never used to be able to grow my nails as they always used to snap at a certain length which made me a bit self-conscious about my hands. The first time I looked at them with long nails, I instantly loved them and knew I didn't want to go back to my old short nails.
I started with acrylic extensions as my nails were so short when I had my first appointment but now I have a layer of builder gel to give my natural nails some strength and then just a gel colour on top when I go and honestly, it's worth every penny as it gives me confidence.
Anyway, back to the point of the post which is all about my homemade cuticle oil which I use every night before I go to bed. I started using it during Lockdown because my nails pretty much went back to their old ways and needed a bit a lot of TLC.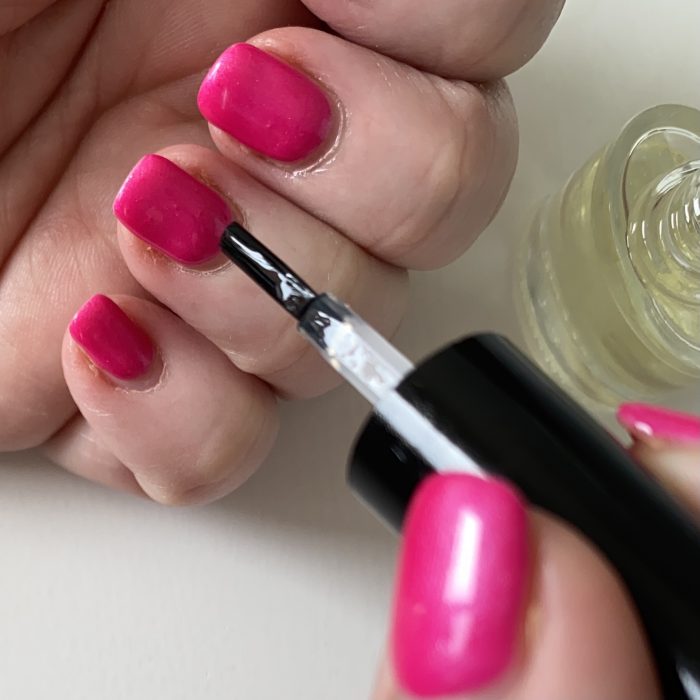 Why use cuticle oil?
If you use it in the right way cuticle oil can increase the circulation around your nails which will help your nails to grow faster. Cuticle oil also helps your nails grow stronger and healthier and generally just makes them look better as they grow as you're hydrating them
You might also find that it helps your nail varnish last longer if you apply it after you've painted your nails.
How to use cuticle oil
So, you'll notice above I said 'if you use it in the right way' and that's because there's no point just whacking it on your cuticles and leaving it as that's not going to give you nearly as much benefit as if you do it properly. I keep my cuticle oil on my bedside cabinet and apply it on a night before I go to bed and once each nail has had a little bit of oil brushed along the cuticle, I massage it in for a good 10 seconds per nail. The fact that I use it every night before bed is why I choose lavender essential oil in my homemade cuticle oil because it's so soothing.
Homemade Cuticle Oil...
This Homemade Cuticle Oil will make your nails stronger and encourage them to grow quicker. What more could you ask for?
Materials
1 empty nail polish bottle (I bought mine from Amazon)
8ml sweet almond oil
6 drops of lavender essential oil
Instructions
Using the funnel, pour the sweet almond oil into the nail polish bottle.
Add in the essential oil.
Give it a good shake.
(Aff links) I bought my empty nail polish bottle from Amazon and just refill it every time I run out which makes it well worth the £2 something that it cost me! The almond oil is also from Amazon and I have it on a subscribe and save offer which means I save 15% by ordering a regular delivery every two months. You can buy the almond oil from Holland and Barrett too, I saw it yesterday when I popped in and it was £2.50 but the bottle was smaller than mine I think.
As always, please read this post before using essential oils.
Don't miss out on future posts like this – receive updates directly to your inbox by email by adding your email address here and hitting subscribe. You can also follow me on Twitter or BlogLovin and I'd love to see you over on my Facebook page and on Instagram. If you're interested, you can find out more about me here and while I've got your attention, if you're wondering why some of my posts lately are a little bit less frugal then have a read of this post. 😉
Do your future self a favour – Pin my homemade cuticle oil for later: