Every week I share five frugal things that I've done during that week just to show you that the small things you do all add up to a great frugal lifestyle where you can learn to live a fabulously frugal life.
Before I start though, I do want to say that being frugal to me is about getting the best value for our money – it's not about doing without for us or about not having nice things.  We all have different financial situations and we're all frugal for different reasons – we're frugal so we can afford to do nice things together.
if you're a regular reader then you might already know that my life has been a little bit hectic lately (here's a quick catch up on the whirlwind that was June) and it's not showing signs of calming down just yet.  Even now as you read this, I'll be sat on a train heading to London to work for the weekend (day job work not blog work) which means that my ever-growing to-do list just isn't going to get touched again.
I'm still trying to be as thrifty and frugal as I can though – not always an easy task as I'm sure many of you will agree with but I'm trying and writing my weekly five frugal things post once again makes me focus on the fact that the small frugal things I do always add up.
That's why I started writing this post every week because sometimes, if you don't have any big money saving wins then it's easy to think you've not had a very frugal week bit more often than not, you can find at least five things that you've done that have been thrifty or frugal and have saved you in some way.
Here's my five frugal wins for this week:
1) I'm going to count the fact that I'm off to London for the weekend as my first frugal thing – only because it's overtime for my day job and I won't have time to spend any money when I'm there.  All food, hotel and travel costs are covered so, as tired as I know I'm going to be wiped out come Sunday night when I get home, I'll get a nice little extra chunk in my wages next month.
These aren't this weekends bags – I'm packing much lighter but I forgot to take a photo. 😉
2) One of my neighbours has had some decking put down in their garden so have lifted up the paving slabs they previously had down.  As we live in new build houses, they had the same paving stones that we had so we asked if we could have some of the paving stones they were getting rid of and have persuaded a friend to come and lay them for us in exchange for a night's babysitting.
I know Mr Frugal should be able to do it himself as it's a pretty simple task but his lack of any sort of DIY skills have been regularly documented on here so we'll not go there today!
3) I took a water bottle to work on Monday and have been filling it using the water coolers all week which has meant two things – (a) I've drunk a LOT more water than usual and (b) I've drunk a lot less of anything else that I would have to buy.
4) Meal planning has been a huge success this week and my weekly shop was way under budget as we managed to use up a lot of what we had in.
Saturday – We had a mini BBQ using potato wedges, burgers, sausages and buns from the freezer.  Top tip – stock up on bread buns at this time of year and pop them in the freezer if you have room because if you decided to have a last minute BBQ then you have no chance of buying any when the sun is shining.  Trust me, we've tried.
Sunday – Gammon joint done in the slow cooker with roasted vegetables (peppers, red onion, courgettes, sweet potato and normal potatoes).
Monday – Pasta with pesto and the gammon join leftovers.
Tuesday – Hunter's chicken and rice using chicken and rice from the freezer.
Wednesday – Random ready meals that have accumulated over the last month.  I'm paranoid about stocking up when I go anywhere so I seem to have a drawer filled with frozen pizza and M&S ready meals (don't worry, I had a voucher to use up when I bought them – I haven't gone rogue and left the frugal life behind).
Thursday – Salmon parcels with new potatoes and peas.
Friday – In theory, tonight is going to be homemade pizza after Mr Frugal's success when I took Miss Frugal and her friend to see Beyonce.  In practice, I suspect it's more likely to be a cheeky visit to MacDonalds as we do have a few vouchers for £1.99 meals that we got on the back of a receipt last week.  I'm pushing for homemade pizza but I know it's unlikely in this heat that they'll do anything that takes any energy.
5) This one is something we did a while ago but it's worked out well so I thought I'd share today!
Master Frugal was going through batteries for his Xbox controller quicker than I go through Pepsi Max at one point so we gave him a battery charger and four rechargeable batteries that we bought quite cheaply in Tesco and gave him the responsibility of keeping them charged.
We haven't had to buy batteries since and he's never ran out!
Please don't look at how grubby the plug in his room is. 😉
As usual, we've been having some really good discussions this week over in our Live Well, Spend Less Facebook group.  We'd love to welcome you to our little community if you fancy popping in.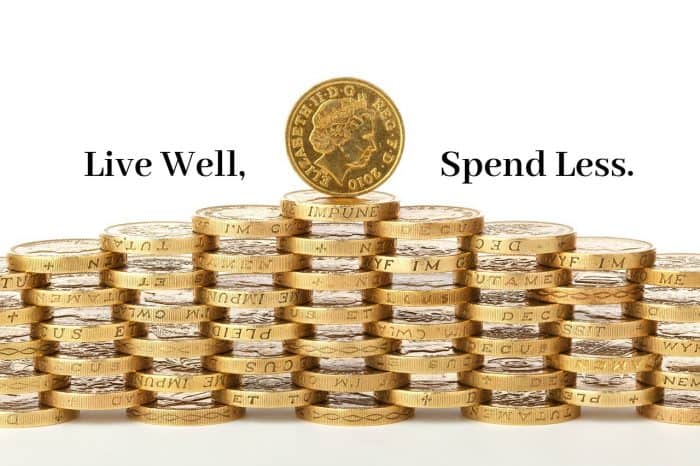 As I'm scheduling this before I go on Friday, there's no code to link up.  I'll add that asap but in the meantime see Becky and Emma's posts this week to add your link.  Please do join in as I plan to read them all on the way home on Sunday. 😉
As always, we'd love you to join in with us by sharing your five frugal things from week – whether it's an Instagram picture (#5frugalthings), a blog post or even a video.  Just add your link to the linky at the bottom of this post.
You don't have to share five things you've done, anything thrifty or frugal that you've been doing is perfect.
You're more than welcome to copy and paste the badge above but it would be even better if you could let your readers know that you're linking up with the five frugal things linky by adding a little line to the bottom of your post like this one:
I'm linking up with this Cass, Emma and Becky in this week's 'Five Frugal things I've done this week' linky.
Don't miss out on future posts like this – receive updates directly to your inbox by email by adding your email address here and hitting subscribe. You can also follow me on Twitter, BlogLovin or Networked Blogs and I'd love to see you over on my Facebook page and on Instagram.