Every week I share five frugal things that I've done during that week just to show you that the small things you do all add up to a great frugal lifestyle where you can learn to live a fabulously frugal life.
How on earth has it been two weeks since I last posted on here?
It's been two weeks in which the world seems to have gone absolutely mad and I actually think this is the first time I've opened my Macbook since my last post which is the longest time ever between posts since I started blogging way back when.
1) First things first, I'm classed as a key worker so I'm still going to work each day as usual. My work has been amazing and as well as all the measures you'd expect them to be taking to keep us safe, there's also free food and drink available for us so I've been saving some money on my breakfast and lunch.
I've been doing really well on Slimming World lately but I'm on a temporary break as I don't have time (see number 2) to be prepping food when I get home on a night or worrying about syns in the free food at work.
2) With the kids being off school, I've saved a fortune! £30 a week on dinner money and bus fares so over a three week period, that's going to be almost £100 which is pretty significant. I'd obviously rather they were at school and college, safe and well but at least I'm saving some money while they're on lockdown. I'm also saving money on extra bits and bobs like Miss Frugal's driving lessons and the various events that have been cancelled due to the lockdown which we've had refunds for.
3) It goes without saying that we're observing the rules of the lockdown so we did a shop at the weekend in case a lockdown was announced so we're all set for the long haul here without having to head out for emergency supplies. We didn't stockpile massively but we did buy a couple of extra things which we have in the garage and I think with some creative cooking, we can last three weeks.
I also did some batch cooking at the weekend so I have four big portions of bolognese and four of mince and onion in my freezer along with plenty of bread that we bought reduced on Saturday night so we're good there too. I also made some homemade tomato sauce for everything from pizza topping to pasta sauce.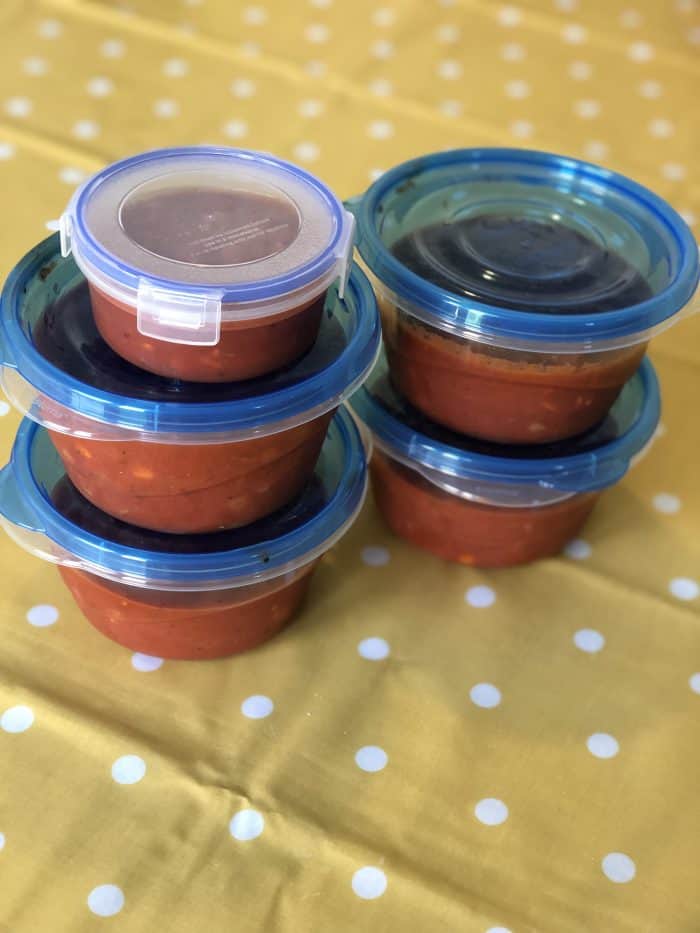 4) I've been super tired lately so I've been having lots of early nights working my way through my pile of charity stall books in bed on a night before I doze off. I know I tell you about my cheap books all the time but just in case you've missed it – my local Tesco sells them on a table for 50p a book which goes to a local charity I like to support for as it's the Hospice where my brother spent his last weeks so knowing I'm supporting them makes the bargain books even sweeter.
I then drop them back on the table when I've finished with them unless I think a friend would really enjoy reading one that I've especially loved. For the price of a new book, I can buy a whole stack of books from the little table. I'm not sure that my stash is going to last three weeks though!
5) I know this isn't money-saving as I spent money I didn't really NEED but I bought a steamer to go in my Instant Pot which I'd read was brilliant for reheating leftovers. It really does make a difference when heating up leftovers – the mince and onions mac and cheese and bolognese that I've reheated in there so far have tasted even better reheated than it does when first cooked. The flavours seem to intensify in a good way and it's quicker than heating food up in the oven.
Come over and join our fab Facebook group – Spend Less, Live Better! We've hit 30,000 members in the group now so it's a great place to be
As always, we'd love you to join in with us by sharing anything you've done that's been thrifty or frugal from your week – whether it's an Instagram picture (#5frugalthings), a blog post or even a video. Just add your link to the Frugal Friday linky at the bottom of this post.
You're more than welcome to copy and paste the badge above but it would be even better if you could let your readers know that you're linking up with the five frugal things linky by adding a little line to the bottom of your post like this one:
I'm linking up with this Cass, Emma and Becky in this week's 'Frugal Friday' linky.
Don't miss out on future posts like this – receive updates directly to your inbox by email by adding your email address here and hitting subscribe. You can also follow me on Twitter, BlogLovin or Networked Blogs and I'd love to see you over on my Facebook page and on Instagram.
You are invited to the Inlinkz link party!