Every week I share five frugal things that I've done during that week just to show you that the small things you do all add up to a great frugal lifestyle where you can learn to live a fabulously frugal life.
Before I start though, I do want to say that being frugal to me is about getting the best value for our money – it's not about doing without for us or about not having nice things.  We all have different financial situations and we're all frugal for different reasons – we're frugal so we can afford to do nice things together.
1) I don't know if you have any beauty staples that you won't scrimp on but mine can't-do-without this is the Benefit They're Real mascara which I've been wearing for years.  Before I discovered it, I tried just about every mascara there was and for some reason they all smudge on me so when I found this one which doesn't smudge at all I was so pleased and to me, with some pale lashes that need a boost, I'm happy to pay the £20 a tube – especially as it lasts so long.
Anyway, this week I popped to Boots with Miss Frugal to buy a present for one of her friends Birthdays and discovered that Benefit has launched a new Mascara. It looks great but it isn't for me as they only do it in black at the moment and I'm a definite brown mascara kind of girl even if I did want to try something new, which I really don't.  They do the new mascara in a mini size which is half the size and half the price so we decided to buy one for the Birthday present we were shopping for.  As we were walking out of Boots (after paying for it obviously ;-)) I checked my receipt and somehow I had way more Boots Advantage Points on there than I thought so I went right back in and used my points to treat myself to a new tube of my mascara as I knew I was getting to the bottom of the one I had.
2) I'm not a huge coupon-er but lately I've had some pretty good ones through the post from Tesco, Morrisons, Pets at Home and Farm Foods (which I think is a local to us shop).  I thought it would be a good idea to try and keep them together in one handy place because I was either losing them if I left them out somewhere or forgetting about them if I put them in my paperwork drawer.
When I was cleaning the garage out, I found a small empty box cardboard box that I must have kept because it was too pretty to throw out.  I've attached that to the side of my fridge using some cheap (but very strong) magnets that I bought when I was thinking about making my own fridge magnets and voila, I have a coupon box…
Does that make me a little bit sad?
3) I did an Iceland shop last weekend and stocked up on frozen veg which is always reasonably priced in there and always great quality.  We have a Farm Foods freezer shop near us too which is slightly cheaper but the quality isn't always as good so I tend to stick to Iceland now.  I know I say this all the time but frozen veg is definitely the way forward for me – it's easy to cook, takes no preparation and means that I always have veg in the house.  There's said to be more goodness in frozen fruit and veg as it's usually frozen in much less time than it takes to get to you in the shop fresh which is another reason I like it.
I may have over-estimated how much freezer space we had available though because I don't think I could squeeze even just one more yellow stickered bargain in there if I tried.  Which means that you can almost guarantee that there'll be bargains galore when I'm shopping this week and I'll have no choice but to leave them on the shelf.
4) I found some pudding rice at the back of my food cupboard when I was having a re-shuffle in there this week so I decided to make some lovely slow cooker rice pudding using some almond milk that I had left over and a little vanilla, nutmeg and cinnamon and it was AMAZING!  Honestly, I could have eaten it again… And again!
I've written up a similar homemade rice pudding recipe to this a while ago but I used almond milk instead of normal milk as that's what I had in.  It's so filling and it's really cheap to make, especially if you come across a half bag of pudding rice that may well have been a few months past it's best before date.
5) I sold a few bits on our local Facebook selling group this week as well as giving away my prized rug which I've loved since I got it.  Unfortunately, I'm the only person in the house who loves it and with the new carpets we got fitted last week, the decision was made to get rid of it and as I was given it as a review item a few years ago, I didn't want to sell it on so I listed it as free.
What I didn't take into account was that the minute you mention the word free in our Facebook selling group, you get absolutely inundated with comments and messages of people who would like to be considered along with the reasons why they would like it and how it would be amazing for them.  I'm quite fair and generally go with the first person who asks about things so, within about ten minutes, I had someone on their way to collect it but despite several comments from me to explain that and me marking the item as sold, I am STILL getting messages about it now.  When I get chance, I'm going to just delete the listing completely I think.
The Facebook selling groups are a great way to sell things you want rid of and I often list things on there to clear some space and make some money.  I sold this little side table that I bought for £5 at a charity shop for £15 which was great as I just gave it a coat of paint but it made really transformed it and the woman that collected it was over the moon.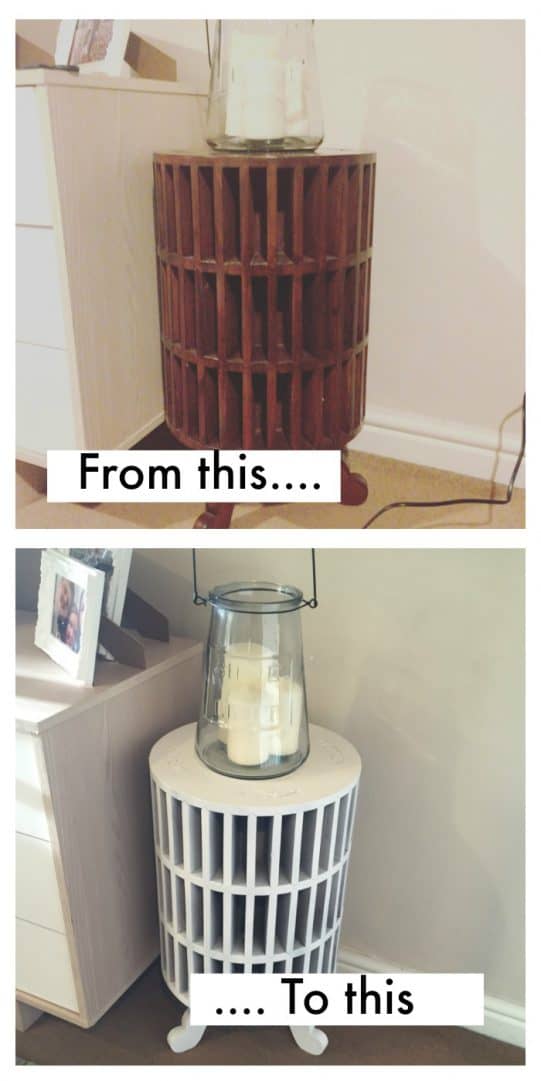 I was sad to be getting rid of it but I am on a huge declutter mission at the moment and it's only purpose was to sit in my living room with more clutter sitting on top of it.
As usual, we've been having some really good discussions this week over in our Live Well, Spend Less Facebook group.  We'd love to welcome you to our little community if you fancy popping in.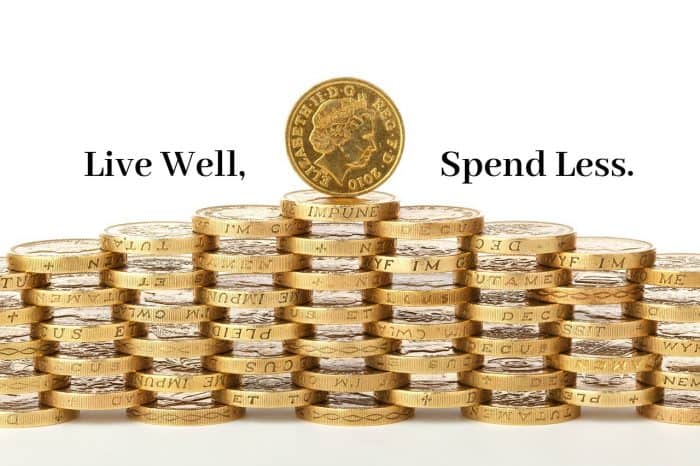 As always, we'd love you to join in with us by sharing your five frugal things from week – whether it's an Instagram picture (#5frugalthings), a blog post or even a video.  Just add your link to the linky at the bottom of this post.
You don't have to share five things you've done, anything thrifty or frugal that you've been doing is perfect.
You're more than welcome to copy and paste the badge above but it would be even better if you could let your readers know that you're linking up with the five frugal things linky by adding a little line to the bottom of your post like this one:
I'm linking up with this Cass, Emma and Becky in this week's 'Five Frugal things I've done this week' linky.
Don't miss out on future posts like this – receive updates directly to your inbox by email by adding your email address here and hitting subscribe. You can also follow me on Twitter, BlogLovin or Networked Blogs and I'd love to see you over on my Facebook page and on Instagram.