The sweetness of the parsnips in this carrot and parsnip soup really takes it to another level!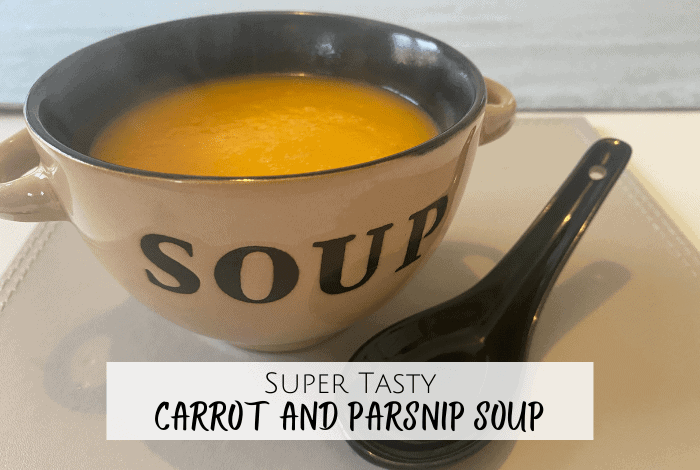 This is a souper simple (see what I did there 😂 ) homemade carrot and parsnip soup recipe that's not only cheap and easy to make but it also tastes absolutely amazing with the parsnips adding a whole new depth of flavour.
I made this using half a bag of carrots and half a bag of parsnips which I got for 19p per bag which means that the soup literally cost about 10p per serving which makes it taste even nicer if you ask me. I had a big portion for lunch and have one in the fridge ready to have for lunch tomorrow but the rest of it is in the freezer ready to be defrosted and heated up at a later date. If I don't use the rest of the veg in the next day or so then I'll make another batch just for the freezer rather than let it go to waste.
Super Tasty Carrot and Parsnip Soup....
Yield: Serves 4

Prep Time: 5 minutes

Cook Time: 22 minutes

Total Time: 27 minutes

I love the flavour combination of carrots and parsnips in a soup - it's so warming and the perfect soup to warm you up on a grey day!
Ingredients
1-2 small/medium carrots, sliced
250g sweet potato, chopped
1/2 an onion, chopped
1 fresh red chilli, sliced finely (or just up the dried chilli below)
1 veg stock cube
1tsp cayenne pepper chilli
1tsp dried chill powder or flakes
1tsp garlic powder
1tsp cumin
Instructions
If you're using a soupmaker for your soup then just chop up the veggies into smallish pieces and pop them in the soupmaker.
Crumble over a stock cube and then top up with boiling water to the minimum level (1.3l in mine).
Season it well.
Set to the smooth setting, press start and then the soupmaker will do all the hard work for you.

If you're not using a soupmaker then gently simmer your veggies in the stock and and use a stick blender when it's all soft to blend it into a soup.
Notes
Don't worry about exact quantities - My basic rule when I'm making soup in the soup maker is that I try and add in around 600g of vegetables when I'm making a batch of any soup because that always seems to give me just the right consistency when I top up the water to the 1.3l level. 

Also, can we take a minute to appreciate my new little soup bowls which I got from the charity shop near me for the bargain price of £1? They even came with their own little spoons and they're so cute that I think I'm going to be making soup every day from now on so I can use them!
Don't miss out on future posts like this – receive updates directly to your inbox by email by adding your email address here and hitting subscribe. You can also follow me on Twitter or BlogLovin and I'd love to see you over on my Facebook page and on Instagram. If you're interested, you can find out more about me here and while I've got your attention, if you're wondering why some of my posts lately are a little bit less frugal then have a read of this post. 😉
Do your future self a favour – Pin this 'carrot and parsnip soup' post for later: