This Slimming World Daily Food Diary Printable is exactly what you need to keep track of how you're doing if you're planning to follow Slimming World to lose weight and get healthy this year.
I made this daily food diary printable a while ago because I didn't find the ones you can get from the Slimming World classes or on their app to be particularly user-friendly and I do like a visual tracker to keep me motivated and on track.
My version has space to record what you've eaten, how many Syns you've used, and what healthy extras you've eaten as well as keeping track of how much water you've drunk that day and what exercise you've done. Not only that but it looks pretty and it's easy to fill in on the go and also to look back on so you don't forget the things that worked for you. And the things that didn't. 😂
There's even a space to write down what you're focusing on that day which is usually where I put what exercise I plan to do or what meals I want to try and prep for the next day but sometimes, I just write 'Get through the day on plan' which is sometimes a battle in itself depending on what I have on and how I'm feeling.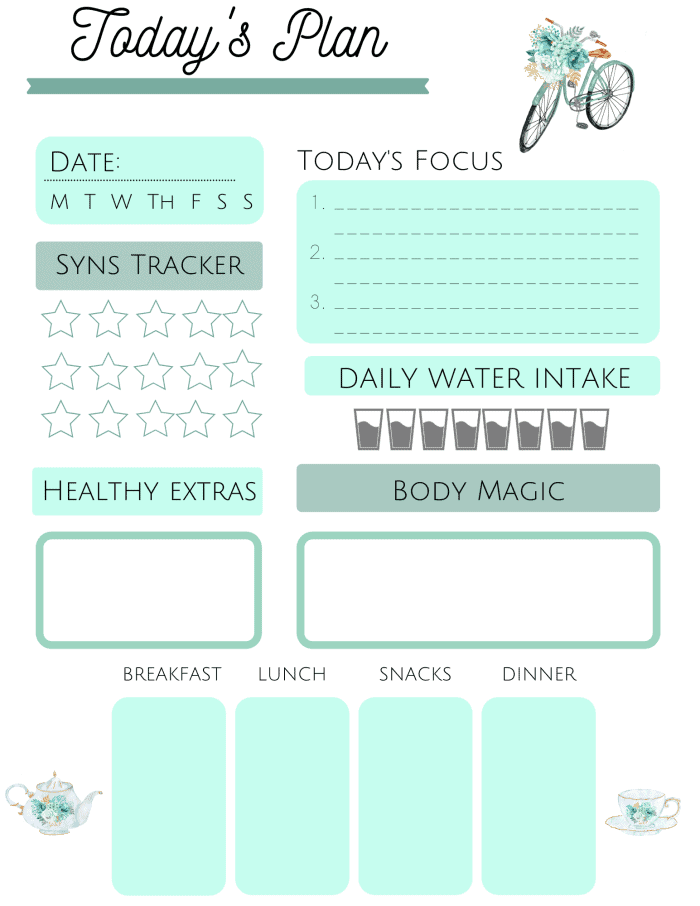 I genuinely believe that if you don't keep track of everything you eat, then your chances of success on Slimming World are much less than they would be if you use some form of tracking. It doesn't need to be a fancy tracker, it could be an old notebook, a new notebook, the notes section of your phone, or even the back of an envelope – the main thing is that you're tracking it somehow.
You can click on the image above and it'll take you to the PDF version or click on the link below if you want to print your own Slimming World Food Diary out to use to keep you on track.
Don't miss out on future posts like this – receive updates directly to your inbox by email by adding your email address here and hitting subscribe. You can also follow me on Twitter or BlogLovin and I'd love to see you over on my Facebook page and on Instagram. If you're interested, you can find out more about me here and while I've got your attention, if you're wondering why some of my posts lately are a little bit less frugal then have a read of this post. 😉
Do your future self a favour – Pin this Slimming World Daily Food Diary' for later.