Today I'm sharing the second post in my 'What we ate in a week' series!
The plan with these posts is that I start writing this post the Monday before you read it each month and just update it each night with a photo of what we had for our tea that day.  It worked pretty well last time I did this so let's see if I'm as good this time…
Monday
Mushroom risotto was on the menu tonight, inspired by the pathetic looking mushrooms that were sitting in the bottom of the fridge. I added some chilli for a bit of heat too and it tasted lovely!
Tuesday
Before Christmas, I bought a huge piece of topside when it was half price in Tesco but I realised it was much too big considering the kids aren't that keen and will only eat a little.  I cut it into two and did one for Christmas dinner and one last night in the slow cooker on top of a pile of potatoes and red onion.  We had it with broccoli and Yorkshires.
Wednesday
I know it's not the best tea but we do love a bit of avocado on toast with eggs on top.  This is Mr Frugal's with a cheeky extra egg on the top but for the rest of us it's two slices of toast with avocado mashed in lime with salt and pepper topped with two eggs!  Yum!
Thursday
I got a cottage pie out of the freezer last night and left it in the fridge overnight and all day today.  We had Yorkshire Puds and lots of broccoli and carrots with it and it was so delicious.  I have some in a tub for lunch tomorrow too as there was still leftovers.  It's times like this when it's totally worth batch cooking – I'm feeling a bit inspired to get back into it after being reminded at how great it is to be able to whip something out of the freezer ready for tea the next day.
Friday
We had homemade fajitas tonight although they were honestly a little bit spicier than I intended.  I used some ripe avocados to make guacamole and we had some sour cream with them too but even so, they were still hotter than the kids normally like.
Saturday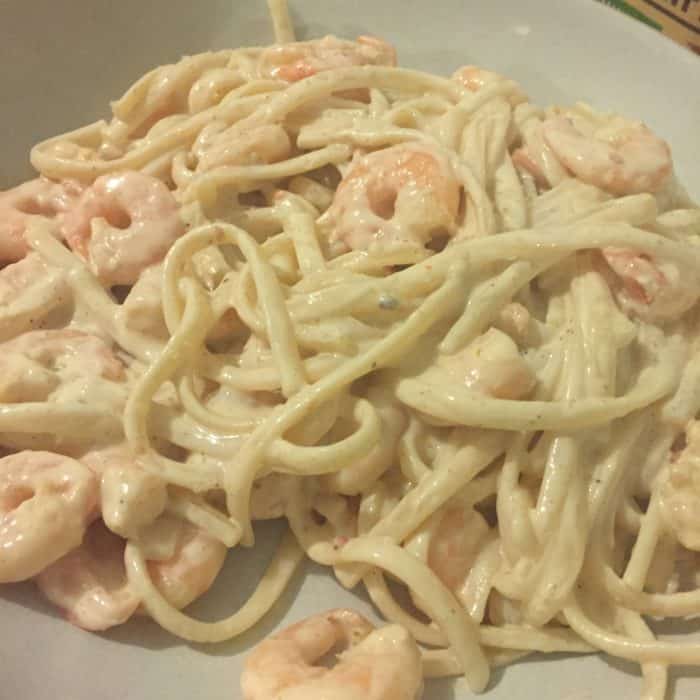 This is Miss Frugal's signature dish – it's king prawns in a sauce made with Philadelphia cheese and some chilli and lime seasoning with some linguine thrown into it.  We got the king prawns reduced in the yellow stickered section so it was a bargain too!
Sunday
We had a chicken dinner today with homemade cauliflower cheese, chicken, mash and brocolli.  I'm afraid the Yorkshires are Aunt Bessies even though I make amazing Yorkshires myself.  The kids prefer Aunt Bessies over mine so when I get them on offer, I just do them instead.  I know, I'm hanging my head in shame! 😉
Don't miss out on future posts like this – receive updates directly to your inbox by email by adding your email address here and hitting subscribe. You can also follow me on Twitter, BlogLovin or Networked Blogs and I'd love to see you over on my Facebook page and on Instagram