Apparently, today is Blue Monday, a day known for being the most miserable Monday of the year!
It's called Blue Monday as it's supposedly the most miserable day of the year which has something to do with the fact that Christmas seems like a distant memory whereas payday feels like it's forever away. Add that to the fact that the sky is usually grey and dull outside and I get why it's supposed to be a miserable day even in normal times – never mind at a time when the world itself is as uncertain as it is.
But, I genuinely believe that we have the power to control the way our days go and that Blue Monday doesn't have to be a sad day at all so I'm not buying into it! Not one bit.
How you can beat Blue Monday
Start by writing a 'fun' list of the things you're grateful for in your life or the things that are making you happy right now!
It's super easy to forget all the small things at the moment and I absolutely get that. Remembering the good stuff is genuinely the best way to remind yourself how lucky you really are so sit down with a pen and paper and write down the things you're grateful for or the things that make you happy right now. It sounds cheesy and honestly, it probably is a bit but it helps especially if you don't take yourself too seriously.
Your list is your list and it's for your eyes only so whatever it is that's making you happy, get it on there – I don't write on the things that I know I'm grateful for like the fact that I have a lovely warm home, amazing kids and a kitchen filled with food because to me, that's a given. They're all things I'm super grateful for every day so whilst you can absolutely write them on your list, I prefer to use more fun (you might call them superficial) things on my list as they're the things that lift my mood.
Some of the things that you'd see on mine if I was writing that right now instead of this post would definitely make you judge me…
I have some new skincare stuff that makes my face feel really soft – and it was on 3 for 2.
There's a doughnut in the fridge with my name on it that's going to taste amazing.
I've written today's to-do list using my pink sparkly pen.
My favourite top is washed, dried and ready to wear today.
Monty is sitting with his head on my knee making it very difficult to type but looking super cute.
See, I feel better already!
What is it that you're actually feeling down about?
If there's something playing on your mind or making you feel a bit sad then you need to figure out what it is and do something about it! Use Blue Monday to your advantage and do something today that's going to make the rest of this week, month and even year better!
Are you worried about your financial situation? If so, do something positive to change that by spending some time working out your monthly budget and where you can cut back or reduce your outgoings.
Stressing about how you're going to pay for next Christmas? Make a plan to start earning money throughout the year and kick it off right now! This post over on my Christmas on a Budget blog is ideal for that so spend some time there.
Do you feel a bit meh because you haven't put your lipstick on and done your hair this year? Do it, you don't need an excuse to spend a bit of time on yourself. It's not a waste of time or a silly self-indulgent use of time so don't be worrying about that, just accept that sometimes you just need to spend a bit of time on yourself and do it. Paint your nails, dye your hair, shave your legs… Anything you fancy!
Do something creative!
This always makes me feel better! Whether it's baking, taking photos, making something or even just planning a project – it never fails to make me feel better. When I felt a bit sad last year as I had nothing to look forward to with everything going on in the world, I printed out some holiday photos at home and framed them in some frames I had in the garage so I now have a set of six prints to go on my wall to remind me of when we could actually go on holiday and I felt so happy when I was done as I really felt like I'd achieved something!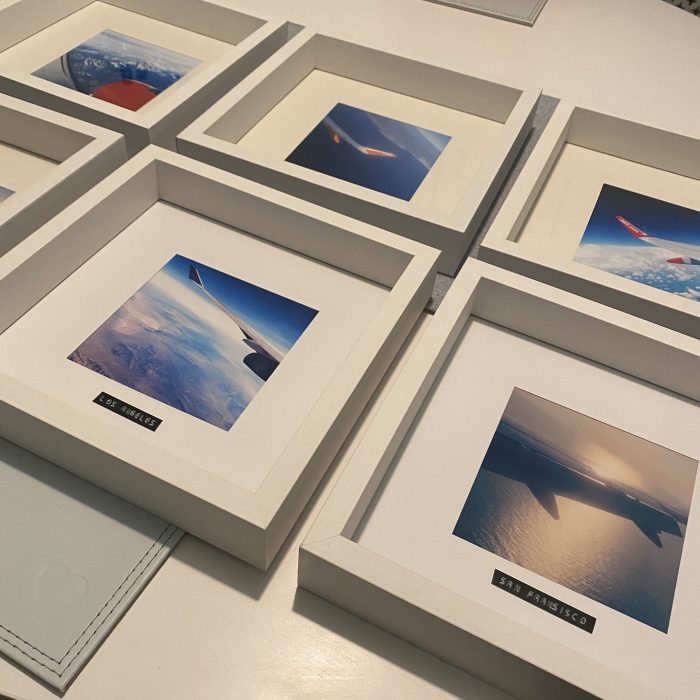 Do something that's going to make the rest of your week easier!
Be nice to yourself and do something that you're going to thank yourself for doing later in the week. Maybe write your meal plan if you haven't already, have a good tidy so you don't need to do it another day
So there's a few ideas on how you can not only beat Blue Monday but how you can turn it around to your advantage!
Don't miss out on future posts like this – receive updates directly to your inbox by email by adding your email address here and hitting subscribe. You can also follow me on Twitter or BlogLovin and I'd love to see you over on my Facebook page and on Instagram. If you're interested, you can find out more about me here and while I've got your attention, if you're wondering why some of my posts lately are a little bit less frugal then have a read of this post. 😉
Do your future self a favour – Pin this post for later – and don't forget, these tips will work for any day and not just Blue Monday: