We're off on holiday in a couple of weeks so I'm focusing on two things – saving money and losing weight!
To help me with both of these, I've been taking Slimming World friendly packed lunches to work and because I'm so please with myself for avoiding soggy sandwiches all week I thought I'd share my week's worth of Slimming World friendly packed lunches.
Day 1 – Lime and Chilli cous cous with spinach, chicken and sun dried tomatoes (2 syns for the sun dried tomatoes)
I don't measure when I make cous cous, I just add how much I want to a bowl, add the flavour and pour enough boiling water on to cover the cous cous. In this case, the flavours were a teaspoon of chopped chilli, a tablespoon of lime and a veggie stock cube. I give it a good stir and leave for five minutes before adding more water if I think it looks too dry. All I did then was add in about 30g of sun-dried tomatoes, a couple of handfuls of torn up spinach and some leftover chicken from lunch.
Day 2 – Brocolli and ham pasta with sun dried tomatoes (2 syns for the sun dried tomatoes)
This was literally some leftover pasta from tea the night before! Pasta, brocolli and leftover gammon with a little bit of chopped sun dried tomatoes added in because I'm loving that flavour at the moment.
Day 3 – Pea and mint soup
I batch cooked some pea and mint soup and popped some in my handy Sistema containers to transport them to work. The queue for the microwave was so long though so I think I might need to take it in my flask if I do it again, the problem is that I don't have set lunchtimes so I'll often end up taking a late lunch and my soup would be cold by that time I think.
Day 4 – Mini Omelettes (HEA cheese)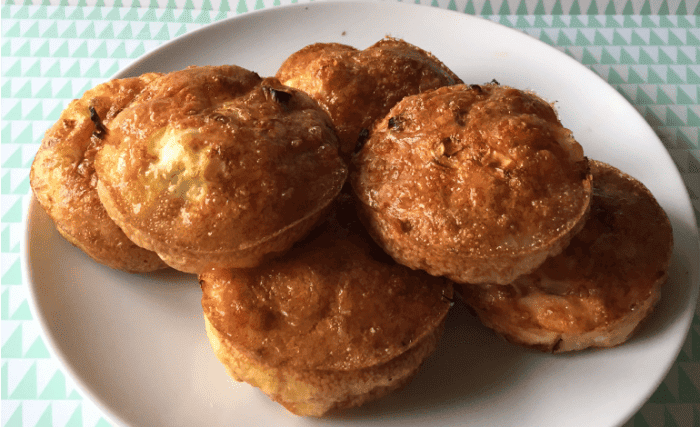 I love making these little mini omelettes as you can put whatever you fancy in them – the ones I made this eek had gammon leftovers and sliced spring onions in there with a little grated cheese.
Day 5 – A Mugshot and a banana
I'm popping to my friends after work tonight, then I've got to drop off Master Frugal at football, bake some cakes for a bake sale with Miss Frugal and then pick Master Frugal back up. I'm not going to worry about fitting in making lunch for Friday as I'll just have a mugshot and a banana.
I'm hoping to manage another week free or soggy sandwiches again next week!
Don't miss out on future posts like this – receive updates directly to your inbox by email by adding your email address here and hitting subscribe. You can also follow me on Twitter, BlogLovin or Networked Blogs and I'd love to see you over on my Facebook page and on Instagram.