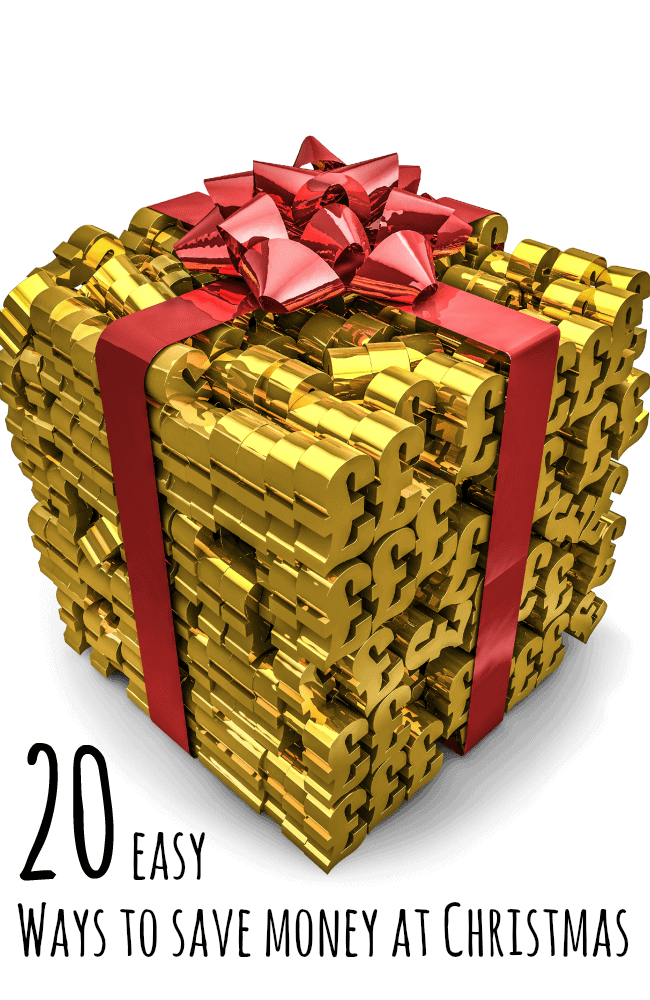 My favourite kind of money saving is the kind that doesn't take much effort or involve big changes – just a bit of common sense and sometimes a reminder of things that I know I really should be doing anyway but for one reason or another I'm not.
Just in case you're the same as me, I thought I'd share my top twenty Christmas money saving ideas….
If you're not going to be visiting someone until after Christmas, buy their presents in the Boxing Day sale – you can save a fortune.
Check your store loyalty cards and use whatever points you have to buy presents / Christmas food.  Tesco are running their ClubCard Boost again this year where you can double your points in certain areas of the shop.
Use cash back sites for any purchases you make online, I tried this recently and earned almost £20 back on an £80 shop.
Make sure you know what your Christmas budget is and stick to it.  It's a long time till the next pay day in January if you overspend and run out of money!
Once you've done all your shopping resist temptation to buy extra little bits – no matter how much you think someone will like something.
Agree a spending limit with family and friends who you usually buy for and consider just buying for the kids – they'll probably be just as grateful as you that they don't need to spend as much.
Consider a Secret Santa with friends and family so you only need to buy one present.
Shops like Boots and WHSmiths often do a buy 2 get 1 free offer on gifts so consider buying your presents from there to save.  A few years ago when I was buying Miss Frugal the Baby Annabel that she desperately wanted, I bought three on the three for two offer and sold two for less than the RRP so mine ended up costing me £15 instead of £30 (I know, a ridiculous amount for a doll).
Don't forget you don't necessarily have to buy a present in time for Christmas – if you think it's going to be reduced in the sale why not wait a few days and see how much you can save.  It's probably best to agree this with the recipient ahead of time though just so they're not disappointed.
Don't be afraid to buy presents from e Bay.
Hand deliver cards to people who live near enough to you rather than posting them – save on a stamp and catch up with someone a the same time.
Have a charity box at work and give a few pounds to that instead of buying cards for everyone – saves money, time and it's for a good cause.
Make some homemade gift tags using last years old Christmas cards.
Don't be tempted to buy food you don't enjoy – none of us eat Christmas cake but until a few years ago we used to buy one anyway for visitors to nibble on.
Leftovers aren't compulsory s0 don't feel that you have to a buy a huge expensive turkey, just buy the size you need.  If you do have leftovers, there's lots of ideas here on how to use them up here.  Even better, don't buy a turkey at all.  Buy a cheaper (and probably tastier) joint of meat.
If you're having people over share the cost of food and drink by asking them to bring a plate of something with them – like a Christmas Come Dine With Me kind of thing.
Don't over buy – the supermarkets are only closed for one day this year (ours are opening Boxing Day) so you really don't need to cram your cupboards with food.  I see people with trolley's piled high in the shops just before Christmas and it's really not necessary to spend so much extra on food and drink.  You can start stocking up on snacky food and any drinks now by adding a little bit to your shopping each week which will reduce the spend for your Christmas shop.
Consider shopping online for your Christmas shop to avoid queues and temptation in store.  You'll need to be pretty sharpish though with this and get your delivery slot booked ASAP.
Keep all of your receipts in one place in case anything needs to go back.
Remember that the best part about Christmas is spending time together as a family.  Nothing beats Christmas movies and board games or walks around the neighbourhood to look at the Christmas lights.  You don't have to spend money to have fun.
Don't miss out on future posts like this – receive updates directly to your inbox by email by adding your email address to the box on the top right of this page and hitting subscribe. You can also follow me on BlogLovin or Networked Blogs and I'd love to see you over on my Facebook page and on Instagram.
Image credit: Shutterstock, ppart