I love finding new ways to use old things so I'm really pleased with my tin can up-cycling project….
A couple of weeks ago I shared with you my super pretty DIY painted vase project and mentioned that I'd spray painted a few other things at the same time – some turned out great, others not so much.
The can of spray paint that I used was enough to spray paint a lot of things!
I've already told you about the vase so I'll just quickly tell you about the clock and then I'll move on to today's main event! 😉
The copper was a little brighter than I was expecting but I decided to go for it anyway and started with our oversized clock, covering the face in paper and masking tape before giving it three thin coats of spray paint.  I let it dry and then took the masking tape and paper off and here's the result….
Not as clean a finish as I would have liked as the ridges around the outside made it hard to get an even coverage but unless you're right up close, you don't really notice.
After I was done with the clock and the various other projects I'd wanted to use the spray paint for, I still had a fair amount of paint left so I went back into the kitchen to see what else could do with a makeover.  I then sprayed the mug tree and the paper towel holder and STILL had some paint left over which meant that I either stopped before I used up all the paint (never going to happen) or I found something else to paint.
My eyes settled on the recycling pile on the counter and the two empty tins of baked beans and I had an idea.
I washed the insides of the tins out, ripped the labels off them and used a scourer to quickly get rid of the glue that had been used to attach the labels.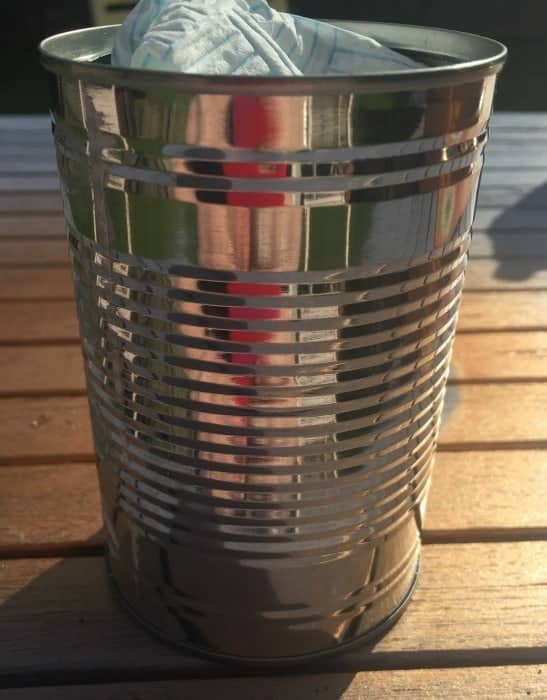 These tins were perfect as they were the kind that had the ring pull style lid so there were no sharp edges to be wary of.   I'd definitely recommend this type of tin or say that if you're using the type that have to be opened with a tin opener then you're going to want to carefully sand and sharp edges down.
I gave them a very light coat first and let that dry before I sprayed another very light coating of paint onto the tin.
*TOP TIP* By taking your time and building up the colour gradually with 2-3 light coats, you'll reduce the risk of the paint running which looks awful.  This way you'll get even coverage and it will have a much more professional finish.
It took me three coats to get full coverage but it was well worth taking the extra time as I think my little upcycled tin cans look amazing.  You can use them for anything from pen pots to make up brush holders or even a straw dispenser like in the above photo but I'm currently using mine to grow some herbs in on the kitchen windowsill.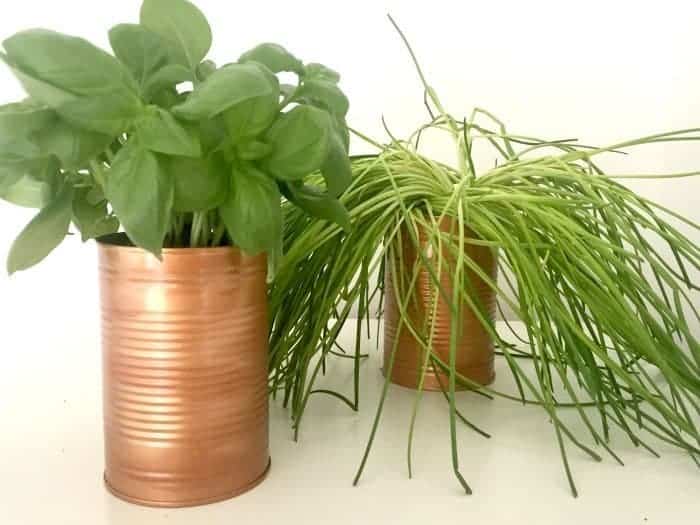 Don't miss out on future posts like this – receive updates directly to your inbox by email by adding your email address here and hitting subscribe. You can also follow me on Twitter, BlogLovin or Networked Blogs and I'd love to see you over on my Facebook page and on Instagram.