After the success of my unicorn bath salts and my unicorn fudge, I sat down to try and think of something else unicorn themed that I could make and share with you and this is what I came up with – unicorn poop cookie dough. And you know what? I think you're going to love this one just as much as the others.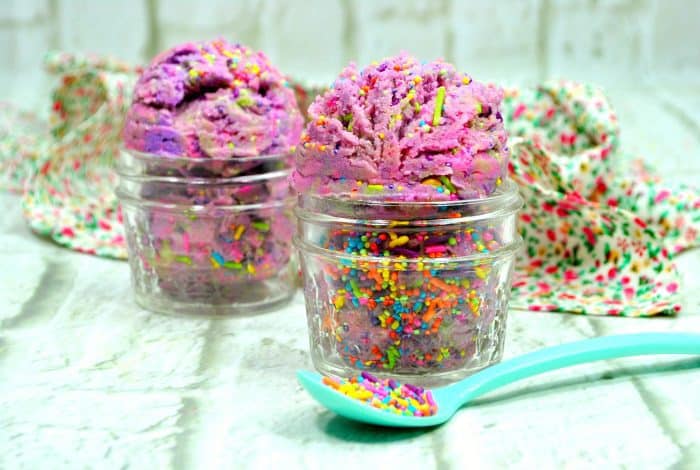 How to make Unicorn Poop Cookie Dough
285g (1 1/4 cups) sugar
225 g (1 cup) unsalted butter
2 1/2 tsp vanilla extract
1 tsp salt
220g (1 3/4 cups) plain flour
1 tub of Unicorn Sprinkles (basically just coloured sprinkles that you'll find in any supermarket)
Purple Pink and Green gel food coloring
Using an electric mixer, cream together the sugar and butter until fluffy and combined
Mix in the vanilla and salt and mix until combined and fluffy
Beat in the flour, a little at a time until all combined
Divide the dough into 3 portions and add a food coloring color into each bowl. Pink in one bowl, purple in the second bowl and green in the third bowl and mix each one until combined
Place the dough back into the mixing bowl, and add in the unicorn sprinkles and slightly mix together but not too much so that the colors fully combine!
Use an ice cream scoop to scoop portions out or eat out of the bowl yourself!
Don't miss out on future posts like this – receive updates directly to your inbox by email by adding your email address here and hitting subscribe. You can also follow me on Twitter, BlogLovin or Networked Blogs and I'd love to see you over on my Facebook page and on Instagram.