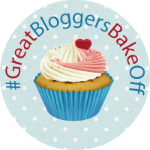 I know I always say that I want to encourage my children to enjoy cooking and being in the kitchen but lately, I'm pretty sure that Miss Frugal has gone from simply enjoying cooking and baking to being a little bit obsessed by it 😉
She's been baking lots more than usual lately – she's started to follow a recipe herself rather than me just telling her what to do cupcakes and more often than not, the end results looks better than something I would have made.
And this week, she was so excited to see the return of The Great British Bake Off on BBC2.  Everything stopped while we watched it together and she looked on in horror at some of the bakes that were presented to Mary and Paul and stared in awe at some of the works of art that the contestants made.
As soon as it finished she asked if she could make her own cake the next day for us to judge and I thought of this Jenny and Helen's linky straight away.  I'm going to try and take advantage of her enthusiasm over the show to expand her skills a little and hopefully, she'll be proud of seeing what she bakes on here each week.
She used the standard (to us) Victoria Sponge recipe and adapted it slightly to turn it into a chocolate version:
225g butter or margarine
225g sugar
4 eggs
2 tsp vanilla essence
175g self raising flour
50g cocoa
1 bag of chocolate chips (optional)
She did the usual – cream the butter and sugar, beat in the eggs and Vanilla and then fold in the flour and cocoa but she also added a handful of chocolate chips – she then split the mixture equally into greased two cake tins.  And when I say equally, she literally weighted each one and faffed about until they were both equal!
She baked them at 190′ c for around 20 minutes and then got them out of the over herself – this involved her practically covering every part of her body to make sure she didn't get burnt!
I was allowed to help to get the cakes our of the tins but then she took over again for the decorating which is her favourite bit apparently!
The topping is a packet of dream topping that we made and sat in the fridge for half an hour before icing and the chocolate icing inside could be my own best chocolate icing recipe ever or it *may* possibly be some ready made shop bought chocolate fudge icing because she was so determined to do this herself and hand mixing the icing would have made her arm drop off.