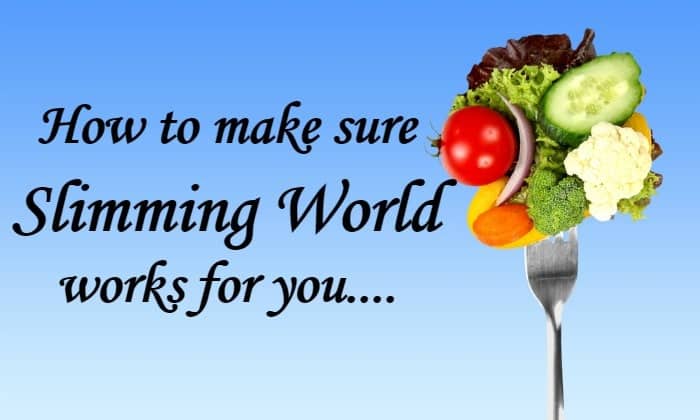 One of my New Year's Resolutions this year is to lose weight although there's probably no surprise there then as I'm sure that about half the country has the same resolution and I've had the same one for about the past ten years! 😉
To help me achieve my goal I went along last night to my local Slimming World group and signed myself up. I've done Slimming World before and I know it's an easy plan to follow with practically guaranteed results if you stick to it but in the past I've given up quite early on.
I'm not really sure why I've given up but someone did ask me recently why I'd joined twice before and both times it was because a friend was joining and I'd decided to tag along with them. I was enthusiastic about it at the time but I don't think my heart was in it really so I didn't stick to it as well as I could have done which meant I wasn't seeing the losses that my friends were seeing. This made me feel like I couldn't do it so I ended up not doing it!
This time though I've gone along myself because I want to and I have great motivation as I've just booked me and Miss Frugal a cheeky long weekend away in the Sun at the end of April.
As you can imagine, with it being the first week in January there were lots of new people signing up last night and although some of them were returning members like me, lots were completely new to Slimming World and I could hear how daunted some of them were by the whole thing wondering how they would ever get the hang of it all.
As I sat listening to them questioning themselves, I decided I was going to write a quick post about my top tips for those people starting out to help to make sure Slimming World works for them.  It really is easy and with the right motivation and willpower you WILL lose weight!
I've got up this morning and had my poached eggs on toast and I thought now was as good a time as any to write it so here we go- my top tips for Slimming World….
Get your family on board
Most meals can be adapted to make them Slimming World friendly but no matter how tasty you make them, your family may notice a difference so if you give them the heads up that you need their support then hopefully you shouldn't have twisty faces at the table because the meal is a little different to what they're used to.
You can also ask them to make sure that any leftovers are put straight in the bin (by that I mean anything they don't eat as I always end up eating a stray chicken nugget or fish finger that they've left).
Read the pack you're given
Take time to read the whole pack of books that you're given when you join because there's some brilliant information in there that will help you.  I heard one lady last night say she knew what she was doing so she'd be giving the pack to a friend to get her started which is a lovely thing to do but she's missing out on ideas and motivation by not looking at them.
Stay to your meetings
I know this is one that you'll always be told when you join but it really is true.  By staying to your meetings, you're going to hear about other people's successes, advice and tips and you only have to speak up if you want to do don't be worried about that.  Last night I learned about three products that other people had discovered that week and got at least one idea for a recipe I'm going to try out this week as well as hearing from someone who was in my position this time last year but now looks and feels amazing.
Use your Syns and your Healthy Extras
Don't feel that by not using your Syns and your Healthy Extra allowances that you'll do better at Slimming World.  They're there for a reason and by not eating them, you're making it more of a diet than a healthy eating plan because you're saying to yourself that you can't have things.  This means you're much less likely to stick to it for long enough to get the results you want.  To make sure Slimming World works you need to follow the plan and that means eating what you should be eating.
Download the Slimming World app
The app is practically worth the weekly membership fees itself!  It's so handy to have on your phone when you're out and about as you just key in the product name and the syns value just pops right up.  I went shopping last night after my meeting and it was so much easier with the app.  You're given a PIN when you sign up to get you logged in to the site so it's a members only benefit that I can't recommend using highly enough.
Make sure you have plenty of free foods in the house
You're bound to have hungry moments but with Slimming World there's no need to be hungry ever as long as you know what foods you can snack on freely.  I like to have crabsticks and muller lights in the fridge and plenty of fruit in the fruit bowl so it's easy to make good choices.
Be Organised
We all know that I'm a huge fan of meal planning to save money but meal planning when you're on Slimming World is essential in my opinion as I find that if I don't plan then I'm less likely to stick to it.  I need to know what I'm having so that I can make sure I have everything in the house to make it on the day and there's no last minute trips to the shop needed where there is every chance that I'll spend more than I intended and be tempted by some delicious something or other that's just begging to be bought.
Write it all down
This is another thing you'll be told at group but again, I can't stress how important it is to me.  It not only helps me keep track of what I've eaten so I can look back and see how many syns I've had and check back to see if I've gone wrong somewhere but it also reminds me of meals I've made when I need some inspiration.
Measure
Most foods don't need to be weighed or measured on Slimming World but your Healthy Extras do need to be and it's really important that you never guesstimate as this is where it could all go wrong!  I usually use my Healthy Extra B on bread which isn't hard to get right but I have my two slices of wholemeal bread for each day portioned into sandwich bags and put in the freezer so I just pull it out and pop it in the toaster.  I also have a couple of bags of grated cheese in the freezer weighed out to just the right weight so I can add them in to my recipes where I'm having cheese as a Healthy Extra A (which is often as I don't really have milk).
Vary what you eat
It's really easy to stick to the same meals because (a) you know you enjoy them and (b) you know they're Slimming World friendly but do try and vary your meals as much as you can as eating the same meals all the time will get boring and make you more lightly to cheat or stop altogether.  Think about what you currently enjoy and think how you can adapt it to be a Slimming World meal.
Set yourself a goal
It doesn't have to be your goal weight or anything like that but something you want to achieve – mine is that I want to go on holiday in April and feel better about myself than I do now.  I'd like to go shopping and buy myself some new clothes before I go so I'm saving a little bit of money each week so I can do this.
What are your top tips for how to make sure Slimming World works for you?
Don't miss out on future posts like this – receive updates directly to your inbox by email by adding your email address here and hitting subscribe. You can also follow me on Twitter, BlogLovin or Networked Blogs and I'd love to see you over on my Facebook page and on Instagram
Image credit: Shutterstock, www.BillionPhotos.com