This is the time of year when birds struggle to find food as the ground is hard, thanks to the icy temperatures we're seeing. That means it's the perfect time to make my cute little homemade bird feeder!
Remember last year when I shared our cute little homemade bird feeder in a mug?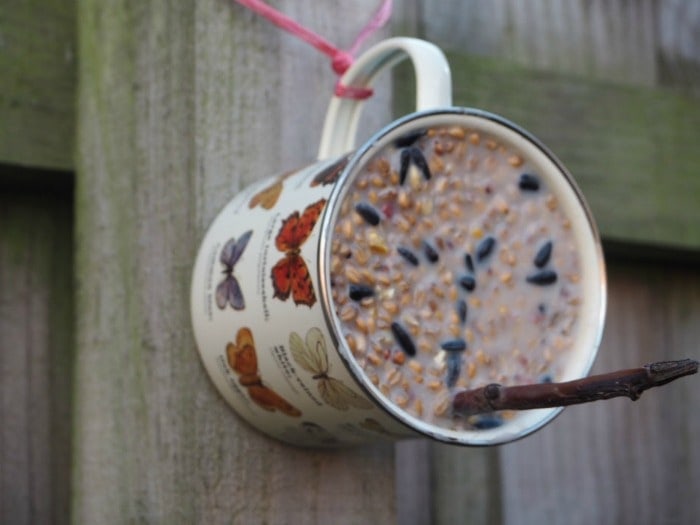 Well, it went down a storm with our feathered friends and we seem to have made some new friends who are now regular visitors.  I made another batch today and used some of it to make a couple of Christmas themed bird feeders which look fab hanging around the garden…
The only ingredients for this are wild bird seed which you can pick up quite cheaply in your pet shop or even at the supermarket and some suet – we buy the vegetable suet which works perfectly but regular suet will do the job just as well I would think.
You need to use 1 part suet to 2 parts bird seed so as before, we used the full pack of suet (185g) and then 370g of the bird seed.
We popped the suet into a saucepan and heated it over a low heat until it was completely melted.
Then we just poured the melted suet over the bird seed and Miss Frugal gave it a good old mix.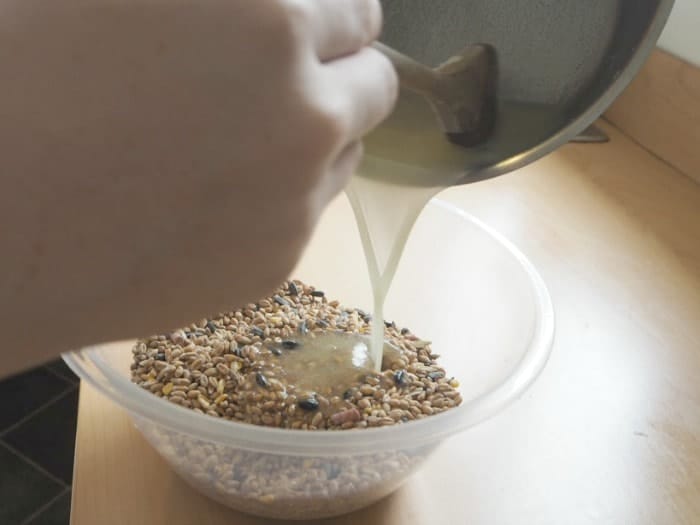 We used a couple of Christmas moulds at this point rather than the mug we used for our bird feeder last time and the star-shaped mini cake pan worked best so I'll show you that one.  We did use a gingerbread cookie cutter too but I don't think Miss Frugal packed down the mix enough as it was a bit crumbly.
Pack the mix into whatever mould you're using, making sure you squish it down with the back of the spoon so it's as compacted as possible.
Snip a straw in half and pop that in the mould to make a hole for the string and then pop it in the fridge to chill.
You can easily get it out of the mould when it's set as it's quite slippy thanks to the Suet so when it's hard, pop it out of the mould and tie some string through the hole making sure that it's long enough to attach it to wherever it's going but not too long that it'll be flapping about everywhere.
I hope you make some new friends as we did by popping one or two of these in your garden. 😉
Quick Warning: Don't use a suet-based birdseed recipe to make your bird feeder in the warm weather though as the Suet can melt and coat the feathers which makes it hard for them to fly.
Don't miss out on future posts like this – receive updates directly to your inbox by email by adding your email address here and hitting subscribe. You can also follow me on Twitter, BlogLovin or Networked Blogs and I'd love to see you over on my Facebook page and on Instagram