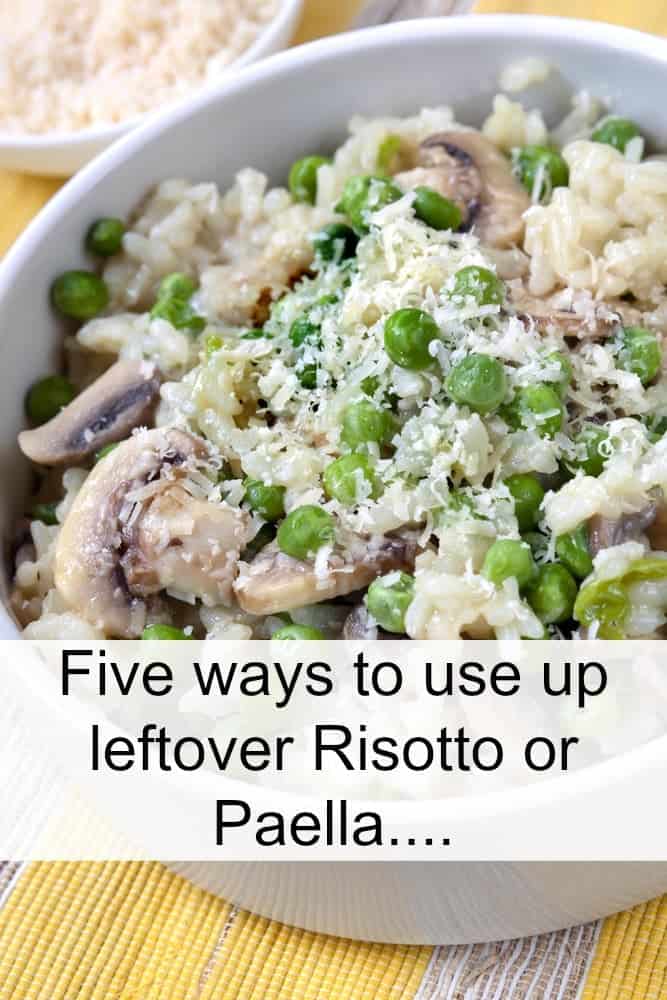 Homemade Paella and Oven baked risotto are two of my all time favourite meals but I always end up with leftovers so I've been experimenting with different ways to use up the leftovers….
These are really simple to make as all you need to do is make golf ball sized balls using the leftover paella / risotto. Then you just flatten them down and bake for around 20-25 minutes and you're done.  The cakes make a great little starter with some spicy mayo on the side.
I wrote about how to use up leftover risotto by making risotto balls here and the recipe works just as well with paella instead of risotto.
Riso al Salto is apparently the traditional Italian way to use up leftover Risotto and again, it works really well with paella.  I've written the recipe in full over on my meal planning blog  here.
I love stuffed tomatoes and I'm sure you could do this just as easily with a pepper but I'm not a fan of peppers so I've never tried it like that myself.  I usually just stuff a giant hollowed out beef tomato with as much paella / risotto as I can fit in there and bake it for half an hour at around 200 c.
Or you could turn your leftovers into a bit of a soup by adding some chicken /veg stock and cooking it all together in a pan – I've never tried this but I love soup so I will next time I have leftovers and I'll let you know what it tastes like!
Can you think of any other ways to cook your risotto or paella leftovers?
If you liked this recipe you can save it to your own recipe box if you use Yummly – just click on the YUM icon at the bottom of this post.
Don't miss out on future posts like this – receive updates directly to your inbox by email by adding your email address to the box on the top right of this page and hitting subscribe. You can also find me on BlogLovin, Yummly and Networked Blogs and I'd love to see you over on my Facebook page and on Instagram.
Image credit: Shutterstock,  Robyn Mackenzie