Every week I share five frugal things that I've done during that week just to show you that the small things you do all add up to a great frugal lifestyle where you can learn to live a fabulously frugal life.
Before I start though, as always feel that I should say that being frugal to me is about getting the best value for our money – it's not about doing without for us or about not having nice things. We all have different financial situations and we're all frugal for different reasons. 😉
1) You probably know how much I like to start these weekly posts with a bunch of bargain flowers!
Tulips are one of my favourite flowers and this little 47p bargain bunch cheered me up last weekend when I was struggling a little bit. It was a year since my Dad died on Sunday so I felt a bit down in the days leading up to it.
Having fresh flowers in my kitchen never fails to lift my mood and these little beauties were just what I needed.
2) I'm really starting to get the hang of my Instant Pot now!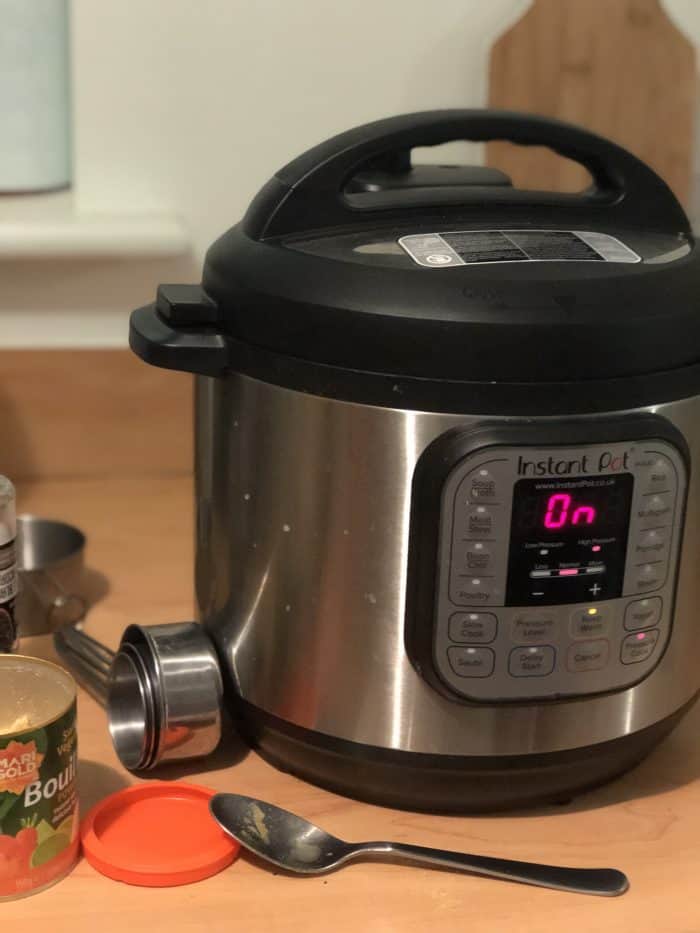 I've read somewhere that it's up to 70% cheaper than cooking in a conventional oven so the more I cook in there, the more money I save.
It's not just saving money though- it's a whole new way of cooking for me and it's really sparked my love of cooking again which is a huge help when it comes to injecting a bit of life back into our meal plans!
3) I opened a new bank account this week!
It's a Nationwide account where you pay a monthly fee but for the monthly fee of £13, I get the following:
Mobile phone cover for the whole family's mobile phones which covers damage, loss and theft – I don't have this currently but I know how much it's needed with all four of us having nice phones. The cheapest I found to cover all four phones when I looked was £20 a month which I begrudge paying when we've never had a lost or damaged phone between us.
Breakdown cover on both cars – This is currently part of my car insurance policies as that was cheaper than getting it individually but I think it's around £15 a month.
Annual worldwide family travel insurance – I buy this annually and usually pay around £50 for a worldwide policy for us all.
Commission-free cash withdrawals abroad – This will absolutely come in handy.
We've been talking about a new bank account for a while as we wanted a separate account for spending money and Nationwide were top of our list after they were so great with the kids' bank accounts when we opened them last year.
4) Last weekend, I did some batch cooking and made two big batches of my famous (in my own head) shredded chicken.
I actually cooked up 10 chicken breasts (in two batches) and portioned it up for the freezer. I use it ALL the time for everything from pasta to stir-fries and from quesadillas to pizza toppings so I thought I'd make a bigger batch than I made last time.
5) I found a random reduced basket at the end of one of the aisles in Tesco this week filled with gift tags, sparkly bows and stripey wrapping paper. And when I say bargain…
I bought five packs of wrapping paper (2 sheets and two gift tags) for 3p each, four bows for 4p each and some silver and gold sparkly gift tags for 3p per pack.
I've added these to the bag I have in the garage which also has some cards in there in case I need one in an emergency and a couple of gifts that I've bought in the sales at some point.
Come over and join our fab Facebook group – Spend Less, Live Better!
As always, we'd love you to join in with us by sharing your five frugal things from your week – whether it's an Instagram picture (#5frugalthings), a blog post or even a video. Just add your link to the linky at the bottom of this post.
You don't have to share five things you've done, anything thrifty or frugal that you've been doing is perfect.
You're more than welcome to copy and paste the badge above but it would be even better if you could let your readers know that you're linking up with the five frugal things linky by adding a little line to the bottom of your post like this one:
I'm linking up with this Cass, Emma and Becky in this week's 'Five Frugal things I've done this week' linky.
Don't miss out on future posts like this – receive updates directly to your inbox by email by adding your email address here and hitting subscribe. You can also follow me on Twitter, BlogLovin or Networked Blogs and I'd love to see you over on my Facebook page and on Instagram.