Every week I share five frugal things that I've done during that week just to show you that the small things you do all add up to a great frugal lifestyle where you can learn to live a fabulously frugal life.  
Do keep reading until the end this week as there's a cheeky giveaway to thank people for linking up with us.
Before I start though, I do want to say that being frugal to me is about getting the best value for our money – it's not about doing without for us or about not having nice things.  We all have different financial situations and we're all frugal for different reasons – we're frugal so we can afford to do nice things together.
1) As always, my favourite way to open these weekly posts is to share some bargain flowers with you and I'm always disappointed when I don't find a bargain through the week to share with you.  This week though, I have some of my favourites for a while to share with you…
A bunch of beautiful lilac tulips reduced from £6 to £1.50.
If you look closely then you'll see that they're not exactly looking at their best but you do need to look closely so I think they'll last for long enough to be good value.
2) Have you heard the saying champagne taste but lemonade budget?  That's me when it comes to food – I like the good stuff but don't like paying for it!  M&S meals for the most part are out of my weekly shopping budget but every now and again, I pop in on my way home from work to see if there's any bargains because when they reduce food in there, they really reduce it!
This week Miss Frugal and I had a night where there was just the two of us for tea so I stopped in on the way home and picked up two of these meals reduced by around 75%.  They were amazing and a total bargain.
3) I'm not sure if I mentioned opening a bank account for each of the kids a couple of week's ago but this week we set up their internet banking and the app and opened up a savings account for them both.  We've had a good chat about what they will have to pay for and what we'll continue to pay for and we've also set up a bank transfer each payday to transfer their pocket money over to their accounts and they're very keen to get saving!
I'm hoping that by giving them more control over their money that we're working towards them become financially savvy adults who can manage their money when they leave home.
4) We went to the car boot sale this weekend and I managed to get two new tops for £1 each which is brilliant considering they were in excellent condition and both fit lovely when I got them home.
Mr. Frugal then picked up a new Lyle and Scott jacket for absolutely nothing when we were looking at it but put it back because there was a rip in the hood – the lady hadn't realised and said she wouldn't sell it with a rip but we could just take it – you can't see the tear at all when the hood is down so we were really pleased with our bargain.  It did feel a bit cheeky taking it but the lady was adamant and I like to think it's karma as we gave away quite a bit ourselves when we did our boot sale a few weeks ago – mostly to children who wanted something but didn't have enough money. 😉
5) I made a batch of my homemade sleep spray when Miss Frugal had a mass sleepover last weekend to celebrate the end of her mock exams.
I sprayed it all around the room before they went to sleep and sprayed some on my pillow when I went up to bed and I'm pleased to report a good night's sleep all round!  This sleep spray costs pennies to make when you DIY it but if you were to buy similar from Amazon then you'd be paying upwards of £15!
As usual, we've been having some really good discussions this week over in our Live Well, Spend Less Facebook group.  We'd love to welcome you to our little community if you fancy popping in.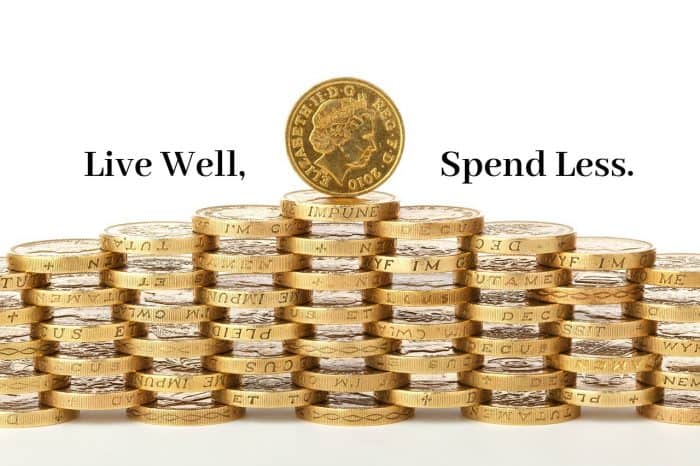 As always, we'd love you to join in with us by sharing your five frugal things from week – whether it's an Instagram picture (#5frugalthings), a blog post or even a video.  Just add your link to the linky at the bottom of this post.
You don't have to share five things you've done, anything thrifty or frugal that you've been doing is perfect.
You're more than welcome to copy and paste the badge above but it would be even better if you could let your readers know that you're linking up with the five frugal things linky by adding a little line to the bottom of your post like this one:
I'm linking up with this Cass, Emma and Becky in this week's 'Five Frugal things I've done this week' linky.
Because we're so grateful to you guys who join in with us each week, we wanted to give something back but we wanted something that fit with the theme of this linky so we thought we'd have a look on Amazon and find a book that you might like. 😉
We thought this one seemed like a winner (this isn't sponsored at all btw):
So, for this week, we'll write down the names all of the people who leave a link on one of our posts (and have linked to us in their post) and put them all in a hat.  We will draw one live on Instagram of Facebook stories and let the winner know after the linky has ended.
PS We do reerve the right to change the prize to a different book if there's a sudden rush on this one and it sells out. 😉
Don't miss out on future posts like this – receive updates directly to your inbox by email by adding your email address here and hitting subscribe. You can also follow me on Twitter, BlogLovin or Networked Blogs and I'd love to see you over on my Facebook page and on Instagram.