1) Miss Frugal's phone bill with Giff Gaff is getting cheaper every month!  When we were with EE she was running out of data (on a 4GB a month plan) within the first two weeks of the month.  We switched to Giff Gaff and went with the £20 a month unlimited package with is 6GB or superfast data and unlimited 3G data after that's gone and thought that would do us.  We told her to always connect to wifi when she could and to be sensible with her usage when she wasn't on wifi (no videos etc) and would you believe it? She actually listened!
After two months we dropped the package down to the 4GB package which was £5 less and we've just had an email from them to recommend we drop it down to the next package down which is £12 as she just doesn't need more than 2GB now.  She's not using her phone less but is being clever with how she uses it – wherever there's free wifi when she's out then she'll connect, she'll save videos to her favourites and watch them when she's home and will always connect to wifi when at a friends house.
2) After the success of my brilliant (I think ;-)) homemade DIY unicorn bath salts last week, Miss Frugal took it upon herself to up her body scrub game by making some whipped pink lemonade body scrub which is honestly amazing!
I'm planning to share this over the weekend so keep your eyes open!
3) This weekend sees the start of my 'busy period' in the run-up to Christmas this year!  I have a wedding, an awards ceremony, a work's Christmas party, a shopping weekend, a Christmas upcycling course and a night out with friends between now and this time next month which exhausts me just thinking about.  I bought a dress last month which I can wear to most of the nights out as they're all with different people and anyway, I can style it up a bit with different accessories etc to make it look a bit different each time.  The dress was one that I tried on in a shop a few years ago and loved but couldn't justify the huge price tag so I left it on the shelf and went home sad without it.  I kept checking on eBay over the next few weeks though and managed to buy it for just £20 as it had been worn and the description said it had a little click in the fabric.  I've never managed to find the click and the dress has been a great buy although it hasn't been worn much other than once or twice on holiday as it's pretty dressy and last year I was ill so didn't make any Christmas parties which is the only time I really get chance to wear a dressy dress like this one.  I've just tried the dress on with some super sparkly rose gold shoes that I have and I'm pretty pleased with the overall look – especially as I haven't had to splash out.
4) I've been having trouble sleeping again over the last few weeks so last night I made myself a batch of relaxing sleep spray to see if that helps me.  I ran out of it about a month ago and didn't make a new batch as I'd got back into a great routine but I seem to have so much going on in all areas of my life right now that my mind just won't switch off when it's time to sleep.
I slept better last night after using it but that could just be because of the fact that the night before I got so little sleep that I was exhausted last night!
5) It was my anniversary last weekend but I made Mr Frugal promise not to buy me anything as I'm saving all of my present money to get a Summer house in the garden.  I did treat myself to these amazing flowers which were reduced to £2.50 and are absolutely beautiful.
I didn't have a vase suitable for them though so I used a big beer glass decorated with some ribbon and string – how lovely does it look!
As usual, we've been having some really good discussions this week over in our Live Well, Spend Less Facebook group.  We'd love to welcome you into our little community if you fancy popping in.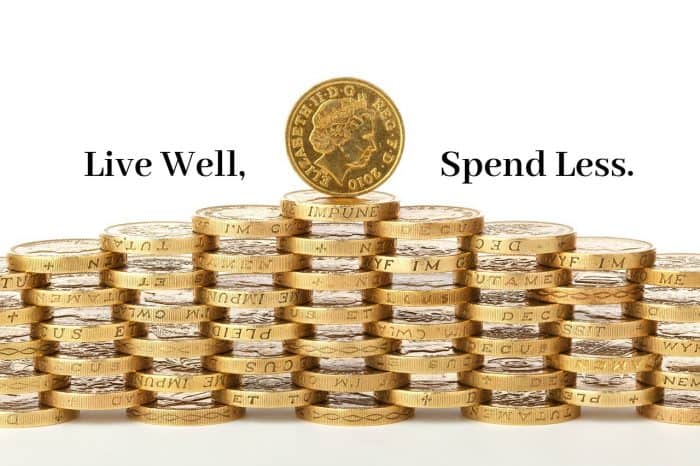 As always, we'd love you to join in with us by sharing what frugal and thrifty things you've been up to this week – whether it's an Instagram picture (#5frugalthings), a blog post or even a video.  Just add your link to the linky at the bottom of this post.
You don't have to share five things you've done, anything thrifty or frugal that you've been doing is perfect.
You're more than welcome to copy and paste the badge above but it would be even better if you could let your readers know that you're linking up with us by adding a little line to the bottom of your post like this one:
I'm linking up with this Cass, Emma and Becky in this week's 'Five Fabulously Frugal things I've done this week' linky.
Don't miss out on future posts like this – receive updates directly to your inbox by email by adding your email address here and hitting subscribe. You can also follow me on Twitter, BlogLovin or Networked Blogs and I'd love to see you over on my Facebook page and on Instagram.
—