Every week I share five frugal things that I've done during that week just to show you that the small things you do all add up to a great frugal lifestyle where you can learn to live a fabulously frugal life.
Before I start though, I do want to say that being frugal to me is about getting the best value for our money – it's not about doing without for us or about not having nice things.  We all have different financial situations and we're all frugal for different reasons – we're frugal so we can afford to do nice things together.
1) You might have seen this post from earlier this week where I shared our idea for a completely free Fathers Day gift that we made using our Christmas Family Traditions Postermaker.
I thought I'd share it in here with you today too just in case you missed it as it's a great way to give a super personalised gift on a budget.  We have ours in a cheap IKEA picture frame.
2) I used a bit of Zoflora to refresh a car air freshener this week!
The smell had long since faded on the air freshener in Mr Frugal's car so I took it in the house and sprinkled a couple of drops of the Hyacinth Zoflora on it to give it a new lease of life.  It's not a long lasting fix but it definitely did the job for a couple of days.
I've got lots more ideas on how to use Zoflora here.
3)I bought a pre-packed soup mix which cost 50p and did three lunches this week.
I just popped it in the soupmaker and then poured into three of my soup mugs to stack in the fridge for the three days – one day I had it on its own, the next with some baguette and on its own again for the third batch.  I did get a bit bored by the third day so next time I'll either freeze a portion of share with Mr Frugal. 😉
4) As you read this, I'll be packing my bags for a weekend in London with Miss Frugal.  As ever, we're traveling by train using our family Railcard which we buy every year and have done for as long as I can remember.  It costs £30 a year and you get 60% off kids fares and a third of adults
It saved us around half the price of our ticket for me and the two kids so in this one journey, it's paid for itself and that's without taking into account the other savings we've made with it since we last renewed it.
5) I won a £10 Starbucks gift card in a raffle at work so I called in on my way home from that day (it was burning a hole in my pocket haha) and bought myself a Matcha Latte which was something I'd wanted to try but was pretty sure I wouldn't like it so I didn't want to spend £4 on it.  I was right – I didn't like it but I didn't waste money on it and I did pick up these:
So, a free (albeit yucky) drink and some coffee grounds for my little greenhouse plants.
As usual, we've been having some really good discussions this week over in our Live Well, Spend Less Facebook group.  We'd love to welcome you to our little community if you fancy popping in.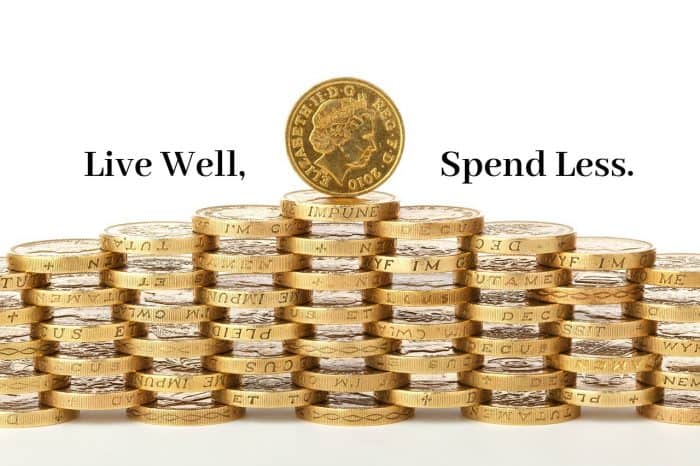 As always, we'd love you to join in with us by sharing your five frugal things from week – whether it's an Instagram picture (#5frugalthings), a blog post or even a video.  Just add your link to the linky at the bottom of this post.
You don't have to share five things you've done, anything thrifty or frugal that you've been doing is perfect.
You're more than welcome to copy and paste the badge above but it would be even better if you could let your readers know that you're linking up with the five frugal things linky by adding a little line to the bottom of your post like this one:
I'm linking up with this Cass, Emma and Becky in this week's 'Five Frugal things I've done this week' linky.
Don't miss out on future posts like this – receive updates directly to your inbox by email by adding your email address here and hitting subscribe. You can also follow me on Twitter, BlogLovin or Networked Blogs and I'd love to see you over on my Facebook page and on Instagram.