1) I feel like I've been really good this week with packed lunches because not only have I managed to take one to work every day which has saved me a fortune compared to if I'd been buying lunches in the work canteen but I've also managed to use leftovers for most day's lunches.
I made couscous using the gammon and veggie leftovers, pasta salad with the chicken and some spinach, leftover soup from our chicken soup/stew meal and bolognaise (which I did cheat and buy a jacket potato from work to put it on).  I'm being super good at the moment and although I can't see me being this good all the time, even just a couple of lunchtime meals a week like this using leftovers will be amazing.  It feels like they're free in a way because they're using up leftovers!
2) I feel like Christmas was forever ago now and all traces of anything Christmas related were banished to the garage (we were all ill so couldn't be bothered to put it in the loft) somewhere between Christmas and New Year. This week we finally got around to putting the things in the loft last week but I was clever this year and left a Christmas bag in the garage with the unused wrapping paper and cards in.  I  did that because we usually put it in the loft and I always forget what we have until the time comes to put the decorations up the next year.  This Christmas we ended up getting the things out of the loft so late that by the time we did, I'd already bought more wrapping paper as I wanted to start wrapping in a bid to be more organised.
3) Wednesday was National Ditch your New Years Resolutions Day but I'm pleased to say that I'm staying strong with the majority of things that I planned to do this year including the promised three times a week on the exercise bike in our mini garage gym.  You might remember me saying that we bought some exercise equipment from eBay and local Facebook selling sites for not much more than we'd pay for one month's gym membership.
I'm not a fan of the cross trainer that we have but I do enjoy spending half an hour or so on the exercise bike – I may have even done five days last week instead of the three that I promised myself I would do.  I've also been drinking more water which saves me money on Pepsi Max as well as being good for me.
4) One of our mine and Miss Frugal's favourite quick meals at the moment is avocado on toast which we serve with poached eggs usually or eggs fried without fat as we really don't like greasy fried eggs.  We've been buying the wonky avocados from Morrisons which are £1.56 for about five smaller avocados as opposed to £1 per avocado.   We find them a bit hard to use straight away though so we just pop them in the fruit bowl with the rest of the fruit for a couple of days to ripen.
We did see some frozen avocados in the freezer section at Tesco but I'm not sure how I feel about that – I'd love to hear if anyone has tried them before.
5) I often need to book hotels for the odd night here and there when I'm travelling for various reasons but I usually leave it until the last minute to book as I never know if my plans are going to change.  I just discovered (and I know you all probably already know this) that some booking sites let you book but not pay for the room until you get there.  That's not even the best bit – as long as you cancel within the cancellation period, which seems to be within 24 hours from what I can tell, there is no charge.  So, this week I sat down with my diary and booked in the hotels I needed for three trips over the next few months so I have a much wider choice than usual to choose from as the majority of single rooms are booked by the time I get around to it usually.
As usual, we've been having some really good discussions this week over in our Live Well, Spend Less Facebook group.  We'd love to welcome you to our little community if you fancy popping in.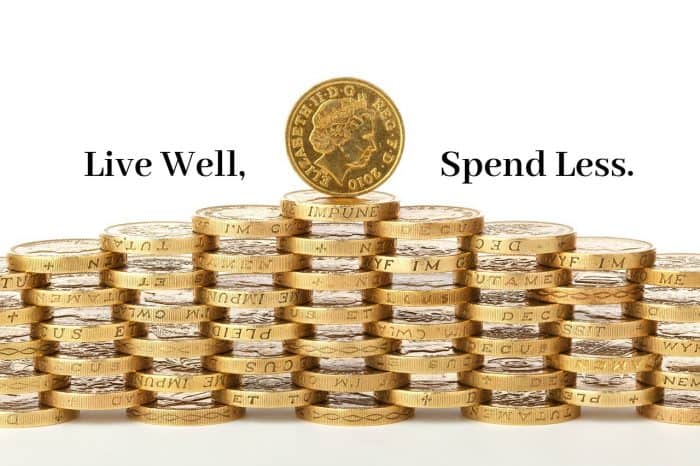 As always, we'd love you to join in with us by sharing what frugal and thrifty things you've been up to this week – whether it's an Instagram picture (#5frugalthings), a blog post or even a video.  Just add your link to the linky at the bottom of this post.
You don't have to share five things you've done, anything thrifty or frugal that you've been doing is perfect.
You're more than welcome to copy and paste the badge above but it would be even better if you could let your readers know that you're linking up with us by adding a little line to the bottom of your post like this one:
I'm linking up with this Cass, Emma and Becky in this week's 'Five Fabulously Frugal things I've done this week' linky.
Don't miss out on future posts like this – receive updates directly to your inbox by email by adding your email address here and hitting subscribe. You can also follow me on Twitter, BlogLovin or Networked Blogs and I'd love to see you over on my Facebook page and on Instagram.
—