1) Instead of having a fireworks display at home as we planned (until we worked out how much it would cost) we ended up going to an organised fireworks display which was lovely and completely free!  We had been planning a bit of a display at home because last year we found the display at the rugby club in town to be really busy with way too many people crammed in but this year we went to a display in a village near where we live and it was much, much better.
We obviously had sparklers at home but they were quite cheap – I think there were five for a pound in the packs we bought!
2) Did you see my avocado brownies on Monday?  I made them because we bought some 'wonky' avocados from Morrisons and needed to use up a few so we thought we'd try a recipe we've been wanting to try for a while.
We love avocado at the moment so the wonky avocados in Morrisons are great value with about five in a pack for £1.56.  I've been trying to get my hands on one of their family veg boxes for a few weeks now but they must go as soon as they're put out as I've only managed to find them in stock once.
3) I've been trying to get a bit organised for Christmas this week by making our alternative advent calendar which is filled with activities for us to do together as a family in the run up to Christmas.
I've had to have a play about with it a little bit this year as there are definitely some things that were in there last year that the kids feel they're too grown up for this year and some things that they don't want to do as a family as they'd rather go with their friends, like ice skating.  It feels like Christmas changes every year now as they get older because we're replacing some traditions with newer ones now that they're older and enjoy doing different things.
4) I've sat down this week and recalculated our monthly budget which is something everyone should do regularly – a minimum of every six months I reckon.  I've also got a great idea to add to next year's financial planner which I hope to have read to release at the end of this month.
5) We're not ones for having the heating on any more than we absolutely have to in our house.  It has nothing to do with being frugal or thrifty although there are obviously financial benefits to not having the heating on too much as it's really just because our house heats up so quickly.  It heats up pretty quick once the heating is switched on and then takes ages to cool down so if we forget to turn it off after about half an hour then the house just gets way too hot.  Anyway, the reason I'm telling you all this is because there's a draft coming in from out front door which means that the temperature downstairs gets quite cool quickly and results in us having to turn the heating on.  Soooooo, last week I made a cute little draft excluder which is currently sat downstairs keeping the draft out.
As usual, we've been having some really good discussions this week over in our Live Well, Spend Less Facebook group.  We'd love to welcome you into our little community if you fancy popping in.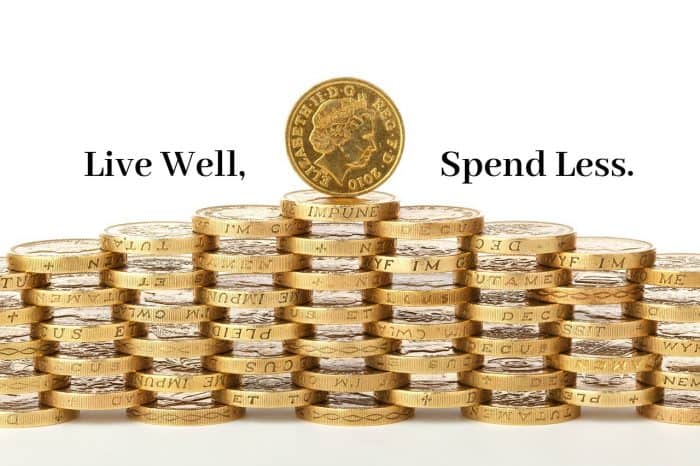 As always, we'd love you to join in with us by sharing what frugal and thrifty things you've been up to this week – whether it's an Instagram picture (#5frugalthings), a blog post or even a video.  Just add your link to the linky at the bottom of this post.
You don't have to share five things you've done, anything thrifty or frugal that you've been doing is perfect.
You're more than welcome to copy and paste the badge above but it would be even better if you could let your readers know that you're linking up with us by adding a little line to the bottom of your post like this one:
I'm linking up with this Cass, Emma and Becky in this week's 'Five Fabulously Frugal things I've done this week' linky.
Don't miss out on future posts like this – receive updates directly to your inbox by email by adding your email address here and hitting subscribe. You can also follow me on Twitter, BlogLovin or Networked Blogs and I'd love to see you over on my Facebook page and on Instagram.