Every week I share five frugal things that I've done during that week just to show you that the small things you do all add up to a great frugal lifestyle where you can learn to live a fabulously frugal life.
Before I start though, as always feel that I should say that being frugal to me is about getting the best value for our money – it's not about doing without for us or about not having nice things. We all have different financial situations and we're all frugal for different reasons. 😉
1. Financial resilience
This is something we've been thinking about a lot lately and I'll probably write a post about it on its own at some point but my point on it for this week is that, on Tuesday, our fridge freezer had a bit of a fit and we ended up with a fridge and freezer filled with ruined food.
I was gutted because I absolutely hate waste but as far as the fridge freezer itself goes, we have insurance that we pay for monthly that covers the repair or replacement of the fridge freezer and the washing machine so at least that wasn't a concern.
I took the opportunity to give the freezer a good old cleanout and cooked everything that wasn't ruined for us to eat as what was quite possibly the weirdest meal ever on Tuesday night.
The repairman came out on Wednesday and after teaching me how to recognise the fact that our compressor had broken in case it ever happened again* confirmed that the part needed wouldn't be available until next Tuesday! This wasn't the best news and hasn't particularly helped with short term money-saving this week but the fact we'll be getting it fixed without having to shell out is a good thing. Thank goodness for the insurance we have!
* FYI – the giveaway to a broken compressor is that your fridge will go 'buzz, click, buzz, click'. Apparently, any repairman worth his salt will know from the noise what the problem is and won't need to do any further investigations. Or so I was reliably informed by my guy.
In case you were wondering, the yellow strip you can see on the drawer is where I used some Sugru to repair the drawer when it snapped because I tried to squeeze one too many batch-cooked lasagnas in there not long after we bought the fridge freezer. It did the job for a while but then gave up so we've just had to be careful with it ever since.
2. Batch Cooking Meal Plan
Last weekend I picked up some yellow stickered beef stir fry strips so I made a beef casserole for tea on Saturday night. I bought two packs as it was cheap and cooked double so we made a huge batch of beef stew and made one beef stew and dumplings meal and popped another family-sized portion of beef stew to go in the freezer.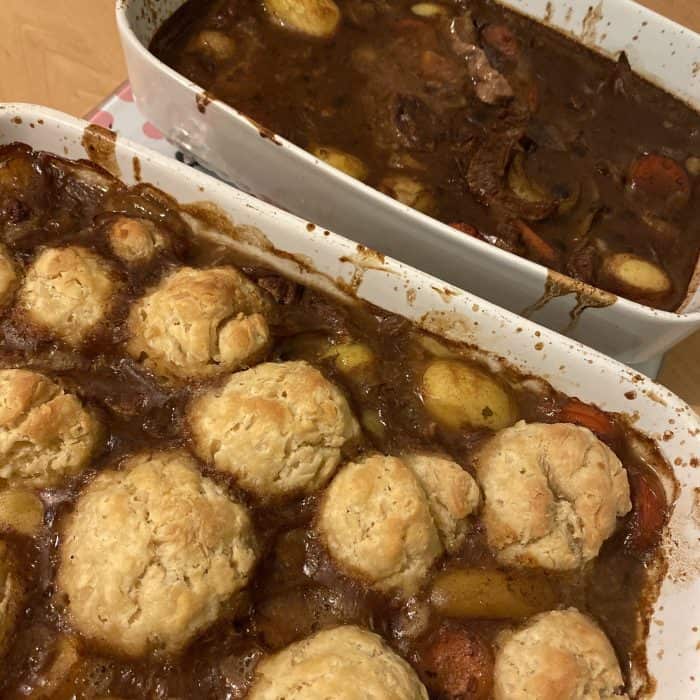 That inspired a whole batch cooking meal plan which I shared on Monday with the intention of batch cooking a meal every night this week. Due to the rather rude interruption of our fridge freezer breaking down, this was a bit of a challenge so, I managed some nights of sticking to my meal plan but not all nights, unfortunately.
On Tuesday we had a random freezer meal to use up some food that we could save and on Thursday the whole not having a fridge thing got on top of me and we had pizza). But… I did manage a couple of nights of batch cooking meals for tea and I also made a couple of extra meals through the day on a couple of days specifically to go in the freezer (don't forget we have three freezers so I still had somewhere to put everything).
I've been struggling a bit with mum-guilt this last couple of weeks and one of the things that I've been worrying about is the fact that I'm not always home for teatime anymore so the kids are having to fend for themselves unless Mr Frugal has an early shift. I know they're more than capable and they're really not bothered but that doesn't make me feel better so just knowing I have meals in the freezer ready to go is a weight off my mind.
3. The return of the breadmaker
I've dug out the breadmaker this week which was easier said than done as it was tucked away in the garage where it's been gathering dust for longer than I care to admit.
I've made all sorts of bread this week with varying levels of success – the chocolate chilli bread, for example, looked AMAZING but tasted bitter and unpleasant so I won't be sharing the recipe for that any time soon.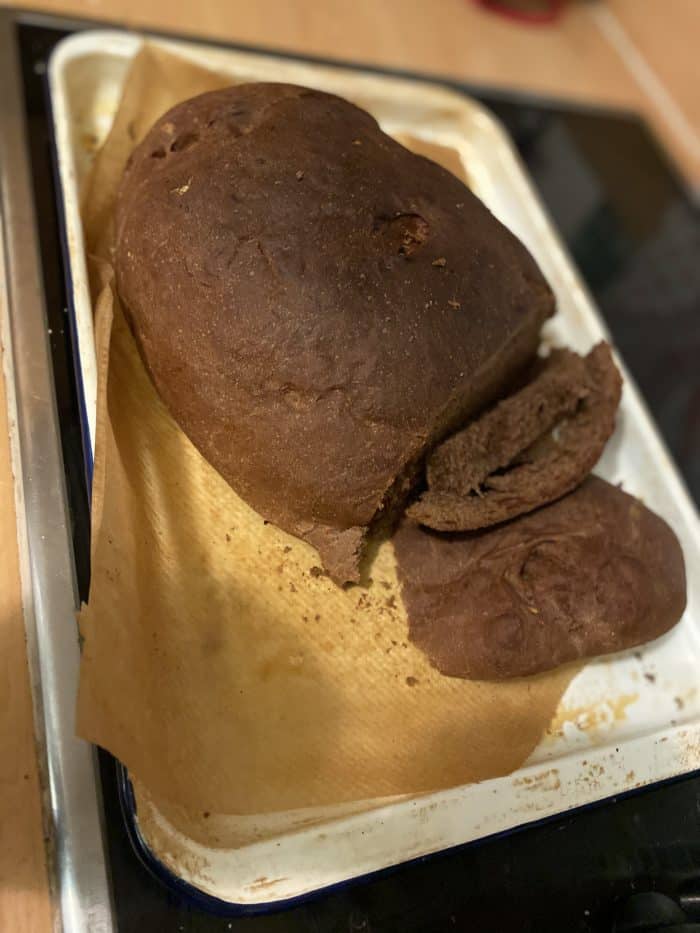 4. Soup for lunch
I always check the reduced fruit and veg section for ready-made soup mixes because there's often a couple of packs of yellow stickered soup mixes which work out to be fantastic value for money. This little pack cost me 40p and took me 2o minutes to make three big portions of delicious soup in my soupmaker.
I added in some extra chilli to give it a bit more of a kick as they're a bit on the conservative side when it comes to spice usually in these spice mixes. I also stir through a little bit of garlic butter if I have some in as it takes it to a whole other level.
Since I got my soupmaker, I've experimented with all kinds of different soups but my all-time favourite homemade one is my spicy sweet potato and butternut squash soup and this is a close second to my homemade version. Nothing beats my version for taste but for convenience and price, I'll take this one for a mid-week lunch.
5. Homemade Photo Background
I've been off work this week and one of the things I've done is spend some time planning some new blog content. I feel like my posts have been a bit stale lately for a couple of reasons – mainly time to be honest – and I've made a decision to do less but better if that makes sense. I also shared a rather rambling post yesterday about a bit of a struggle that I've been having lately with blogging and I'd love you to pop over and see what you think.
I'm not sure why I've got into the habit of posting almost daily but somehow I did and once it became a thing, I put pressure on myself to keep it up. I need to admit that I don't have the time to be able to post quality posts on a daily basis if I want to maintain my work:life:blog balance.
Saying that though I'm really excited about the plans I've made and I've been feeling really inspired since I sat down and made some plans. I have lots of DIYs planned for homemade cleaning and beauty products and loads of frugal food ideas that I want to share with you – which means lots of photos to be taken.
I was going to treat myself to a new photo background but I remembered that I had an old wooden board in the garage. It used to be a lovely whitewash but it got damaged and the paint effect has gradually faded to an ugly yellowy white so I dug it out and gave it a good sand and repainted it with a Farrow and Ball paint colour from a tester pot I bought from B&Q.
This isn't the best photo as inspiration hit me about 8 pm so the lighting was awful but you'll be seeing this a lot more in photo backgrounds in future as it's turned out lovely.
The tester pot is a Farrow and Ball grey colour that I had in as I'm planning to go wild and paint my dining room table to get rid of the ugly dark wood that it is right now. I'm actually not going to use this colour but it was a contender at first.
Come over and join our fab Facebook group – Spend Less, Live Better!
As always, we'd love you to join in with us by sharing anything you've done that's been thrifty or frugal from your week – whether it's an Instagram picture (#5frugalthings #frugalFriday), a blog post or even a video. Just add your link to the Frugal Friday linky at the bottom of this post.
You're more than welcome to copy and paste the badge above but it would be even better if you could let your readers know that you're linking up with the five frugal things linky by adding a little line to the bottom of your post like this one:
I'm linking up with this Cass, Emma and Becky in this week's 'Frugal Friday' linky.
Don't miss out on future posts like this – receive updates directly to your inbox by email by adding your email address here and hitting subscribe. You can also follow me on Twitter, BlogLovin or Networked Blogs and I'd love to see you over on my Facebook page and on Instagram.
You are invited to the Inlinkz link party!