Every week I share five frugal things that I've done during that week just to show you that the small things you do all add up to a great frugal lifestyle where you can learn to live a fabulously frugal life.
Before I start though, I do want to say that being frugal to me is about getting the best value for our money – it's not about doing without for us or about not having nice things.  We all have different financial situations and we're all frugal for different reasons – we're frugal so we can afford to do nice things together.
1) Every Summer holidays for as long as I can remember we've set ourselves a bit of a fun budget (based on what we'd saved in the months before).  We then sit down together as a family and decide how we want to spend that money – for example, do we want a couple of 'big' days (a theme park or something similar) or do we want to spread it out and do more smaller days out.
We haven't had that discussion yet this year as there's still a while left before the Summer Holidays but when I saw some half price days out vouchers on some lovely smelling shower gels I thought it was worth investing just in case one of the places we want to visit this year is Alton Towers or the Sealife Centre.
This one smells amazing so even if we don't use the vouchers, I won't be too disappointed.
2) I bought some yogurts that were free on Slimming World but they were so thick and creamy that they didn't really feel like yogurts and I just couldn't get away with them.  Rather than waste them though, I hunted out some amazing ice lolly molds that I bought a while ago and promptly forgot all about. I spooned the yogurt into the mold and popped them in the freezer for a couple of hours and when they were done, they tasted amazing!
You'll have to have a look at my Instagram feed for the finished lolly!
3) Did you read last week that I was off to San Fransisco this weekend for a blogging event?  It's OK, I didn't spend a fortune and there's a good reason for me to be going that should give me a good return on the money I paid out (I always feel I should justify any big spends ;-)) but I did just save a little money that I wasn't expecting to save!
I booked my hotel on Expedia and deliberately picked one with no cancellation charges in case I wanted to change it for any reason.  I got a great rate but when I logged in last night, I realised the same hotel was showing cheaper now.  I wasn't impressed at first but when I looked into it, I saw that there was a single room available which worked out cheaper than the one I'd booked as the single wasn't available when I booked.  I canceled my room with no cancellation charges and re-booked the single room saving me even more money on a great deal for what seems to be a nice hotel in the area I want to be in.
4) My Dad gave me £20 for my Birthday this year and I treated myself to these mini copper and concrete wall hanging planters which I love for lots of reasons but have to be honest and say they are a little smaller than I expected – my issue, not theirs as I just didn't read the sizes properly.
I wanted to pop a couple of succulent plants in them but I've hung them just above eye level in my hall as they were to replace something that I'd taken down and the succulents I could find that would fit in a pot this size were all so small that you could barely see them from where I stood.  I found a tatty fake plant at the car boot sale for 20p and broke it up and just added a few chunks of it into the pots.
I think it looks super cute and it's definitely lower maintenance than an actual plant, even one like a succulent that doesn't need much effort.
5) I have a meal plan written for the days that I'm away next week and I'm pretty confident that even Mr Frugal can stick to this as I've chosen meals that are easy to cook or that I've got in the freezer batch cooked and ready to go!
As usual, we've been having some really good discussions this week over in our Live Well, Spend Less Facebook group.  We'd love to welcome you to our little community if you fancy popping in.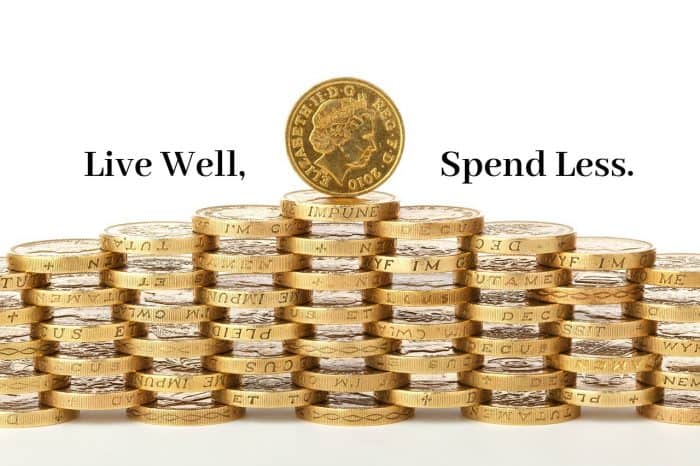 As always, we'd love you to join in with us by sharing your five frugal things from week – whether it's an Instagram picture (#5frugalthings), a blog post or even a video.  Just add your link to the linky at the bottom of this post.
You don't have to share five things you've done, anything thrifty or frugal that you've been doing is perfect.
You're more than welcome to copy and paste the badge above but it would be even better if you could let your readers know that you're linking up with the five frugal things linky by adding a little line to the bottom of your post like this one:
I'm linking up with this Cass, Emma and Becky in this week's 'Five Frugal things I've done this week' linky.
Don't miss out on future posts like this – receive updates directly to your inbox by email by adding your email address here and hitting subscribe. You can also follow me on Twitter, BlogLovin or Networked Blogs and I'd love to see you over on my Facebook page and on Instagram.