This may come as a surprise (not) but I'm far from perfect when it comes to money saving!
(Actually, this probably isn't a surprise to regular readers ;-))
I had a chat with Miss Frugal this weekend about social media and one of the things I said to her was that the people she follows on Instagram who look perfect and put together most likely aren't. I explained to her that they only share what they want you to see and although that doesn't make them 'fake', it does mean that their life probably isn't as amazing as you might think it is from looking at the photos they choose to share with you.
That started me thinking that people could look at my blog and whilst there's no danger of anyone thinking my life is amazing, you might think that I'm super amazing with money and never make mistakes. That most definitely isn't the case and I am far from perfect so today, I thought I'd share a few things that I do that aren't all that frugal – you probably know some of them as they're not secrets and I'm sure most have been mentioned more than once on one social channel or another. 😉
I dipped into my emergency fund for a pair of sunglasses
OK, that heading sounds worse than it really is – let me explain and you might withdraw your eye roll and take back that tut (or you might not).
When we went to Cyprus in the Summer, Miss Frugal and I were in the sunglasses section of the duty-free shop trying on all of the expensive sunglasses with no intention of buying a pair. I kind of fell in love with a pair but I was a good girl and put them back on the shelf and moved on. A few minutes later, I popped to the toilet and to grab some bottles of water for us all to take on the flight and when I came back, there was a little Dior bag sitting there on top of my travel bag. Miss Frugal had told her dad how much I loved the sunglasses and he'd taken her into the shop and bought them for me!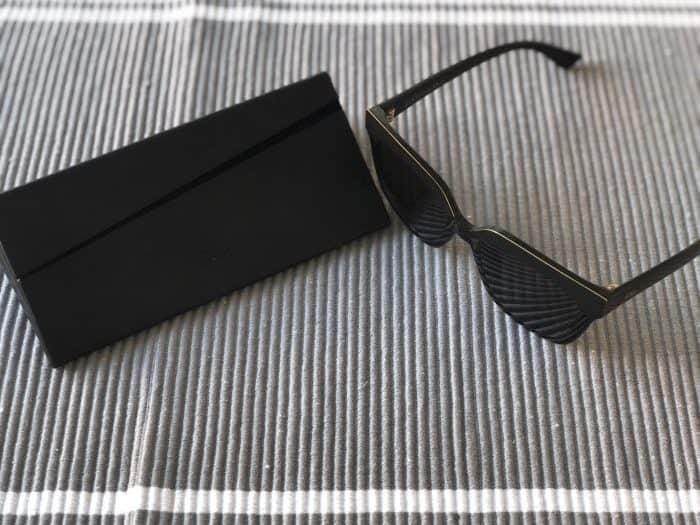 I know, I should have taken them back because they were far from frugal but it was such a lovely thought and I really loved them so I couldn't bring myself to. I know, I know, bad frugal money blogger!
I probably should have bought my sunglasses before setting off to avoid this from happening as I knew I needed some. 😇 You can buy sunglasses at a bargain price online. Shop here for prescription sunglasses.
When we got home, I replaced the money he'd used with money from our emergency fund so we weren't short elsewhere.
I use a premium brand foundation
I work full-time as well as work on the blog when I can so I need to look presentable Monday to Friday. 😉 I've tried so many different brands of foundation over the years but I seem to be at the stage now with my skin where the budget brands just don't do what I need them to do.
Last year I was in Boots and they had on offer on the YSL counter where you could get a week's free trial of one of their expensive foundations and the lovely lady offered to do a bit of a colour match to make sure she was giving me the right shade and the one she tried was literally a perfect match. It made my skin all glowy and lovely and I was so pleased that I didn't even do the week's trial, I just bought a bottle. I hardly use any on a day to day basis and just use it to even out my skin so one bottle lasts me about five months which makes it work out to a reasonable cost per day.
This is the one I have:
The lady on the counter did say that the week's free trial was always on when I said how jealous Miss Frugal would be that she'd missed out. She said you just need to ask at the YSL counter and they'll do a colour match and then squidge enough from a sample bottle into a pot for you to use for a week to see if you like it. I'm not sure if that's just the branch of Boots I was in or if it's across all YSL counters but it's worth asking.
I don't cook everything from scratch
I'd love to be able to spend time cooking everything we eat from scratch but it's just not possible when I get home from work at 4.30 and have a hungry family to feed. I do try though – meal planning and batch cooking definitely help as does my new rule where the kids have to cook one meal each a week but even so, there are still times when I'm in a rush.
Take last night, I made a chicken and veg curry in under 15 minutes thanks to a jar of curry sauce that I had in the cupboard.
I chopped up a courgette, some onion, a leek and added what I think is chard (it was in my veg box so I'm not 100%) and threw that in a pan along with some chicken that I'd got out of the freezer the night before and cooked it all until the chicken was cooked right through. I added a jar of sauce and while that was heating through, I popped a couple of bags of frozen rice in the microwave and by the time that was cooked the curry was ready to be served.
Right now, one of the tabs I have open on my laptop is a website I'm looking at for a designer scarf
I'm not going to buy it but I like to look. 😉
I'd love to buy it but I know it's not the best thing I could be spending my money on (or my time looking) and I'm definitely going to resist but I do like to have a little look. To me, it's kind of the same thing as when you go for a nose on Rightmove and you set the price filters for way more than you can afford just so you can look at how other people live.
I have a serious case of wanderlust and love to travel
I love travelling and want to see as much of the world as possible – especially while the kids are still young enough to want to see it with me! It took me forever to save for a much-needed carpet for the downstairs of our house as I spend the carpet fund on a bargain trip to Milan last year.
It was an amazing trip and using the carpet fund and getting to go was infinitely better than putting it on a credit card or not going but still!
Don't miss out on future posts like this – receive updates directly to your inbox by email by adding your email address here and hitting subscribe. You can also follow me on Twitter, BlogLovin or Networked Blogs and I'd love to see you over on my Facebook page and on Instagram. You can find out more about me here.