I've shared a couple of different Matcha recipes with you over the last year or so but today is my favourite one yet!  It's adapted from the recipe for Matcha Blondies that I found in 'The Book of Matcha' that the lovely people at TeaPigs sent me a couple of weeks ago.
It's adapted because I didn't have brown sugar and eggs in so I made a few little tweaks so I didn't have to pop to the shop and it turned out gorgeous so I thought I'd share my version with you….
White Chocolate Matcha Blondies
200g butter
200g white chocolate chips
125g soft brown sugar
125g sugar
2 large eggs
1 tablespoon milk
1 capful vanilla extract
1 pinch of salt
3 teaspoons matcha powder
icing sugar for dusting
Pre heat the oven to 180 c and line the base of your brownie tray with greaseproof paper.
Melt the butter in a saucepan and then stir through half of the chocolate chips.  Take the pan of the heat and stir until the chocolate is melted and the mix is smooth.  Pop the pan to one side while you get on with the rest of the mix.
Beat the eggs and sugar together and then add the flour, salt, vanilla and matcha powder along with the cooled butter mix.
Pour the mix into the brownie tray and add the rest of the white chocolate chips to the batter.
Bake for 40 minutes or until the brownie is cooked through.
Dust with a little icing sugar and matcha tea to make it look pretty and then cut into squares.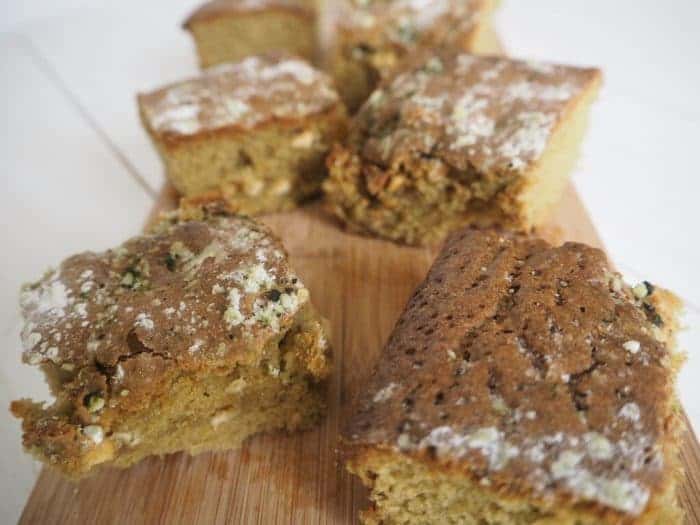 Enjoy!
And if you're interested, the book that teapigs have written about Matcha is brilliant – filled with everything from the history and benefits of Matcha tea to recipes covering everything from desserts to main courses and from cocktails to refreshing drinks.
You can't find it here if you're interested. (*Affiliate link*)
Don't miss out on future posts like this – receive updates directly to your inbox by email by adding your email address here and hitting subscribe. You can also follow me on Twitter, BlogLovin or Networked Blogs and I'd love to see you over on my Facebook page and on Instagram.