OK, so it probably doesn't heal just EVERYTHING but my newfound discovery has been pretty much invaluable since I was recommended it by a friend at work.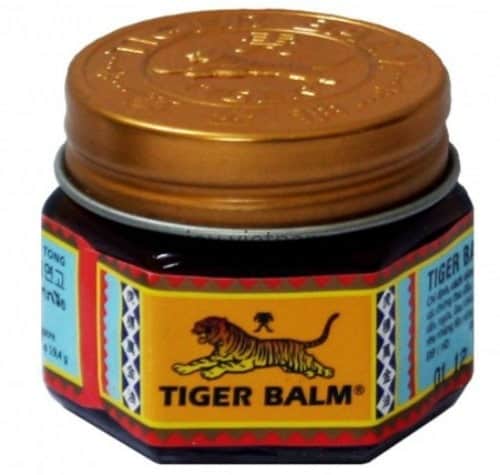 Tiger Balm Red is a little pot of amazing-ness and in the month since I bought my first pot I've used it to clear headaches, stop my mosquito bites from itching, clear my head when my strong painkillers make my head feel fuzzy and last week, it even worked as a muscle rub when Mr Frugal overdid the 'friendly' rounders game at Butlins.
I bought my little pot on offer for £3 at Tesco (it's usually £4) with the intention of using it to clear my head a bit when my tablets made me feel a bit fuzzy. I'd tried rubbing a small amount of my friends into my temples earlier that day and it cleared my head brilliantly so when I saw it on offer then I bought two tubs!
I used it for a month or so quite happily for clearing my head whenever I took my painkillers and also when I got a headache rather than taking more tablets because quite honestly, I feel like I'm taking too many tablets lately and I'd rather use this than take any more.  It's worked on about 90% of headaches that I've had in that time and reading the reviews on Amazon, lots of people have had great success using this on headaches instead of taking tablets.
So, we've established that I'm a fan of Tiger Balm but I didn't realise just how much you could use it for until I got a few pesky mosquito bites on a Sunday night after the shops had shut and I realised I had no cream in the first aid kit that would help.
I googled what I could do to ease the itching and was surprised to see Tiger Balm on the list of ways to relieve the itching and the swelling. As the only other remedy I had the things in for was to press a boiling hot spoon against the bite, it was a no brainer that I would try the Tiger Balm first and it really did make the itching less. It didn't stop it as some people said on various forums that it would but it certainly eased the itching enough for me to be able to forget about the bites until I got some actual cream the next day. It's also supposed to be a great insect repellent but I won't be taking my chances just in case as I usually react quite badly to bites.
Also, as I mentioned earlier, it helps with muscular aches and pains as evidenced when I rubbed some on Mr Frugal's shoulders at Butlins last week and it worked a treat on is muscle ache – a bit like deep heat. He said that it really helped with the ache he'd been feeling all day since his dive to catch out a poor little kid on the opposite team.
I haven't had a cold since I discovered Tiger Balm but I've read that it's great for colds or when you have a bit of a stuffy nose. You can rub it on your chest to ease the symptoms of a cold, kind of like Vicks Vaporub and if you want, you can dab a little under your nose to help unblock it.  Apparently, if you rub it on your throat when you have a sore throat then it helps with that too.
I'm not saying it's a magic cure for everything I've mentioned and that it will suddenly make it all better but in my own personal experience, it really does help and I wouldn't be without my little tub of wunderstuff now.
It's currently slightly cheaper on Amazon than it is in Tesco and even if you don't buy it from Amazon then it's worth looking at the reviews to see what other people think of it.  There's some great success stories on there where Tiger Balm has really helped ease pain where other things have failed and a great piece of advice from Mr Green below that I absolutely second!
Don't miss out on future posts like this – receive updates directly to your inbox by email by adding your email address to the box on the top right of this page and hitting subscribe. You can also find me on BlogLovin, Yummly and Networked Blogs and I'd love to see you over on my Facebook page and on Instagram.  This post contains an affilliate link to Amazon which means that you'll pay the same price for what you buy but I'll get a few pennies too.