Today's post is all about me sharing my soup maker tips and tricks – read on if you want to make amazing (and cheap) soups!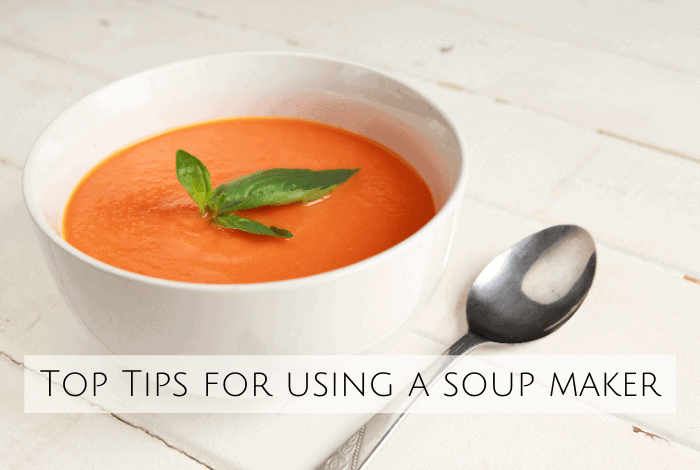 I've had my soupmaker now for a couple of years and it's definitely been one of my most used kitchen gadgets ever. Even though I don't have the latest or the fanciest model around, it does everything I need it to do and I've learned how to make super tasty soup *every time.
(*By every time, I mean every time except for the time I tried to make tomato soup in there and the time that I tried to add pasta to the soup forgetting I'd set it to smooth blend mode 😂 )
First of all, this is the soupmaker that I have…
I did write about in when I first got it if you want to have a read but I can't find this exact model available to buy now so it's clearly a bit of an antique in the world of soup makers. From memory, it was around £49.99 but I *think* I got it on offer somewhere so it cost me around £40 ish.
There's plenty of similar versions about now for a similar price and there's fancier versions that have extra functions like the option to saute your veggies but honestly, I've never needed anything fancier than what I have.
Mine cooks between 1.3 litres and 1.6 litres and has options for smooth and chunk soup option and a smoothie function which I rarely use and is so simple – add chopped up uncooked veggies, hot water and stock cubes and switch on. Twenty one minutes later the soup is ready (unless I use the chunky option which takes 28 minutes).
When I make soup, I have an unwritten rule that I need to use between 500g and 650g of vegetables depending on how much soup I'm making and how thick I want the soup to be. It's super flexible though and you'll soon learn what your perfect soup ratios are.
I chop my veggies up quite roughly and pop them into the base of the soup maker, then I top up to somewhere between the minimum and maximum fill lines and finally I crumble in a stock cube or two. It really is as simple as that.
And it's even simpler when you use one of those ready prepped soup packs that the supermarkets sell as you can just literally throw one of those in with the water and stock cubes and you're good to go. I'm a huge fan of these packs and don't think they work out expensive at all. They cost around 99p usually and they're everything you need in the pack – so the butternut squash and sweet potato ones have the veggies peeled and chopped to the perfect size and they have the perfect mix of butternut squash and sweet potato with just the right amount of onion and chilli to give it a warm kick. I could absolutely make my own but it would work out to the same sort of price and take way more effort so I often buy these packs. They're regulars in the reduced section of the fruit and veg so keep your eye out in there too.
I don't only use the ready-made packs though and I've made some brilliant soups just from emptying the bottom of the fridge and one of my favourite soups is just literally frozen peas with a couple of onions and some fresh mint.
Some extra soup maker tips and tricks
Frozen veggies are amazing for soup but just let them thaw out before you pop them in the soup maker otherwise you might find that it's not all cooked through.
Don't use raw meat as the programmes aren't long enough to cook meat safely so if you want to add meat, add it in already cooked.
Some veggies take longer to cook – I've found carrots, turnip and occasionally potatoes to be slightly undercooked if I haven't cut them into small enough chunks.
Always use boiling water and not cold so the veggies start cooking almost as soon as you press the start button.
NEVER open the soup maker mid-cycle.
Be careful if you use the pulse setting as it can be quite powerful and someone commented on one of my soup recipes that they'd had a disaster with the lid working it's way loose when they've used it. I can't remember the model but I remember thinking it wasn't mine so it's just a quick warning to be wary.
Seasoning makes all the difference as does a bit of chilli. I make the most amazing spicy butternut squash and sweet potato soup which is really deceptive as the chilli gets blended in on the smooth setting so it hits you when you take your first mouthful.
Here's a couple of my favourite soup maker recipes:
Spicy butternut squash and sweet potato soup
Butternut squash and ginger soup
Don't miss out on future posts like this – receive updates directly to your inbox by email by adding your email address here and hitting subscribe. You can also follow me on Twitter or BlogLovin and I'd love to see you over on my Facebook page and on Instagram. If you're interested, you can find out more about me here and while I've got your attention, if you're wondering why some of my posts lately are a little bit less frugal then have a read of this post. 😉
Do your future self a favour – Pin my soup maker tips and tricks for later: