The first title I gave this post was 'How a mason jar salad is going to change your life' but I thought you might think I was exaggerating a bit so I toned it down a bit but actually I still stand by my first one. Honestly, if your days are as busy as mine and you want to have quick, tasty and healthy meals for your lunch then you really should consider learning how to make a mason jar salad.
A mason jar salad will last up to five days in the fridge if you make it right and store it properly so in theory, you could meal prep your lunches for most of the week on a Sunday night!
How to make a mason jar salad
Layer 1: The first thing to add to your mason jar is your dressing. It can be whatever type of dressing you enjoy most and I won't tell if you don't make your own and decided to go for a store-bought one (it's what I do 😂 ) There are two reasons why we add the dressing first – one because adding it in at the bottom means that it's not going to make everything all soggy and two because when you turn your mason jar salad upside down and empty it into a bowl then the dressing should pour out last and coat more of your salad.
I would love to make my own dressings but I've never found a recipe for one that I like that doesn't involve olive oil and I want to avoid the higher calorie ingredients for my version. Tesco's own brand salad dressings are so tasty and they cost less than a pound for a bottle so I just buy that instead.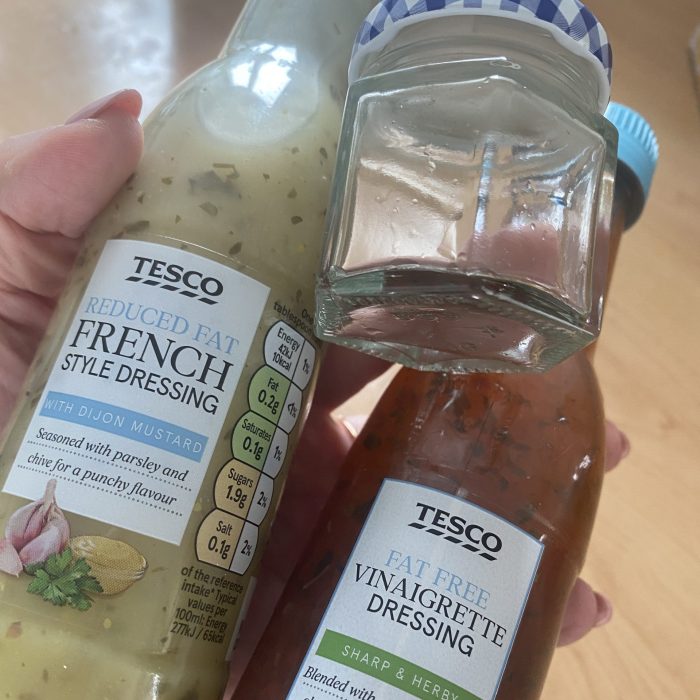 Also, you might notice from my photos that the mason jar salads I've made today don't have that in and that's only because I'm going to be working from home so I thought I'd just add that in myself when I make it to save some space in the jar.
Layer 2: Next to be added to the mason jar is what I'd call your 'crunchy vegetables' although I'm sure there's a better term for them. Basically, these are the vegetables that are going to protect the rest of your salad from the dressing – cucumbers, red onion, peppers, celery (ugh, why anyone would add celery is beyond me 😂 ), carrots and even tomatoes at the top of this layer.
Layer 3: This is where I add in the rest of the veggies and any pulses that I'm planning to use. You could add in things like chickpeas, beans, lentils and sweetcorn here along with anything you might have leftover from your Sunday dinner like broccoli or potatoes.
Layer 4: This is where I add in my softer ingredients like hard-boiled eggs and cheese (feta works really well) and also any meat that I'm adding. Shredded chicken is my go-to for this as I usually have some small batches made up in the freezer but I often just don't bother.
Again, today's salads don't have any of this in as I think I'll at home so I'll take it as it comes and might even just have the salad without any as I also have some avocado that I was thinking about putting in but changed my mind as it's quite high in calories. I'll either add in the avocado or go with a couple of hard-boiled eggs or some chicken if I have any leftovers from today's dinner. Working from home this week gives me more choice but I still need to prep in advance or I'd just not bother with the salad option at all – at least this way, I can add in whatever I fancy on the day or just eat it as it is if I can't be bothered.
Layer 5: This is the layer where I would add my pasta, rice or couscous and push it down a little bit to seal in the salad I've added so far.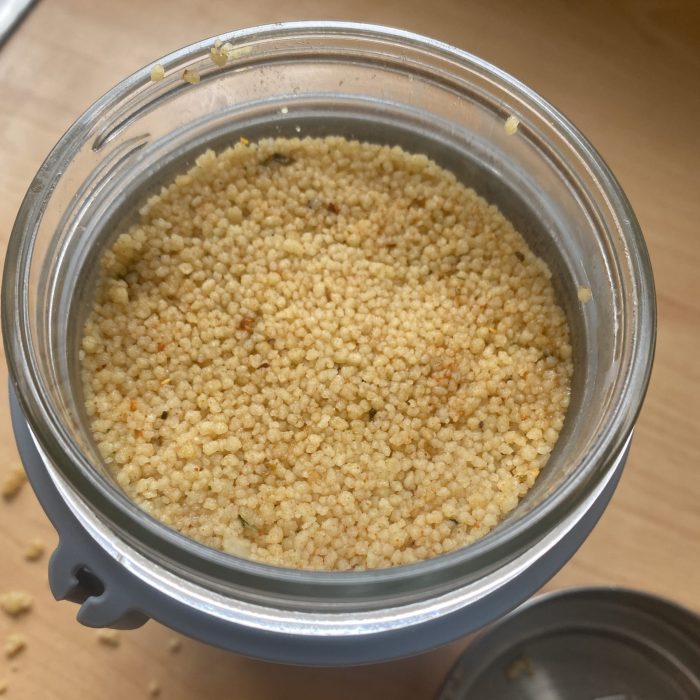 I also usually cook a bit extra if I'm using rice or pasta and then my tea on a Monday night is a bit of a mix up to use up any leftovers of my veggies because depending on how many mason jar salads I'm making at a time, I'll often have random bits of veggies left which I'll either mix with some pasta or rice and some homemade tomato sauce or pop in a frittata with a couple of eggs.
Layer 6: Anything you definitely don't want to get soggy goes in last so I'd go with lettuce, spinach or rocket here but you could also add in some nuts.
Once you've done with your last layer, you just need to seal the lid and pop it in the fridge until you're ready to eat it.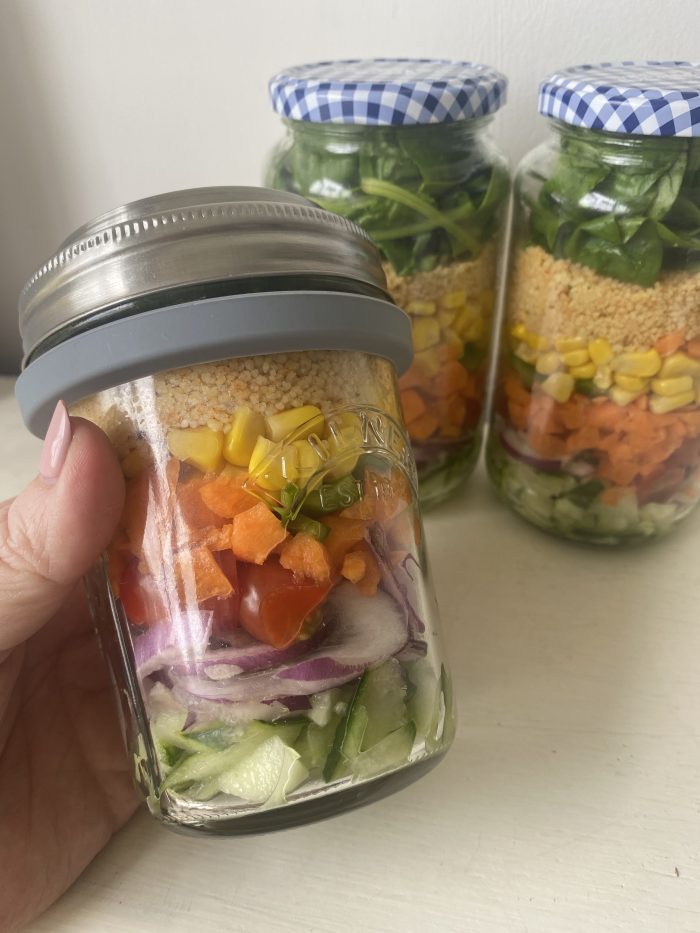 This is my version which is quite specific with weights purely because I am counting my calories at the moment using My Fitness Pal. You can obviously add in whatever you fancy and there's absolutely zero need for you to worry about what salad dressing you're using or specifically weigh anything out unless you are following a calorie-controlled diet like me.
Salad dressing (3tbsp)
1/4 Chopped red onion
1/4 Chopped cucumber
1/4 Chopped green pepper
8 Cherry Tomatoes
3 Tablespoons Sweetcorn
50g cooked couscous
As much spinach as I could fit in
Mine totals 175 (ish) calories as it is and it would be lovely with nothing else added to it but I'll add either guacamole, eggs or chicken on the day more than likely which will take it nearer to 300 calories. That's a great filling lunch for me that I can eat with very little prep time on the day!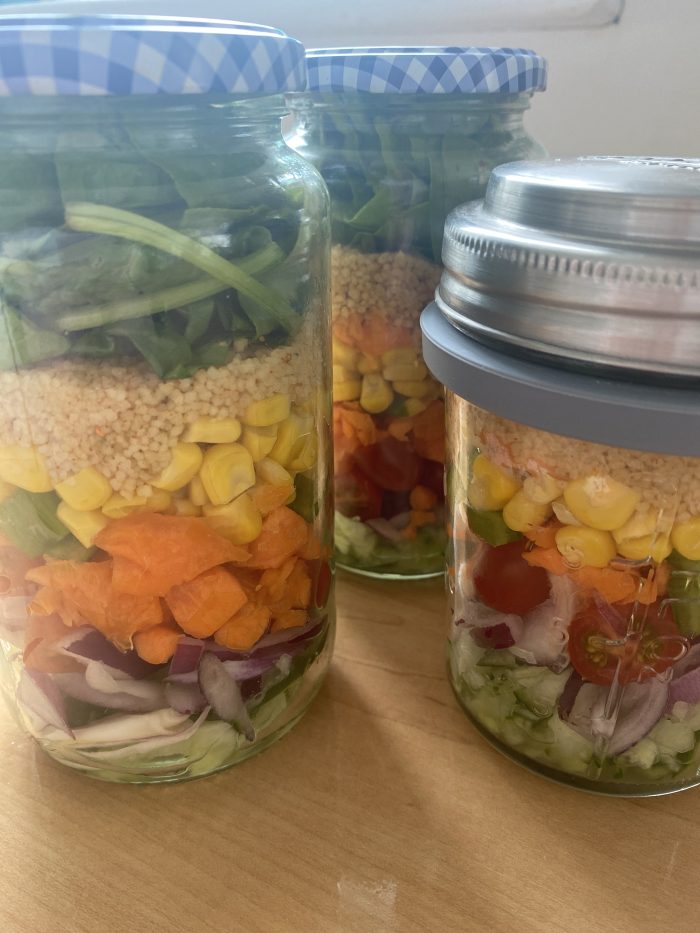 Don't miss out on future posts like this – receive updates directly to your inbox by email by adding your email address here and hitting subscribe. You can also follow me on Twitter or BlogLovin and I'd love to see you over on my Facebook page and on Instagram. If you're interested, you can find out more about me here and while I've got your attention, if you're wondering why some of my posts lately are a little bit less frugal then have a read of this post. 😉
Do your future self a favour – Pin 'How to make a mason jar salad' for later: