Working from home isn't as easy as I thought it would be and I realised quite quickly that I needed my own little space to work from. The problem is that I had absolutely no space anywhere to fit one in.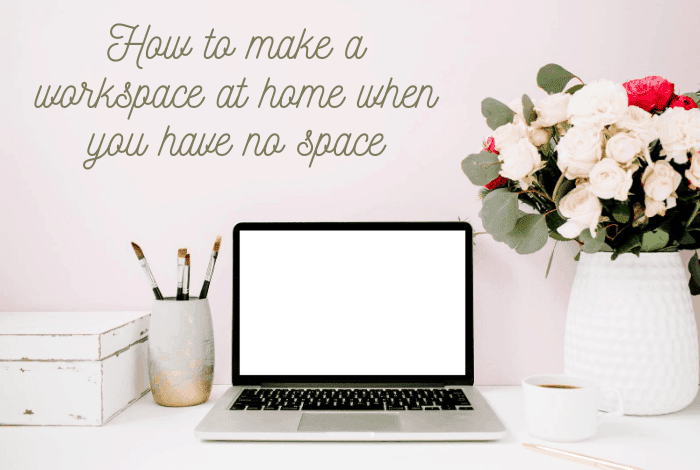 Working from home is something that I've had the luxury of being able to do for a while now, even before the start of Lockdown, but honestly, I much prefer working from the office than from home. I feel like I'm more productive in work and I do like being around people so I've pretty much worked from the office for most of the last few months.
I've got no plans to start working from home any more than I currently do but last week, I got a 'working from home care package' from my work which included a big monitor to plug my laptop into, a wireless keyboard and a mouse. There's no way I'm setting that little lot up on my dining room table every time I work from home so I decided that it was about time I made myself a little workspace area.
I had much bigger plans for an office last year, more for blogging than from a working from home in my main job perspective. There are months when I earn more than a full-time salary running my self-employed job blogging so it seems like a worthwhile investment. I planned to make some more space for an office by either extending the garage, getting a sunroom or a having a little garden room built. I still do plan to do one of the three but I'm just not sure what the best thing to do would be so I've put those plans on hold until I decide for definite which will work best for us.
So, back to my plan to make a space at home for me to set up my work kit for the odd days when I work from home and for when I'm back into blogging (which I'm trying hard to do right now)…
I have zero space in the house as things stand at the moment so I considered a couple of options to make myself some space.
First up, I was going to use my lovely little bureau which has a drop-down front that could easily be used as a desk. My original plan was to remove the shelves from the inside to make space for the monitor but I just couldn't make bring myself to start messing with the beautiful workmanship of the cabinet just to whack a monitor in there.
Then I considered a space in the Living Room as that's the one place in the house where I could easily fit a desk in but I decided against that as I wouldn't be able to work in there when the TV was on or when people were coming and going through the house.
That left me with one choice – my bedroom!
Not my first choice but I realised that if I moved the wardrobes further down the wall then I had a space behind the door that could fit a desk in there which for the majority of the day would be hidden away pretty much as the door hides it when it's open.
So I moved everything along the wall and used some Argos vouchers to put towards a pretty desk that was the perfect size to put in the gap the wardrobes left. I spent a little more on the desk than I needed to because I didn't want a functional white office desk in the corner of my bedroom so I used some a few of the vouchers that I was saving for Christmas shopping and put them towards a slightly more expensive desk – it only cost £93 so it didn't exactly break the bank but you can get a desk for £25 up from somewhere like Argos so my £93 did feel like a lot.
I also bought some corner shelves and a pink picture shelf from B&M which cost £5 each and a roll of that super-strong Gorilla Tape for £6.99 that was strong enough to put them up without the need for technical power tools. 😂
The main problem, as you'll see from the photo below, is that when we painted the room white we decided not to move the wardrobes. My exact words were 'There's no point moving them to paint behind them as we're never going to move them!'.
How silly did I feel when we moved everything along to move in my lovely new freshly built desk!?!?
I've added a few more bits now and it feels like home although one of the corner shelves came crashing down in the middle of the night which shaved a good five years of my life!
Don't miss out on future posts like this – receive updates directly to your inbox by email by adding your email address here and hitting subscribe. You can also follow me on Twitter or BlogLovin and I'd love to see you over on my Facebook page and on Instagram. If you're interested, you can find out more about me here. 😉