When I shared the brilliant news that we were finally debt free a few months ago, I got so many comments and emails from as well as messages on social media congratulating me which was lovely.  Your messages were lovely to read and really made me smile but I also got a few messages from people saying they just couldn't see themselves ever getting to where we were, telling me that there was just no light at the end of the tunnel.
I completely understand where these people were coming from because I've been there.  I've been at the point where it feels like the debt will just always be there and that there's no way to beat it because it's impossible to make more money available for debt repayments.
I also know what it's like to feel like there's no point paying that extra £10 you find in your budget off your debt because, hey, what difference is £10 going to make in the grand scheme of things?
But I can tell you three things:
The debt won't always be there – you just have to own it and take control.
There are ways to find extra money if you want to – whether it's cutting back in other areas or making some extra money each month.  I'm not saying it's always easy but there are ways, I promise.
That £10 will totally make a difference because if you pay that £10 off then you're much more likely to pay the next £10 off and then the nest.  If you never pay that first £10 off then you'll never pay anything off.
So, if you're currently in survival mode and you want to be debt free, let's look at a few things you can do to take control and start working on paying your debts off.
I don't usually recommend being as strict as this when you're working our your budget but I've written this with someone who is genuinely struggling to pay their bills and live each month.  If you want to become debt free in this situation then there's only one way to do it and it's not easy!
The obvious one – write a budget
You can use my free budget planner if you want to, you can write a list in the notes section of your phone, a spreadsheet or even the back of an envelope. Whatever you do, sit down and work out your monthly budget and get it down on paper.
Without this, you're working blind when it comes to cutting back.
Work out your snowball order for any debts you have
If you don't know what snowballing is then you can have a look at my post here all about it.  It's basically a way to pay your debts off in the most efficient way possible which will in turn save you a fortune on interest.
Stop Using Credit Cards completely
This one seems like a bit of a no-brainer but it's something that took us a while to be able to do as it always felt like we ran out of money well before payday so we thought we needed to use our credit cards just to get to payday.
Meal Planning is key
We've discussed this so many times but honestly, if you don't meal plan then start right now.  This is the quickest way to save money on your bills because you start saving literally straight away.  If you search over there in the search box >>> for meal planning then you'll find a stack of posts but this is the way I currently plan our meals because it's quite a flexible way of doing it which is what we need.
Stop eating out and ordering takeaways
Honestly, the number of people who I know who say they're skint but will then order a takeaway or go out for a meal is mad.  Now, this isn't a judgment because your money is yours to spend on whatever you want but if you truly want to be debt free them this is something that needs to go!
Make sure you're on the best deals for EVERYTHING
Review every single bill you pay and make sure you're on the best deal – research using comparison websites and use cashback websites to switch to the best deals.  You'll honestly be surprised at how much you can save.
Get rid of any non-essentials from your budget
If you want to go from survival mode to debt free then you need to take more drastic action than I might normally recommend when you're working out your budget.  Things like Sky/Virgin/Cable may be something you enjoy having but you can easily be paying over £100 for their full packages when you could give them up and just watch Netflix for a fraction of the price.  Stop smoking, cut your nights out and your holidays along with anything else that isn't essential.
This might sound drastic and I get it but if you're in financial survival mode, the extra money that this will free up in your budget can be huge to help you manage your bills.  If it isn't necessary for your survival, it needs to go and although it may not be fun for now, once you're in a better place financially you can look at introducing these things again gradually.
STOP spending
You need to stop spending money unless it's necessary!
Take your lunches to work, stop buying a cheeky latte and use up the things you have at home before buying new – I bet you have more toiletries under your sink than you could use in the next few months.
Also, buy clothes from the charity shop if you can as you can get some lovely pre-loved clothes in your local charity shop for a fraction of the price.
Side hustle to make some extra money
Sometimes, we just don't have enough money coming in which can obviously make life very difficult all around.  There are so many things you can do to earn a little extra money – lots of which I covered in my Make some extra money series.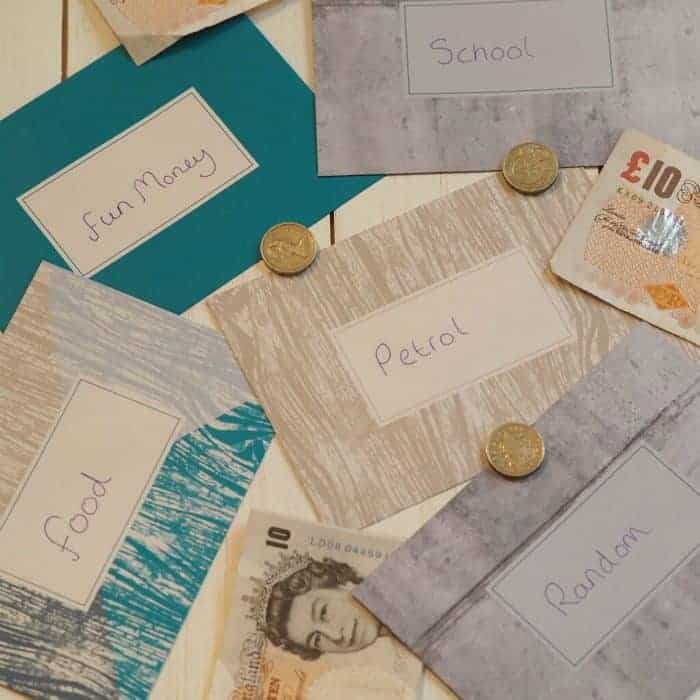 Envelope System
Something we've done in the past when we've really needed to get our budget under control is to use the cash envelope system.  For those of you who don't know, the envelope system is a method of using only cash for all your expenses, making your debt-free life as simple as possible! The envelope system forces you to make a budget, keep track of every penny in and out of your home, and helps you understand where your money really goes. Another great thing about the envelope system is that you physically feel the cash leaving your hand, rebuilding that mental connection of spending money.
Use any spare money to pay off your debt
This one is a must because the more money you throw at your debts, the quicker they'll be repaid which means you'll be debt free and able to enjoy life to its fullest sooner.
Survival mode is no joke, and it's not a place any of us want to be so I strongly recommend you do everything you can to get things back on track.
Trust me, life is so much better with no debt!
Don't miss out on future posts like this – receive updates directly to your inbox by email by adding your email address here and hitting subscribe. You can also follow me on Twitter, BlogLovin or Networked Blogs and I'd love to see you over on my Facebook page and on Instagram. You can find out more about me here.