Today's post is all about how to freezer prep your favourite slow cooker and instant pot meals!
If you ask me, freezer prepping meals is one of the best ways that you can save time and money when it comes to meal planning and feeding your family. It's just so easy to be able to reach into the freezer and grab a bag out that just needs to be added to your slow cooker or Instant Pot – perfect after a long day when you really can't be bothered.
Benefits of freezer prepping
Freezer prepping your slow cooker and instant pot meals can be a great way to save time. When life gets busy it helps to have food that just needs to be tossed into your pot and turned on. Freezer prepping reduces your clean up time by allowing you to do the prep work for dozens of meals at once when you come in from the grocery store.
This makes it easy to cook a real hot meal for your family and only have to clean up the prep work once. Soups, stews, main dishes with vegetable sides, and even desserts can be freezer prepped for quick and easy cooking. Simply thaw enough to empty your freezer bag into your slow cooker or Instant Pot and turn it on.
What to put in your freezer meals
When freezer prepping almost everything you need for a meal can go right into the freezer bag. This can include meats, vegetables, and sauces.
Letting meats sit in the marinade for a while before freezing can help marinade the meat before it is time to cook. Then you can thaw and cook right away. Wash, peel, and chop vegetables the way you usually do for each recipe. To preserve color you can blanch green beans or tomatoes.
While you can add your seasonings and spices to your freezer meals avoid adding salt, salty stock, or alcohol-based flavourings. These can affect how solid the meal will freeze. Freezer meals that stay soft will have a much shorter lifespan often leading to spoilage. These can be added just before cooking for the best results.
How to prep more meals at once
To make the most of your time meal prepping work to make more freezer meals for your slow cooker or instant pot. To do this build a meal plan taking advantage of the same ingredients as much as possible. This will allow you to bulk chop ingredients to toss into each freezer meal. To save money plan these freezer meals around the local sales.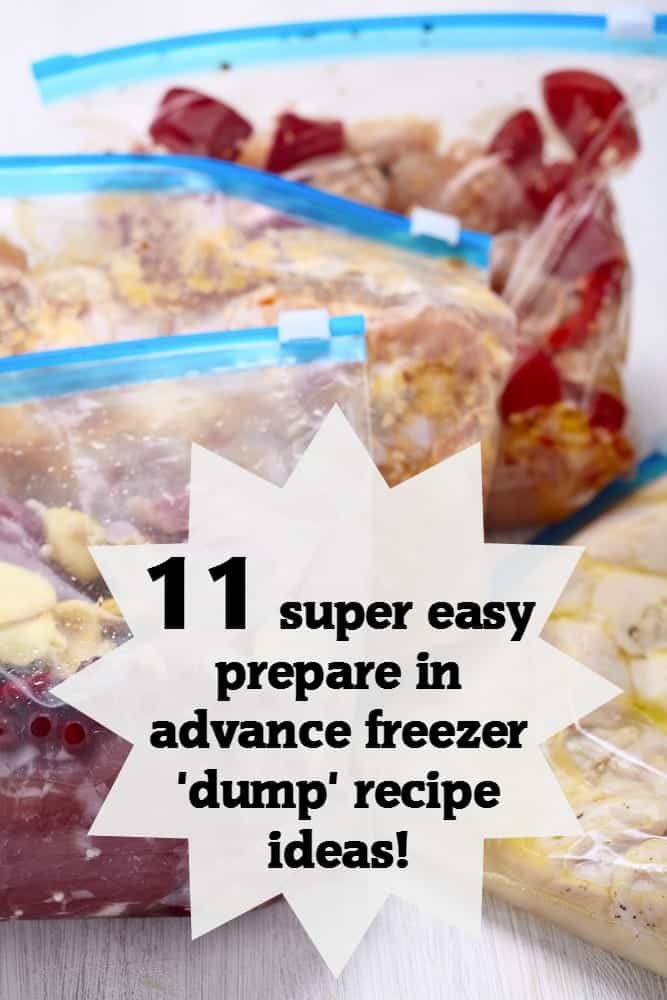 We also make what we call 'chicken dump' meals which I tend to make when I get a big Muscle Food Chicken delivery. I order from them once a month and use about half of the chicken to make into these meals.
Tools for Freezer Meal Prepping
Freezer bags are the most important thing for freezer prepping meals for your slow cooker and instant pot as they make it so easy to store food without taking up too much space in your freezer. The problem is that we're not a fan of using plastic where it can be avoided so for a while freezer bags were out – now I buy some special biodegradable freezer bags from Amazon which solved my problem and meant that I could go back to freezer bags without feeling guilty.
Colour-coded chopping boards are perfect for meal prepping as they allow you to keep track of what was cut on which cutting board to prevent cross-contamination in your food. If you plan to prep more than one type of meat at once this can be vital for keeping your family healthy.
You might also want to check out my guide all about how to batch cook which is slightly different from how to freezer prep.
Why not pin 'How to Freezer prep your favourite slow cooker and instant pot meals' for later?
Don't miss out on future posts like this – receive updates directly to your inbox by email by adding your email address here and hitting subscribe. You can also follow me on Twitter or BlogLovin and I'd love to see you over on my Facebook page and on Instagram. If you're interested, you can find out more about me here. 😉