Today, I'm going to share some homemade smoothie ice lollies that I had no part in making at all. This is all on Master Frugal who made more smoothie than he meant to and decided to make some ice lollies with the leftovers rather than waste it.
For most of the year, my smoothie maker is kept in the cupboard and usually used once or twice a week but during the Summer it lives on the counter because the kids will have a smoothie almost every day at some point.
It used to cost a fortune but I think we've mastered it now with a drawer in the freezer entirely dedicated to frozen fruit which is so much cheaper than fresh but just as healthy. We also buy fresh fruit specifically for smoothies when we see it on offer and make little freezer smoothie bags so the kids can just grab a bag filled with a mix of fruit to add to some juice.
Today's smoothie consisted of frozen mango, strawberries and raspberries with some fresh passion fruit and pineapple all blended in some fresh orange – all in quite small quantities according to Master Frugal. 😉
We have a Ninja blender (this one) as we managed to burn out our Nutribullet somehow. This is so much better than any blender we've tried for smoothies and makes short work of pretty much everything. It seems to have lots of buttons to choose from now that I'm looking at a photo of it but I honestly just use the start-stop button and everything blends in perfectly.
Master Frugal likes his smoothie quite thick so he puts in less liquid than most people would but that doesn't really make a difference when it comes to smoothie ice lollies so just make yours however you like it.
Basically, he just poured out his leftover smoothie mix into ice lolly moulds (these are the ones I have) and the just put them in the freezer to freeze.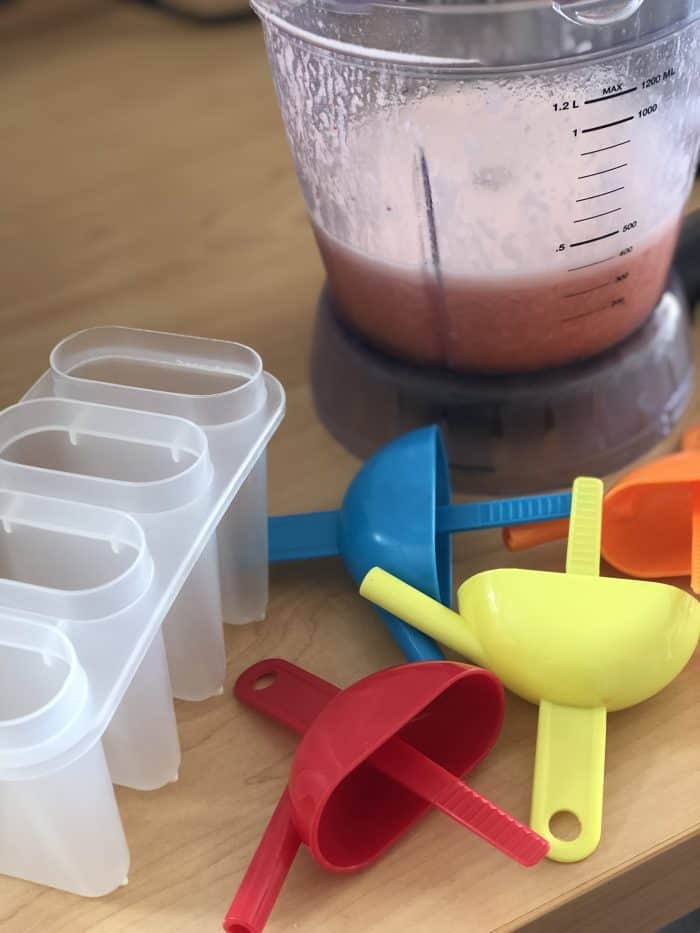 Two hours later and we have the most amazing tasting ice lollies…
Don't miss out on future posts like this – receive updates directly to your inbox by email by adding your email address here and hitting subscribe. You can also follow me on Twitter, BlogLovin or Networked Blogs and I'd love to see you over on my Facebook page and on Instagram. You can find out more about me here.
Pin my homemade smoothie ice lollies for later…