This recipe for homemade cheesy bread buns is a super easy recipe that the kids will love to help with!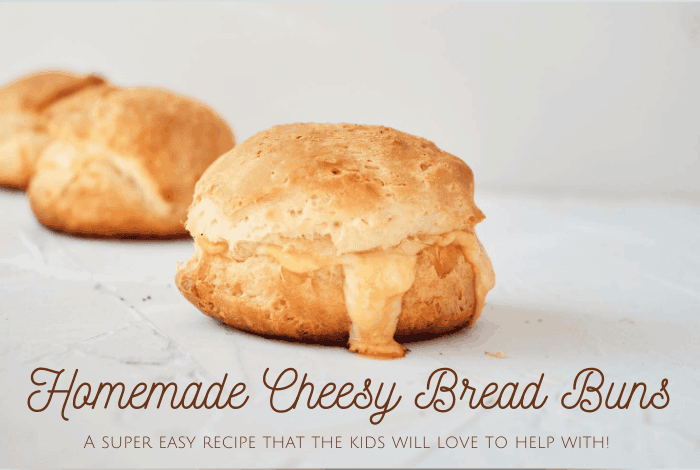 Baking bread was always a favourite activity with my two when they were younger and even now, Master Frugal can always be tempted away from his Xbox if there's bread to be baked.
Once a week, we'll have homemade pizzas for tea with the pizza base made by hand by one of the kids and we actually use the same recipe for bread buns as we do for our pizza bases so we don't even need to look now.
These homemade cheesy bread buns are an old favourite of ours and seeing as we've just made a batch this weekend, we thought we'd share them with you today.
They might not look like the prettiest thing you've ever eaten but they'll be right up there when it comes to the tastiest thing you've ever had! 😇
Homemade Cheesy Bread Buns...
Yield: 8

Prep Time: 10 minutes

Cook Time:

Additional Time: 1 hour 30 minutes

Total Time: 1 hour 40 minutes

This recipe for homemade cheesy bread buns is a super easy recipe that not only tastes amazing but will also have the kids queuing up in the kitchen to help you make it. They're amazing with soup, sandwiches, stews or just on their own!
Ingredients
500g strong white bread flour
1 teaspoon sugar
1 teaspoon salt
25ml olive oil
1 sachet easy bake yeast
300ml warm water
100g grated cheese
3 tbsp melted butter
1tsp garlic powder
Instructions
Add the flour, salt and sugar to the breadmaker and just mix it together.
Add the olive oil.
Pour over the water but don't stir the mix.
Sprinkle over the yeast powder.
Set the breadmaker to the setting you want to use - you'll need to use just the dough option for this recipe as you'll be cooking it in the oven once.
Let the bread maker do its thing.
When your dough is ready, divide your mixture in half, then divide each half into haves and then do the same again so you have eight kind of equal dough pieces.
Preheat your oven to 180 c at this point.
Melt your butter and stir in the garlic powder and set aside for the next step.
Take each piece of dough split it into two slightly flattened shapes. Pop some cheese on top of one of the prices and then sit the other one on top. Roll it together now into a ball so the cheese is in the middle and then pop it on a greased baking tray. Repeat until you've made eight.
Sighly flatten each one and brush with your garlic butter mixture.
Sprinkle any leftover cheese over the buns.
Bake the buns for 15-18 minutes or until the top is golden brown.
Notes
I've written this as a breadmaker recipe but the quantities are the same if you want to make my hand.

They do freeze really well and can be made with frozen grated cheese so if you buy and reduced-price cheese, get it grated and in a box in the freezer and just grab a handful or two when you want to make these.
Don't miss out on future posts like this – receive updates directly to your inbox by email by adding your email address here and hitting subscribe. You can also follow me on Twitter or BlogLovin and I'd love to see you over on my Facebook page and on Instagram. If you're interested, you can find out more about me here. 😉
Why not pin my homemade cheesy bread buns for later?