Everywhere I look right now online, there's an influencer telling me how good Hello Fresh is and how my life will be so much better if I subscribed. I usually just scroll on by but a couple of weeks ago, I was too weak to fight it anymore and I ordered myself a box.
(in case you don't know what Hello Fresh is, it's a weekly meal delivery service where you choose your meals and every ingredient you need is delivered all measured out ready to go with a super-easy to follow recipe card)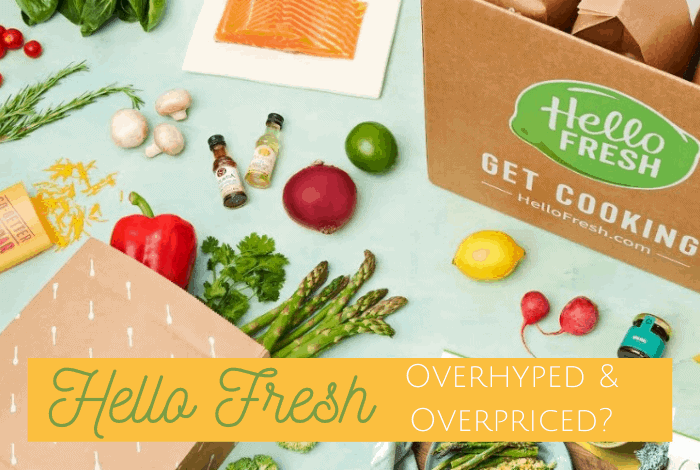 I know what you're thinking – no one who blogs about money saving and living a frugal life should be buying a meal delivery service like Hello Fresh but bear with me while I explain.
First up, it was heavily discounted as the first box had 50% off and the next three boxes had something like 30% off them so it didn't feel too bad from a price perspective.
My next reason is that I work long days right now and get home somewhere between 6 and 7 pm usually which is past the time that I want to be prepping meals but I did want nice healthy meals for us to be eating.
And finally, the night I caved and ordered it was the night I'd made mac and cheese for tea. Again.
It's our favourite family meal but we have it quite often as we don't have a huge meal repertoire of things that we all like to eat and I was just sitting there thinking how I really needed to get more adventurous in the kitchen again – even with the small window of time I have on a night.
So, I'm sitting there enjoying my mac and cheese thinking I should start cooking more interesting meals scrolling through Facebook looking at what everyone else was having for tea when up popped the advert for Hello Fresh for about the 10th time in 2 days.
I gave in.
I ordered three nights worth of meals in my first box which arrived (by arrived I mean left on the doorstep literally on my street because I didn't answer the door within the 30 seconds that the delivery driver was willing to wait for) the week after.
It was all packaged up really well with as little waste as I guess is possible with a box like this – everything was good quality with enough time left in the best before dates to mean that I wasn't going to have to scramble to use it all in the first couple of days of the week.
And how cute are the little measured out portions of the various sauces and flavourings that were needed for the recipes we'd picked…
The three recipes we'd settled on for that first week were Chicken and Peanut Butter Noodles, Mexican Style Pasta Bake and Cheesy Chipotle Bean quesadillas which all came with their own little recipe cards. The recipe cards are brilliant – they have step by step instructions on the back which are literally so simple that anyone can follow along.
So far so good!
We decided to make the Chicken and Peanut Butter Noodles for our first Hello Fresh adventure and surprisingly, it ended up looking pretty much exactly like the photo on the front of the recipe card which is an achievement in itself. Even more surprising was the fact that Master Frugal decided to get involved in cooking which is something he hasn't wanted to do in ages.
Next up to try was the Mexican Style Pasta Bake which again was simple to make, looked exactly like it was supposed to look and tasted amazing…
And finally, we tried the Cheesy Chipotle Bean Quesadillas which needed some adapting as the beans involved turned out to be kidney beans which aren't a family favourite here. I adapted quite a bit to be fair and replaced the beans with chicken which I had in the fridge and it went down better than any beans would have done.
Our first week was a huge success to be fair and I finally get why people who try Hello Fresh rave about it.
It's absolutely not for everyone, but for me, it's perfect as I get to cook lovely meals that I'm proud to serve up without all the faff. This week's meals cost a little over £20 thanks to the discount code that I had which I was super pleased with but even at a higher cost, I'm still tempted to keep it up.
It's super easy to set up too, I have my Hello Fresh box delivered on a Sunday morning which means I need to choose my meals for the week ahead by the end of the day the Tuesday before.
Today, for example, I know that I've got the ingredients to make this little lot arriving in the morning:
So, is Hello Fresh Overhyped and Overpriced?
I'm not a fan of the fact that every time I look at Youtube, Facebook or Instagram there's an ad or sponsored post from someone trying to sell me Hello Fresh but ultimately, as an advertising campaign, the exposure totally works. Having paid for the service and tried it for the last couple of weeks, I no longer think that Hello Fresh is overhyped – it really does deliver everything it says it will and it's definitely worked for our family.
Pricing-wise I know it's not the cheapest way to meal plan, I really do. Genuinely, pre-COVID, I was absolutely against this kind of thing and I've turned down paid work with companies like this because I didn't feel comfortable sharing things like this with you all but you know what? Right now, in my life, it's absolutely working.
Would I recommend Hello Fresh?
I would if your situation is anything like mine right now. 😇 I absolutely love the ease and convenience at a time when everything else in my life is a bit chaotic.
You can try it for yourself using my refer a friend code CASBAIL (try HS-YOWO4LVY3 if that doesn't work, there are two different codes showing in my account for some reason) and you'll get £20 off your first box so you can see if you love it as much as I do. To be fair, you can even try it for that first box and then cancel it regardless and you get a cheaper week of meals.
Don't miss out on future posts like this – receive updates directly to your inbox by email by adding your email address here and hitting subscribe. You can also follow me on Twitter or BlogLovin and I'd love to see you over on my Facebook page and on Instagram. If you're interested, you can find out more about me here. 😉