Every week I share five frugal things that I've done during that week just to show you that the small things you do all add up to a great frugal lifestyle where you can learn to live a fabulously frugal life.
Hey! 👐
1) It's not often I share a photo of myself on here but I thought I'd share a photo of my new sunglasses which cost me a grand total of £2.43. They started off at £3 in Morrisons but I have a Family and Friends discount card so I get 10% off which was 30p and then, because I bought them as part of my weekly shop and spent over £30 in total then I get 10% off the whole amount of my shop back on my Airtime Rewards account which on means a further 27p off.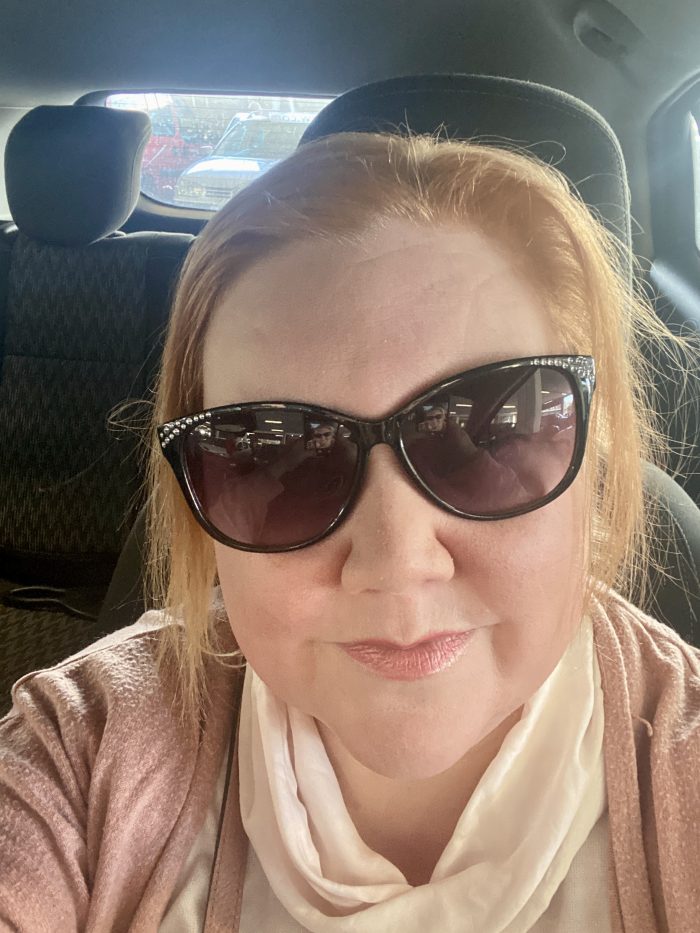 I do love a good pair of sunglasses but when Miss Frugal moved out, my favourite Dior pair went with her so I needed a pair for driving when the sun was shining and these are perfect for me! In fact, I like them better than my more expensive ones but please keep that between us or I'll never get them back.
And while we're on the subject of Airtime Rewards – I currently have over £10 pending on there thanks to the fact that they've added Morrisons on as a retailer where you can collect rewards. That's £10 off next month's phone bill when I redeem it and I literally do nothing to collect the rewards after the first five-minute set-up! Honestly, if you're not already signed up for them then you should be doing it now!
2) Did you see my post last week about my new favourite face and body lotion? I absolutely love the Cerave face and body lotion for my dry skin and feel like it's such great value for money in the big bottle I buy it in so I'm currently using it every day and seeing a difference in how dry my skin is. I'm now using up any other body lotions and creams that I have (other than the really nice ones) as foot creams.
I bought a pair of cotton foot socks from Amazon so I use whatever cream I have to soften the skin on my feet. This week I used up the last of a tube of M&S hand cream that I think cost me £2. I bought it with a plan to keep it on my desk and use it through the day but didn't think how awkward that could get using a mouse and keyboard so it was just sitting there until I repurposed it as foot lotion.
(Affiliate link – Moisturising socks)
I did try using normal socks but the cream absorbed more into them than my feet whereas the moisturising socks I bought don't seem to do that at all.
3) I took one of our pictures down off the wall last week and I couldn't decide what to replace it with so I went with this…
I'm pretty sure I've shared this on here before but the kids made it a good 10 years ago now when I sent them upstairs for arguing constantly and told them not to come down again until they were over it. They came down an hour later with this in their hands and I have loved it ever since! It's got a few watermarks on it now as it was in our little entrance hall for a few years and it got splashed once or twice but it's still perfect to me.
Who needs to buy a new print for the wall when I have this!
4) This is the worst picture ever but last weekend I made a huge batch of my butternut squash carbonara sauce which is my current favourite food. It's super easy to make and freezes really well so I made a batch using 2 big bags of frozen butternut squash.
I now have four portions in the freezer which is fab as I use it as a pasta sauce and as a cheeky addition to risotto as I love the flavour so much.
5) I rescued some herbs from the yellow sticker section of the fruit and veg aisle this week – 19p each for a pot of mind, basil and chives.
They looked a bit pathetic in the shop but I got them home, popped them in some pots and watered them and they perked up super quickly!
Come over and join our fab Facebook group – Spend Less, Live Better! We've hit 35,000 members in the group now so it's a great place to be and I've got Miss Frugal in there helping me out now.
As always, we'd love you to join in with us by sharing anything you've done that's been thrifty or frugal from your week – whether it's an Instagram picture (#5frugalthings), a blog post or even a video. Just add your link to the Frugal Friday linky at the bottom of this post.
You're more than welcome to copy and paste the badge above but it would be even better if you could let your readers know that you're linking up with the five frugal things linky by adding a little line to the bottom of your post like this one:
I'm linking up with this Cass, Emma and Becky in this week's 'Frugal Friday' linky.
Don't miss out on future posts like this – receive updates directly to your inbox by email by adding your email address here and hitting subscribe. You can also follow me on Twitter or BlogLovin and I'd love to see you over on my Facebook page and on Instagram. If you're interested, you can find out more about me here and while I've got your attention, if you're wondering why some of my posts lately are a little bit less frugal then have a read of this post. 😉
Do your future self a favour – Pin this post for later!
You are invited to the Inlinkz link party!