Every week I share five frugal things that I've done during that week just to show you that the small things you do all add up to a great frugal lifestyle where you can learn to live a fabulously frugal life.
Before I start though, I do want to say that being frugal to me is about getting the best value for our money – it's not about doing without for us or about not having nice things.  We all have different financial situations and we're all frugal for different reasons – we're frugal so we can afford to do nice things together.
1) This week was my Dad's funeral and whilst I didn't want to scrimp on his funeral, he made me promise years ago when my Mam died that I wouldn't waste money on his funeral.  I was very torn when we sat with the funeral director as I wanted to give him a good send-off but at the same time, I wanted to honour his wishes.
I think I've found a good mix though and went for a simple funeral overall with not much in the way of extras.  We did order one expensive floral tribute and even though I know my Dad would have hated the cost, I did this for Master Frugal as much as for my Dad.  They used to ring each other on a night to talk about the football results and I knew that this would bring Master Frugal a little comfort on the day.
We didn't buy any other flowers directly from the funeral home or even any local florists – we went online and found some beautiful flowers for about a third of the cost that we were being quoted.  I feel like my Dad would have been OK with our overspend because we saved on the rest of the flowers and they were beautiful flowers ordered online and sent straight to the funeral home.
2) This is one that I forgot to tell you about last week so I'm going to sneak it in here because I think it's a good one. 😉
First of all, remember me telling you I bought a mini last month for an absolute bargain of £600?  Well, I managed to sell that – for the same as what I paid for it and I bought another new (to us) car which was an even better bargain.
It's a Citroen C3 and it's a lot newer than the mini with a lot fewer miles on the clock as well as driving brilliantly and costing less in tax and insurance because the engine size is smaller than the mini.  It was advertised as 'Reduced to' £995 so we sent the seller a cheeky message and said we would pay cash the following day if he would accept £800 which he considered for a while and then accepted.  We're over the moon with our little bargain and this one is a definite keeper!
I was sad to sell the mini because I loved it and have wanted one since the new shape came out around 2000 but it just isn't a practical car for me.  I thought I could live with it because of how much I loved the car but the kids grumbled every time they had to get in it and Mr Frugal refused to drive it as he says the pedals are so close together that he struggled to drive it so I gave in and got rid!
3) We got some vouchers through the post from Morrisons as we have one of their More cards and as I usually do when we get vouchers, I pop them in my purse where more often than not, I forget to use them and end up missing the expiry date of the voucher.
This time, I used quite a few of them – I had two consecutive week's worth of vouchers that gave me extra points when I shopped as well as doubling the points I got from my shop that week and some for money off when I bought fruit, mince and something else that I've forgotten.
We must have been close to the threshold of points for a voucher as the first week's shop we did took us and we got one voucher and the second week we hit the number of points needed for a voucher again.  Normally it takes us a while to spend enough for a £5 voucher but the few thousand extra points we got for each of the two weeks shopping got us there so much quicker.
4) You know how much I love a good bargain when it comes to flowers so I was super pleased when I found a big bunch of tulips for 75p this week.  They hadn't opened when I spotted them and most flowers have a 7 day guarantee when you buy them from Tesco which is why they sell them at reduced prices when they're nowhere past their best.  I took them home and popped them in my favourite vase but they haven't bloomed at all and three days after buying them they're definitely looking worse for wear.
I'm not complaining at all though as I've had so many bargain bunches of flowers from there that have given me at least a week's worth of pleasure and even though they're not blooming as they should be, they still look lovely today.
5) Last weekend we had a car boot sale – finally!
I'm going to tell you more about it shortly but it was a huge success and we made £160 which was brilliant as I had in my head that I wanted to cover the money we needed this week to buy some parts that the plumber needed for some work he was doing for us this week.
As usual, we've been having some really good discussions this week over in our Live Well, Spend Less Facebook group.  We'd love to welcome you to our little community if you fancy popping in.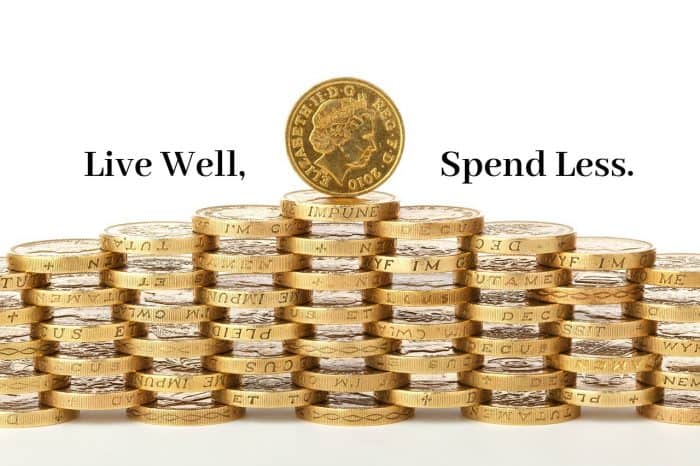 As always, we'd love you to join in with us by sharing your five frugal things from week – whether it's an Instagram picture (#5frugalthings), a blog post or even a video.  Just add your link to the linky at the bottom of this post.
You don't have to share five things you've done, anything thrifty or frugal that you've been doing is perfect.
You're more than welcome to copy and paste the badge above but it would be even better if you could let your readers know that you're linking up with the five frugal things linky by adding a little line to the bottom of your post like this one:
I'm linking up with this Cass, Emma and Becky in this week's 'Five Frugal things I've done this week' linky.
Don't miss out on future posts like this – receive updates directly to your inbox by email by adding your email address here and hitting subscribe. You can also follow me on Twitter, BlogLovin or Networked Blogs and I'd love to see you over on my Facebook page and on Instagram.