I'm feeling like a bit of a domestic goddess this morning as I have some homemade breadsticks baking in the oven ready to serve at lunchtime with homemade leek and potato soup.  I also have a super tidy house and a wash in the washing machine!
I could lie and tell you that it's my amazing organisational and culinary skills but it's so not!  The tidy house is because Miss Frugal did one her big house cleans for me last night as I was working late, the wash was sorted and put in the machine on Wednesday but then I forgot all about it so I'm just getting around to actually switching the machine on and the soup is courtesy of my soupmaker so took about 30 seconds to throw everything in ready to switch on just before lunch.  I am going to take credit for the homemade breadsticks though because I did make them and they did take at least five minutes to prepare (other than the time the dough took to prove).
It's almost four months since I got my soupmaker and I'm pleased to say that the novelty hasn't worn off yet as it often does with kitchen gadgets that you think are going to be game-changers but end up gathering dust in your cupboard.  It makes a perfect soup every single time and soup is one of our favourite weekend lunches now.
And my delicious homemade breadsticks are the perfect thing to serve with the soup to make sure that the kids don't get hungry until teatime.
Homemade Breadsticks
250g bread flour
14g easy yeast (that's about 2 teaspoons)
2 pinches of salt
3.5g sugar (about 1/2 a tablespoon)
150ml warm water
2 tablespoons olive oil
Preheat the oven to around 200 c.
This couldn't be easier – just stir the flour, salt, sugar and yeast together in a bowl and add the warm water. Mix it into a dough and then give it a good knead for a couple of minutes.
Leave the dough to prove for an hour and then add in the oil. You need to knead the dough again for a couple of minutes and then leave it again for 10 minutes or so.  Just so you know, the dough will be pretty sticky at this point so don't worry about that.
Next, you're ready to make your breadsticks and you can make them using one of two methods – you can either break of small pieces and roll into a long sausage shape or you can roll out the dough and cut it into long thin strips. We then usually either twist the strips or roll them to make them rounded a bit. Today's are a bit of a mix as the kids did the last bit.
Transfer your breadsticks to a lightly greased baking tray and bake for between 7 and 15 minutes – I know that's a pretty random time but it depends completely on how fat and long your breadsticks are.  Ours today cooked for 11 minutes….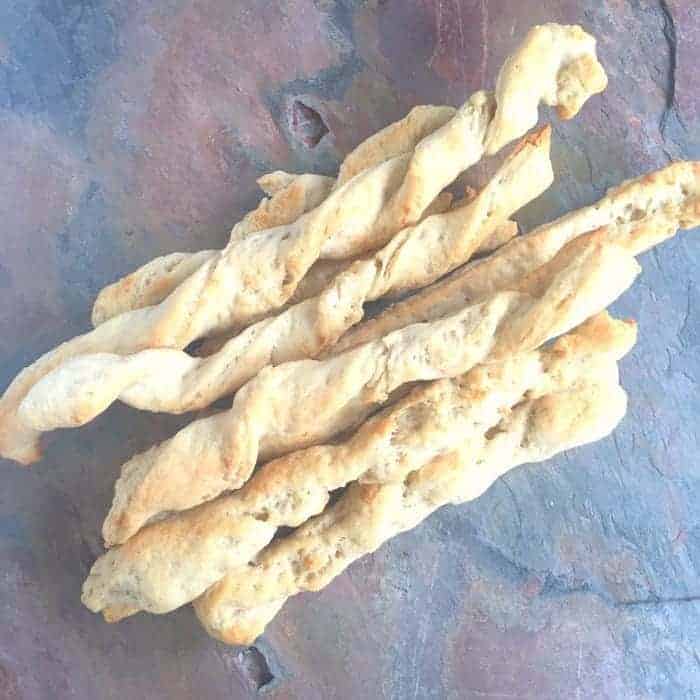 Enjoy!
If you liked this recipe you can save it to your own recipe box if you use Yummly – just click on the YUM icon at the bottom of this post.
Don't miss out on future posts like this – receive updates directly to your inbox by email by adding your email address to the box on the top right of this page and hitting subscribe. You can also find me on BlogLovin, Yummly and Networked Blogs and I'd love to see you over on my Facebook page and on Instagram.