Don't worry if you don't have a Vase? Here's 8 ways to display your flowers without a Vase…
Considering at least half of my weekly five frugal things posts start with a picture of some reduced flowers that I've bought through the week, it might surprise you to know that I don't actually own a single vase.
I did used to have a few basic ones but honestly, they just took space up in the cupboard under my sink so I gave them away – one to a friend with a bunch of flowers arranged in it prettily and the others went to the charity shop. I've never missed them in any way and always find something in the kitchen to pop a bunch of flowers in.
I don't have a set go-to container that I use instead of a vase as it depends what flowers it is that I've got to pop in it so to give you some examples today, I've just been through my Instagram feed and snipped the pictures below.
1. Use a jug or a teapot
I have two favourite jugs that I like to use for flowers – one is a clear glass jug that looks amazing with white flowers like these beautiful tulips.
The other one is a bright yellow one that doubles as a Sangria jug in the Summer. 😂. The bright yellow looks great with brightly coloured flowers from clashing pink and red roses to these beautiful sunflowers.
You could use a pretty teapot or even a smaller milk jug to display your flowers too.
2. Use an empty bottle
If you just have a few stems to display then empty bottles are perfect. These two bottles were from a little cafe we went into at a local farmers market and were so cute that I brought them home with me to display these pretty hydrangea flowers that I had as I knew they'd look fab in there.
3. Use a mug
This pineapple mug was my favourite mug for my morning cuppa until a chip appeared at the top of it. I couldn't bring myself to get rid of it though so I repurposed it as a mini case for a small flowery plant.
4. Use a cooking sauce jar
I often repurpose cooking jars and use as vases with a bit of decoration on them to make them look a bit fancier. This one has a small piece of lace tied around the middle of the jar which I think makes it look super pretty!
This one is an old washed out coffee jar, the Douwe Egberts jars are great for this as they're quite a pretty shape and don't look like a washed out coffee jar sitting on your shelf. 😂
5) Use a bucket
This is one that I've only ever tried myself once because you need either one huge bunch of flowers or a few smaller ones. Sometimes (but rarely) when I manage to get some really drastically reduced price flowers, I could buy enough bunches to fill a bucket for just a couple of pounds but I don't like to buy too many for myself.
I can't find the photo of my flowers in a bucket attempt but this is the photo I took of the arrangement that inspired me to buy my silver bucket which is gathering dust in the garage after just one use. These arrangements look amazing but must have cost a fortune as I'm pretty sure these flowers weren't yellow stickered reductions.
6) Use a glass
I have some quite tall glasses that we use for things like ice cream floats that are perfect for displaying flowers. I often tie some ribbon around the middle and add a bit of string for a rustic touch if the flowers are quite rustic looking themselves.
I also use smaller glasses when the flowers are smaller and have shorter stems. This glass was one that I bought from Athropolgie in New York with the idea of using it for flowers more than drinks and I love how pretty it is for delicate arrangements.
7) Use a mason jar
I love mason jars and use them for all sorts but I have a set of three that are perfect for smaller bunches of flowers. I've found this photo of me using them but I think I overfilled the jars massivey here! I reckon about half of what I put in there would have looked so much better,
8) Use a tin can
I used an old empty metal mints tin for to display the flowers in the picture below and I think they looked fab. It was a one time only use though as it went a bit rusty after I used it the once but it was worth it for that one use. Also, can we just take a minute to look at my amazing Crusha milk bottle which is probably the nearest thing I have to an antique in my house. 😂. I bought it from the Festival of Thrift a couple of years ago and love it but aside from the odd time I put flowers in it, I have no use for it at all.
I've also spray painted normal empty food cans before which I used to grow herbs on my kitchen windowsill and they were really long-lasting and looked really good as they matched my other kitchen accessories.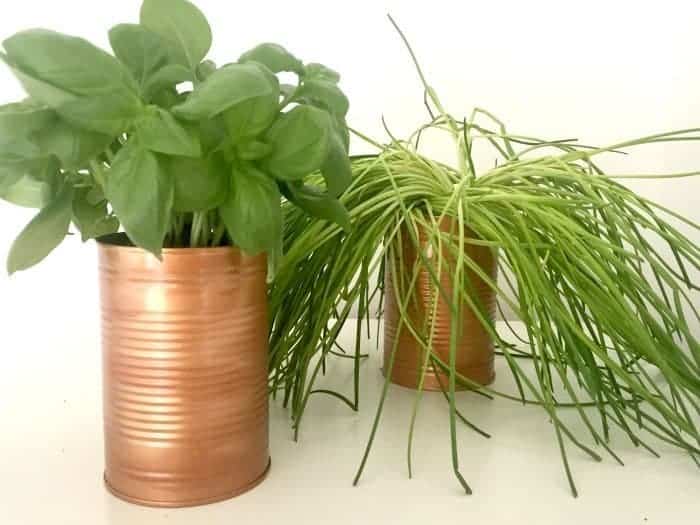 Don't miss out on future posts like this – receive updates directly to your inbox by email by adding your email address here and hitting subscribe. You can also follow me on Twitter or BlogLovin and I'd love to see you over on my Facebook page and on Instagram. If you're interested, you can find out more about me here and while I've got your attention, if you're wondering why some of my posts lately are a little bit less frugal then have a read of this post. 😉
Do your future self a favour – Pin '8 ways to display your flowers without a Vase' for later: