Today's post is all about how to arrange daffodils in a vase so read on and I'll show you how to do it like a professional! 😇
(Also, if you don't have a vase then don't worry because you absolutely don't need one – here's what to do if you don't have a vase)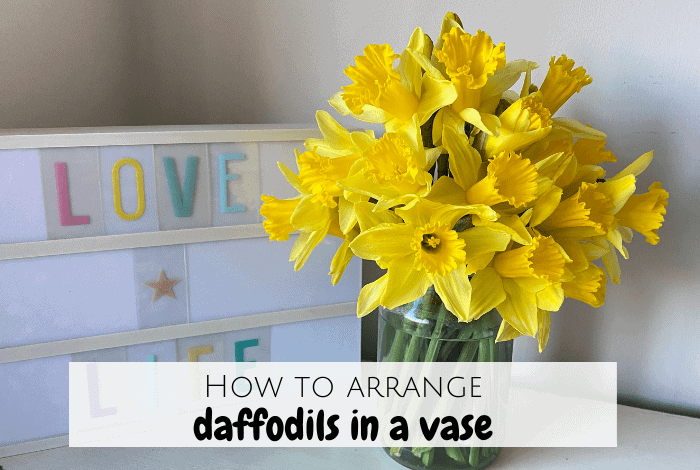 There is absolutely nothing wrong with buying a bunch of daffodils and just plonking them in a vase (or whatever you're using) without paying any attention to anything that I'm going to tell you below. They'll still look good because that's the beauty of daffodils – they're pretty tough and will generally thrive whatever.
I like to spend a little bit of time preparing them and arranging them nicely because it relaxes me to do it and makes me happy when they bloom looking as lovely as I can make them look. I also think that a little bit of prep makes them last longer too.
Before we start, the sap inside the daffodil stems is poisonous so aside from the fact that you need to make sure you keep them away from little ones and animals and wash your hands when you're done, you also need to consider that if you're arranging them with other flowers then they'll need a bit of a soak in water before you add them into an arrangement with any other flowers – 2-3 hours is enough time usually but I'm still always wary about adding them in with anything else.
How to arrange Daffodils in a vase
These bunches of daffodils were 89p each from Aldi which is more than I usually pay for daffodils as I usually get them from the reduced flowers section where they're generally starting to open up and flower a bit more than these ones. I wanted ones that were still at this stage though as I thought it would be easier for you to see what I was doing in the photos.
I use 1/4 inch florists tape for my arrangements (aff link – clear floral tape) because I use smaller containers as vases and the narrow tape is perfect for that. You could use normal sellotape easily enough if your vase is bigger than mine or if you cut it in half to make it thinner. You're going to be slotting your flowers into the vase around the tape that you use so ideally don't want it too wide as it'll restrict how many flowers you'll fit in your vase.
I add my daffodils into the vase in layers starting with the outside with flowers which I cut to just over the height of the vase so they're quite low down. When I'm cutting the daffodils I just use scissors and cut them at a 45-degree angle so they absorb as much water as possible in the vase and makes them last longer.
Once, I've gone around the outside of the vase with my shorter stems then I'll go around again with stems that are a bit longer and then again doing the same thing using longer stems. I usually fit 2 or 3 stems into each of the outside gaps in the tape.
The centre section is for the tallest stems so I cut those ones slightly taller than the layer before them and pop them in too. I usually manage about five in stems in this middle section when I'm using my favourite glass jar as a vase.
It tends to look a bit messy at this point but have faith because the whole arrangement will be transformed when the flowers bloom.
The sunshine yellow of these flowers speaks for itself so whilst I think my method enhances and prolongs their beauty I do think it's important to say that this is just my version of how to arrange daffodils in a vase, if yours is just putting them in a jam jar of water then I bet you get just as much enjoyment out of them as I get out of mine. 🌼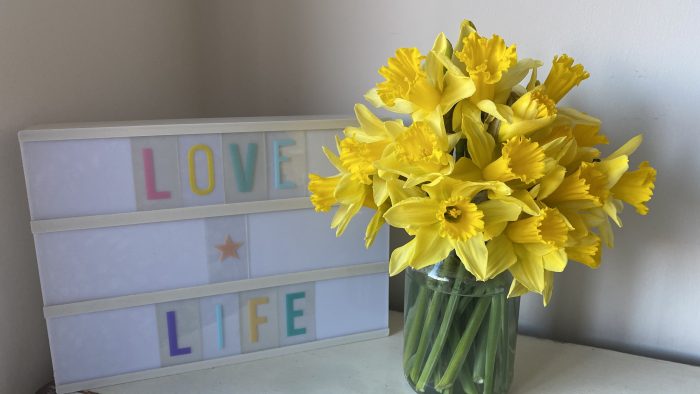 Don't miss out on future posts like this – receive updates directly to your inbox by email by adding your email address here and hitting subscribe. You can also follow me on Twitter or BlogLovin and I'd love to see you over on my Facebook page and on Instagram. If you're interested, you can find out more about me here and while I've got your attention, if you're wondering why some of my posts lately are a little bit less frugal then have a read of this post. 😉
Do your future self a favour – Pin 'how to arrange daffodils' for later: