Let's have a chat today about financial resilience – specifically about what I do to ensure that I'm as financially resilient as I can be and to hopefully give you some ideas on how you can be too!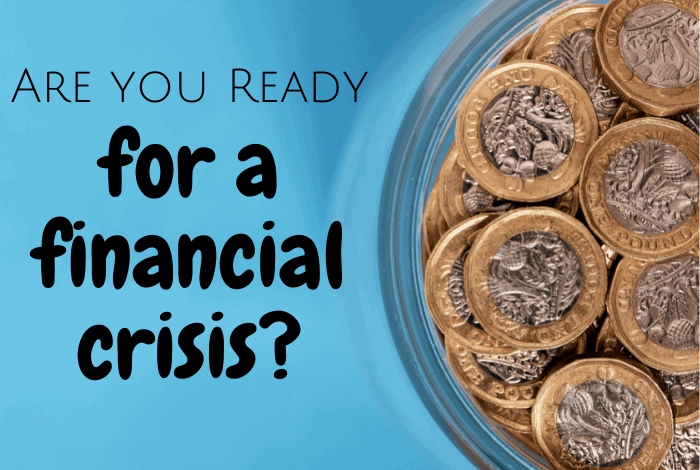 (I wrote this post last year but it seems more appropriate than ever so I thought I'd reshare it with you today)
More so than at any other time I can remember, it's so important right now to be financially resilient. I genuinely feel like we're all about to go through some pretty hard times and being as prepared as possible for that is a huge priority for me right now!
What is financial resilience?
So, first of all, you might be scratching your head and asking yourself what financial resilience even is! It probably means different things to different people but to me, it means that I could cope with whatever life throws at me – financially at least. So if my car breaks down, my fridge decides to give up on life, my boiler breaks down on Christmas Day or my car fails it's MOT then I'm not going to need to stress out about how I'm going to pay for it on top of whatever other stress the disaster causes me.
Some people prefer to put money aside each month in a 'sinking fund' which is like a little savings account for a set thing – so putting money aside in an account to pay for the things that go wrong. I know that I would always be tempted to raid my little savings accounts though so I prefer to do things my way. I do have a post coming up in the next couple of weeks about sinking funds and how they work for some people so watch this space. 👀
How I try to be financially resilient!
There are lots of ways to make sure you're ready for disaster but these are some of the things I do:
1. Emergency Fund
I have an emergency fund– I have a little bit of money tucked away for a rainy day and I try really hard to add to it when I can and make an effort not to take any money out of it although I do have the odd slip every now and again!
2. Car Breakdown cover
I have breakdown cover for my car for which is worth every penny of the £7 a month that it costs me. A couple of weeks ago I had a tyre blow out (less dramatic than it sounds) travelling down the dual carriageway on my way to work which could have cost me an absolute fortune.
I was only a few miles from work so managed to get a lift in and a quick call to the AA had me all sorted in no time at all without having to spend a fortune!
3. Boiler Cover
Remember a few years ago when my boiler broke on Christmas Day a few years ago? That was the coldest Christmas on record with us literally snuggling under blankets all day but at least I didn't spend the day worrying about how much it was going to cost to fix my boiler because I knew we had full cover. I had the option of getting them to come and fix it on the day but we decided to wait until Boxing Day to get them out just because we didn't want to ruin someone's Christmas. It costs about £21 a month now as our boiler's getting on in years now but it did cost around £14 a month when we started the cover as the boiler was a lot newer back then so had less chance of going wrong. We're at the point where we're saving for a new boiler to be fair though as we know it's probably not got too much life left in it.
4. Appliance Cover
Then there was the time that our fridge freezer died leaving us with a freezer full of food to cook and a dilemma about what to do to keep my Pepsi Max cold. It didn't leave me with any worries about how to pay for a repair or a replacement though as we have appliance cover on our fridge freezer, cooker and washing machine. That cost of £18 a month is well worth it to me for peace of mind
5. Pet Insurance
So, we pay a fair whack for our pet insurance for little Buddy as it's increased due to his age as he's getting on in years now. It's around £35 a month for him compared to less then £10 for Monty who's still a baby!
It's well worth it to be fair though as I know how heartbroken I'd be if we had to make a decision about medical care for him based on our financial situation.
6) I try and supplement my main income
So, I work full time and that's my main income but I do also have this blog and a couple of other ways that I earn the odd bit of money here and there. For example, I use Swagbucks for building up my Christmas shopping fund and I use I did once seriously consider giving up my job to concentrate on blogging but I genuinely think that would have been too much for me and having to worry about where my next work is coming from just isn't for me.
7) Grow your own
OK, this one I've absolutely failed at this so far this year. I have a super pretty little greenhouse and I had big plans but then my back door broke at the start of this whole situation and due to lockdown, no-one could come and fix it for me which meant I had to walk right around the house to get to the greenhouse.
Not an excuse I know but it's all I've got right now. 😇
Don't miss out on future posts like this – receive updates directly to your inbox by email by adding your email address here and hitting subscribe. You can also follow me on Twitter or BlogLovin and I'd love to see you over on my Facebook page and on Instagram. If you're interested, you can find out more about me here and while I've got your attention, if you're wondering why some of my posts lately are a little bit less frugal then have a read of this post. 😉
Why not Pin 'Are you Financially Resilient?' for later?